Commerce Experience
Bloomreach Commerce Pulse: Update on NA, UK & EU eCommerce Traffic and Sales - Week of May 10 - May 16, 2020
By Brian Walker
05/19/2020
Commerce Experience
Bloomreach Commerce Pulse: Update on NA, UK & EU eCommerce Traffic and Sales - Week of May 10 - May 16, 2020
The week of May 10 saw parts of Europe and the United States begin 'opening up', even as some called for restrictions to remain in place. And while many people across the world are eager for parts of life they miss to begin again, it remains unclear what the economic conditions and health concerns will mean in the longer term for businesses across a wide variety of industries.
Looking at last week we can see: 
The overall year-over-year trend we saw begin in late February continue, with North American eCommerce remaining strong with traffic +61.52% year-over-year (YoY), and sales +45.47% last week. However, we are seeing a bit of a plateau and slight decrease in week-over-week (WoW) performance, with NA down WoW across all KPI, including traffic -5.78% and sales -8.17%. There may be a combination of factors contributing to the WoW softening, including 'offline' economy opening up in places, post-Mother's day and Graduation, high-level of promotion impacting sales, and consumer confidence and stimulus check timing. 
 
The UK+EU again showcases challenges connecting demand to sales, with traffic +55.70% but sales only +6.14%. Week-over-week UK+EU traffic was -1.38%, but sales +4.44%. In the UK & European data we can see the impact of a significant amount of promotional activity, reflected in a significant drop in average-order-size YoY in Europe last week, while conversion rates actually went up YoY. 
 
Home DIY is the segment winner this week, with WoW sales +3.19% and sales up an astonishing +178.49% YoY.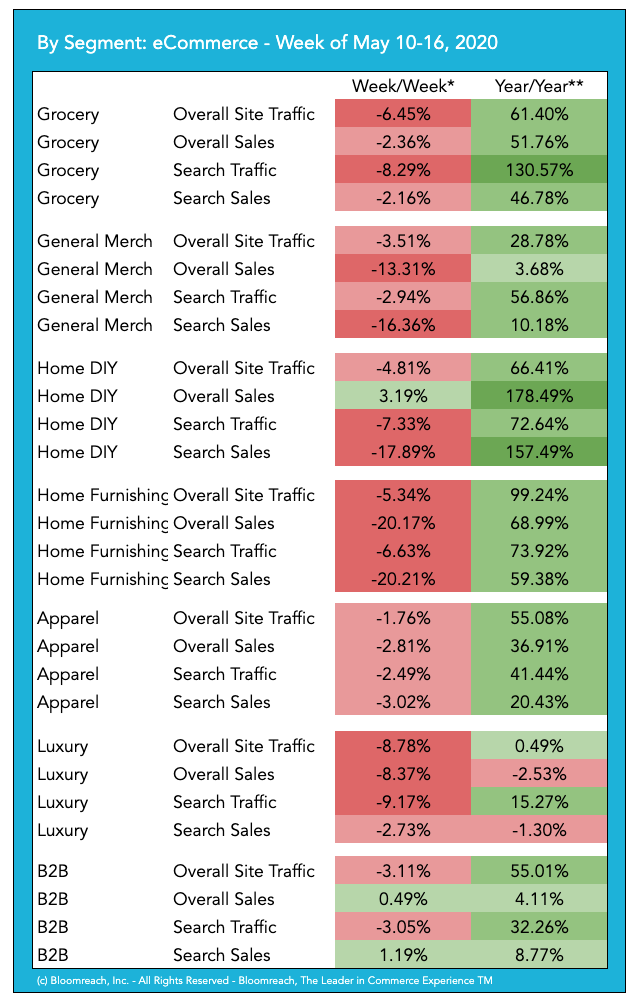 Let's dig into this past week's segment numbers: 
Grocery softened slightly WoW last week compared to the week prior, but remains up significantly versus LY. Grocery sites continue to observe a spike in the use of search on their sites, with 34.85% of visits using on-site search. Interestingly, avg. order size (AOS) has declined somewhat from LY to $95.27 per order, while conversion rates are up modestly. Search terms remain dominated my virus-related search terms. 
 
General Merchandise sales had a tough week, -13.31% WoW, and only +3.68% YoY, while traffic was relatively strong. Here we are see also a drop in conversion rate, with AOS actually holding steady versus LY. There seems to be a high degree of 'window-shopping' in General Merch, with higher ticket items in the search terms, such as 'TV' and 'Laptop', but consumers are not clicking 'buy' so eagerly.
 
Home-Improvement/DIY is the segment winner again this week, with sales +3.19% WoW and up an astonishing +178.49% YoY. While AOS was down slightly, conversion was up significantly YoY. We continue to see garden-related search terms such as 'fence posts' and 'paint', 'planters', 'compost' rank very high in this segment.
 
Home Furnishing softened somewhat WoW last week, with sales -20.17%, though still performing very well YoY at +68.99%. Here we see AOS improving, but conversion rate falling somewhat YoY. This category may be impacted somewhat by the post-holiday hang-over, and search terms turned to appliances and kitchen-ware.
 
Apparel segment showed a slight fall WoW with sales -2.81%. In apparel we see the impact of heavy promotional activity with AOS falling, but conversion up. In apparel, comfortable clothing and outdoor wear are dominating the search terms.
 
Similarly the luxury segment is seeing the impact of significant discounting, witnessing a drop in AOS, while conversion rate is very similar to last year. And while sales are down in luxury -2.53% YoY, traffic has held stable. In other words, people are still buying luxury goods, just on sale.
 
B2B had a mixed week, with sales +.49% while traffic was down -3.11%. In B2B interestingly we see both AOS and conversion rates down YoY, indicating the business cycle and uncertainty impacting buying decisions, while essential products continue to dominate the search terms as businesses seek to keep employees and customers safe.  
Bloomreach powers 25% of US & UK eCommerce search and commerce experiences across the 300+ global enterprise businesses - many of whom have multiple brands and eCommerce sites. You can find all of Bloomreach's Coronavirus related research, including previous weeks, on our Coronavirus Content Hub. If you have any further questions, I encourage you to reach out here, and we will follow up with you ASAP. We aim to bring you further insights each week as we navigate these challenges together - whether you are a customer or not. 
A note to readers, we will be skipping next week due to the Memorial Day weekend in the United States and moving to a monthly cadence for the Commerce Pulse reports beginning in June. Our first monthly call will be Wednesday, June 3 at 9am PT/5pm GMT, when we will be looking back on May and the first few months of the coronavirus crisis and the implications for digital commerce. 
Thank you and be well.