Commerce Experience
Bloomreach Commerce Pulse: Update on NA, UK & EU eCommerce Traffic and Sales - Wk of April 5 - 11, 2020
By Brian Walker
04/14/2020
The week of April 5 saw what we hope is the peak of the health crisis in parts of the United States, the United Kingdom, and Europe - with the realization that the social distancing measures that have been necessary to slow the pandemic will not be lifted until early May at the earliest.
Attention turned to the tricky challenge of "opening back up for business" across the global economy just as the depth of the economic shock began to sink in. Last week a UN study indicated 81% of the world's workforce of 3.3 billion people had had their place of work fully or partly closed because of the outbreak*.
In Italy, manufacturers had their worst month since records began while restaurants that have survived both world wars are in danger of never opening again. Agriculture needs to find at least 200,000 seasonal workers, who normally come from abroad, before fruit and vegetables start rotting in the fields. Consumer spending has dropped precipitously even with the significant increase in online spending, with discretionary spending down 60-70% in many key U.S. metro regions such as New York, Miami, Boston, and Detroit**. 
And as we have seen now for many weeks, consumers are turning to eCommerce as an important source of the essential products, but also for a range of non-essential discretionary purchases as they both sustain and entertain themselves, their families, and those with whom they are isolating. 
Let's dig into the numbers: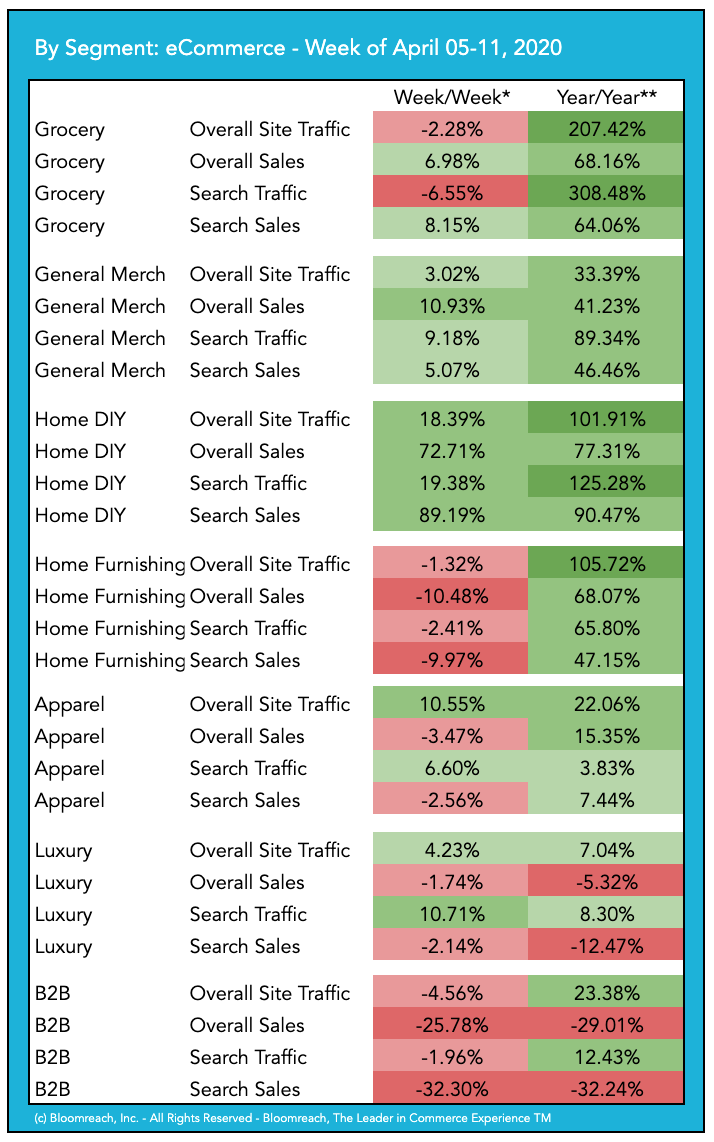 What it means: 
North America continues to show consumers gravitating online. However, we see a significant delta between traffic and sales - both overall and search related - indicating a high degree of out-of-stock items depressing sales, as well as sales-focused shopping drove online behavior. 
 
The UK+EU's had a very strong week online as well, with whopping search traffic and sales mainly due to Home DIY as European and U.K. customers settle in for an extended stay-at-home period and perhaps decided to tackle some home improvement projects before the Easter weekend.
 
Grocery is observing a slight slowdown in traffic and sales compared to last week, but with continued strong YoY numbers. This suggests that online grocery is stabilizing to a new benchmark. However, the very high delta between traffic and sales reflects that consumers are seeking items that are not available, or are not able to get delivery of pick-up slots they want. This will lead to significant frustration and fatigue for consumers and limit the gains of online grocery long-term. You can see 'toilet paper', 'hand sanitizer', 'lysol', and other cleaning and disinfecting products continue to dominate search terms in grocery.
 
General Merchandise had a very solid week, with relatively stable week-over-week (which would be very high on a normal pre-COVID week) and very strong year-over-year numbers. 'Rubbing alcohol' in the top search terms suggests that people are looking to make their own sanitizer alternatives, while 'sewing machine' is a new search term in the top-10 this week, indicating consumers are looking to make masks and clothing at home, perhaps or the first time in their lives. 
 
The Home-Improvement/DIY segment is observing very high engagement, recording the highest sales increase of the week with over 70% increase week-over-week in revenue, and nearly 80% compared to the same week last year. This was primarily driven by consumers looking to spruce up their gardens. Garden products and deck-stain, fence paint and even very bulky items like 'compost' and "grass seed" dominated the top search terms, along with disinfecting products. 
 
The Home Furnishing segment observed a modest slowdown week-over-week, though note that last week was very strong in this category (+27% WoW). Year-over-year this category is still doing very well online, with sales up close to 70% versus last year. 'Freezer', 'easter' and 'desk' drove this category, with cookware brands and 'bread maker' also making a contribution. 'Easy weeknight meals' indicates many consumers are looking to balance all the various challenges of working, caring for others, and cooking at home.
 
Apparel is treading water, with a relatively soft week. And though the category was up modestly versus last year, this is during a highly promotional period as apparel retailers and brands look to liquidate a significant amount of inventory, impacting margins. 
 
In Luxury we see overall traffic maintain versus last-year, but sales are down. This likely reflects deep discounting (reducing total sales amounts) as well as softness in this highly discretionary category. 
 
B2B had a tough week, but it appears this is in-part due to the holiday weekend, starting with Good Friday. Good Friday, April 10th, saw significantly lower sales than the previous Friday (April 03). However, the overall challenges in the economy are certainly having an impact in online B2B as well. We continue to see products necessary for businesses to keep their employees and customers safe dominating the search terms, with 'air compressor', 'pressure washer', and 'tool box' rounding out the top ten.

Bloomreach powers over 20% of US & UK eCommerce search and commerce experiences across the 300+ global enterprise businesses - many of whom have multiple brands and eCommerce sites. You can find all of Bloomreach's Coronavirus related research, including previous weeks, on our Coronavirus Content Hub. If you have any further questions, I encourage you to reach out here, and we will follow up with you ASAP. We aim to bring you further insights each week as we navigate these challenges together - whether you are a customer or not. 
Thank you and be well. 
* BBC: "Coronavirus: Worst economic crisis since 1930s depression, IMF says", Apr 9, 2020
** Bank of America research note: "COVID-19 and the consumer: data through March 31", Apr 6, 2020