Commerce Experience
Bloomreach Commerce Pulse: Update on NA, UK & EU eCommerce Traffic and Sales - Wk of April 19 - 25, 2020
By Brian Walker
04/28/2020
Commerce Experience
Bloomreach Commerce Pulse: Update on NA, UK & EU eCommerce Traffic and Sales - Wk of April 19 - 25, 2020
The week of April 19 saw the discussion regarding the crisis turn toward how countries, states, cities, and economies may emerge from the 'lock-down'. The depth of the economic crisis has come into increasing focus for the typical citizen and consumer, even if they are not directly impacted. 
As for eCommerce and digital commerce, we need to face some realities:
Online and digital commerce has become the primary driver in our economies. This week the numbers kept climbing online in every category except General Merchandise. And even there, traffic was up. We now see consistency in traffic, sales, and even search terms that indicate we have settled into a new pattern.
 
In many businesses, including retail, online is filling the gap in sales 'comps'* even as other channels such as stores are closed. And retailers in particular are seeing significantly increased adoption of buy-online-pick-up-in-store (BOPIS) or curb-side pick up programs - effectively using their stores as fulfillment nodes in their networks. Margin dollars may not be where they would like them, due to inventory mix and promotion, but this is a huge story.
 
The overall trend is toward higher average-order-size and conversion rates continues. Traffic was down week-over week in grocery last week, yet sales were up. In nearly every category we see sales increased outpacing traffic last week. But we do believe the lack of availability of picking & delivery 'slots' is depressing the opportunity for grocers to capitalize on the unprecedented traffic growth.  
Let's dig into this past week's numbers: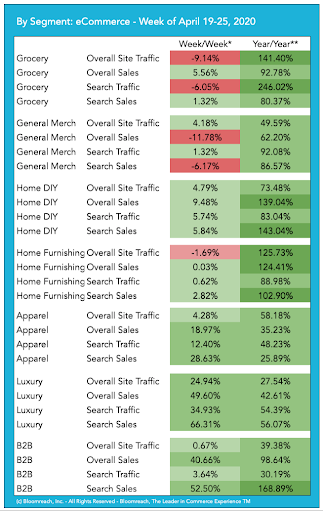 What it means: 
North America's online and digital commerce roll continues. With gains in traffic, and impressive gains in overall and search-related sales week-over week with incredible 70.17% year-over-year sales gains. 
 
In the UK & EU, overall traffic dipped slightly, but overall sales had an incredible week of +22.59% week-over-week sales gains, and a solid 27.07% increase in sales year-over-year. 
 
In Grocery traffic and sales trends have continued to stabilize, with a slight dip in traffic week/week. However, year/year is still showing amazing traffic increases relative to last year, indicating impact of the pandemic is still very evident in consumer behavior. We believe the lack of availability of picking & delivery 'slots' is depressing the opportunity for grocers to capitalize on the unprecedented traffic growth. Search terms like 'milk', 'eggs', 'flour' and 'butter' show that people are searching for ingredients to bake at home. Yum!
 
General Merchandise was the only category that fell in sales week-over-week, likely reflecting that Easter is in the rear-view mirror, but also may reflect stores being back open and consumers searching online and then heading to the stores - hopefully with masks and gloves on. We continue to see craft items trending here.
 
The Home-Improvement/DIY had another very strong week, with well over 100% growth in sales, and again near 10% growth in sales week-over-week. Garden related search terms in Home Improvement/DIY continue to show consumers are putting time and money into their gardens and outdoor spaces.
 
Home Furnishing as a category has seemed to stabilize, with modest gains week/week, but over 100% growth in traffic and sales. We continued to see 'Freezer' and now 'refrigerator' performing well, along with 'desk' and other kitchen-related search terms.
 
Apparel saw modest growth traffic again last week, but very strong sales growth. Consumers remain interested in apparel that is comfortable and helps them juggle the challenges of working from home, taking care of kids, elders, and pets, and homely some relaxing too. 'Shorts', 'joggers', 'leggings' are steadily holding the top positions.
 
The Luxury segment made a bit of a comeback last week, however it was not necessarily for the reasons we would like. Consumers appear to be shopping for deals aggressively, in part due to some notable bankruptcy declaration. In the Luxury segment we continue to see brands searched for more than specific products, including  Dior, Jo Malone, La Mer in addition to Gucci, Louboutin. 
 
B2B had a very good week traffic and sales after the holiday week lull the week prior. Here we see search driving significant sales again, with search-related sales significantly up at +52.5% w/w and +168.89% y/y. Average order size in B2B is way up.
 
Disinfectants are trending again across many segments in various search combinations - wipes, sprays, sanitizers, etc. - but masks have fallen as a term everywhere except in B2B.
 
Bloomreach powers over 20% of US & UK eCommerce search and commerce experiences across the 300+ global enterprise businesses - many of whom have multiple brands and eCommerce sites. You can find all of Bloomreach's Coronavirus related research, including previous weeks, on our Coronavirus Content Hub. If you have any further questions, I encourage you to reach out here, and we will follow up with you ASAP. We aim to bring you further insights each week as we navigate these challenges together - whether you are a customer or not. 
Thank you and be well.