Commerce Experience
Bloomreach Commerce Pulse: Update on NA, UK & EU eCommerce Traffic and Sales - Wk of April 12 - 18, 2020
By Brian Walker
04/21/2020
The week of April 12 saw the United States, United Kingdom, and Europe settle in to "stay-at-home" routines while speculation and pressure to define the next phase and 'open-up' grew in intensity. The overall economic picture is of course weighing on everyone's mind as the unemployment situation, delays in government loans and stimulus, and recessionary economic data occupy the headlines. 
And while the media continues to focus on how consumers are shopping for groceries and 'essential products', the data illustrates a different story, with:
Online and digital businesses seeing essentially unprecedentedly strong growth across nearly every segment - with the lone exception of Luxury.
 
Customers are not only buying essential products and staples, they are buying online to spruce up their homes and gardens, entertain and occupy their kids, and be more comfortable. They are also filling their time by shopping online, perhaps looking forward to a return to some of the things they most love to do.
 
The overall trend is toward higher average-order-size and conversion rates as sales outpace traffic gains. This may be reflecting a fact that some percent of online abandonment is attributable to in-store footfall, which is of course not happening right now. It may also reflect some hoarding instincts and response to free-shipping offers.
 
Let's dig into this past week's numbers: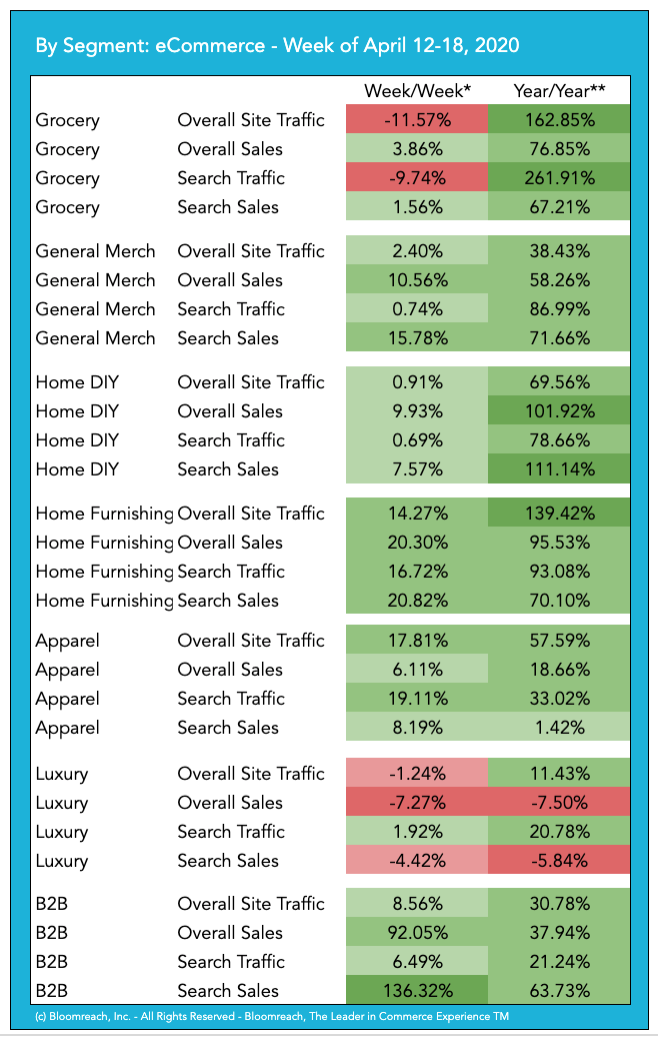 What it means: 
North America continues to see overall impressive year-over-year growth, with week-over-week beginning to reach a new plateau in traffic, with a relatively modest 8% growth in week-over-week traffic. You can see the importance of search as a contributor to sales here. And while some categories are showing explosive growth, all categories were up last week except Luxury. 
 
It is a similar story in the UK+EU, with very strong overall traffic and sales figures year-over-year, and a somewhat plateau week-over-week. It is interesting to note that browse had a strong week last week compared to search-related sales. 
 
In Grocery we continue to see impressive year-over-year growth numbers from the grocery segment, but week-over-week saw traffic soften. Despite that, larger basket sizes and high conversion rates kept sales relatively flat to the week prior.
 
General Merchandise also had strong results last week online with impressive year-over--year growth in traffic and sales, and again you can see the impact of higher conversion and basket sizes in the week-over-week sales growth. 'Trampoline' is a new trending term, as consumers look to keep the kids (and maybe a few adults) active outdoors while 'Diamond press' - a crafts brand - implies parents are buying supplies for arts and crafts to keep the kids busy or for homeschooling projects.
 
The Home-Improvement/DIY had another very strong week, with over 100% growth in sales, and near 10% growth in sales week-over-week. Again you can see average order size and conversion rates running high as sales growth outstripped traffic growth significantly. Garden related search terms in Home Improvement/DIY shows people are investing in their gardens and outdoor spaces. We also saw 'self-adhesive wall tiles' begin to trend as a search term.
 
Home Furnishing was the big winner last week with impressive year-over-year numbers and growth week-over-week. This segment also bucked the trend in average order size and conversion rate last week, as traffic grew significantly faster than sales. Consumers may be browsing for ways to spruce up their homes and patios as we settle in for the long haul. We continued to see 'Freezer' and cooking-related search terms performing well, along with 'desk'.
 
Apparel saw significant growth last week in traffic, but did not keep up in sales. This may reflect sizes and colors being increasingly out of stock during this highly promotional period as apparel retailers and brands work through inventory. We see that overall traffic is up nearly 60% year-over-year, as consumers turn online to fill in the closets and perhaps their boredom. 'Shorts' jumped to the top in search terms, and was  one of the Top 10 searches in NA last week.
 
Luxury was the only segment that saw a fall from last year's sales level, - though interestingly traffic was up - and we also saw a dip in week-over-week sales uniquely in this segment. Consumers may be attracted to deals and the opportunity to buy luxury brands at a discount, but still hesitate to pull the trigger. In the Luxury segment we clearly see that brands are being searched more than products. 
 
B2B observed very good traffic and sales after the holiday week lull the week prior. Again we see a very high growth in sales and search-related sales relative to traffic growth, illustrating larger orders as business customers stock up and secure inventory while they can. 

Bloomreach powers over 20% of US & UK eCommerce search and commerce experiences across the 300+ global enterprise businesses - many of whom have multiple brands and eCommerce sites. You can find all of Bloomreach's Coronavirus related research, including previous weeks, on our Coronavirus Content Hub. If you have any further questions, I encourage you to reach out here, and we will follow up with you ASAP. We aim to bring you further insights each week as we navigate these challenges together - whether you are a customer or not. 
Thank you and be well.