How Shoppable Instagram Stories is Driving Change in eCommerce
By Tessa Roberts
06/04/2019
How Shoppable Instagram Stories is Driving Change in eCommerce
Brands are always on the lookout for new ways to create a stronger connection with their customers.
And so they should - customers who feel connected to a brand are more likely to buy and are less price sensitive.
Because of this, the eCommerce strategy is evolving. This includes personalizing and tailoring search results, integrating the customer journey and connecting through social media, such as Instagram.
Instagram allows for highly personalized content, based on the accounts a user is following. This makes it an excellent platform for brands to reach customers who are likely to buy and control what brand messaging they see.
Shoppable Instagram Stories provide further integration of the eCommerce shopping experience. As such, they're a crucial part of how eCommerce will evolve over the next few years.
Customers are already interacting with brands using Stories. Shoppable Instagram Stories connect this behavior with a way to purchase directly.

 
What are Shoppable Instagram Stories?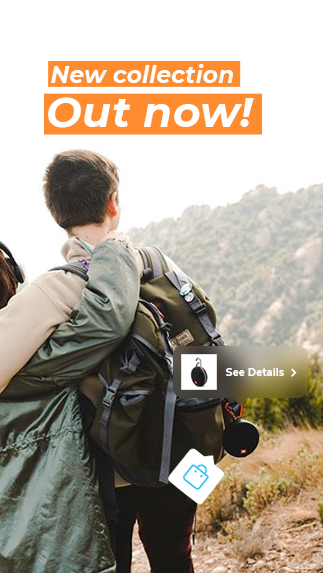 Shoppable Instagram Stories are an extension of Instagram shopping, previously only available in Instagram posts.
Shoppable Instagram Stories allow companies to add a clickable sticker to a story, usually linked to a product that features in the story. Anyone who clicks it gets taken to the brand's online shop, where they can buy the product.
Instagram Stories is a particularly powerful way for a brand to reach their audience. Since the introduction of Stories in 2016, it has grown exponentially: 500 million accounts use Stories on a daily basis. It's safe to say that Instagram users naturally interact with Stories - with shoppable Instagram Stories, brands can connect this habit directly to a purchase.Shoppable Instagram Stories and the Future of eCommerce
Brands are moving away from relying solely on large eCommerce platforms to sell their wares. Simply having an online store is no longer a key differentiator for a retailer or brand, so companies are looking for other ways to stand out.
They do this by creating connected and personalized customer shopping experiences across all touchpoints with their customers, including social media.
In a recent study by Gartner, 66% of brands said they're currently adopting a social commerce strategy, with Shoppable Instagram Stories likely to play an integral part.
Shoppable Instagram Stories drive three key trends within eCommerce:
Most brands have many different touchpoints across various channels (including customer portals, websites, social media,etc…). Customers now demand a seamless experience across all touchpoints. They expect to be able to switch from one to the next and make a purchase through each one of them, when they're ready to.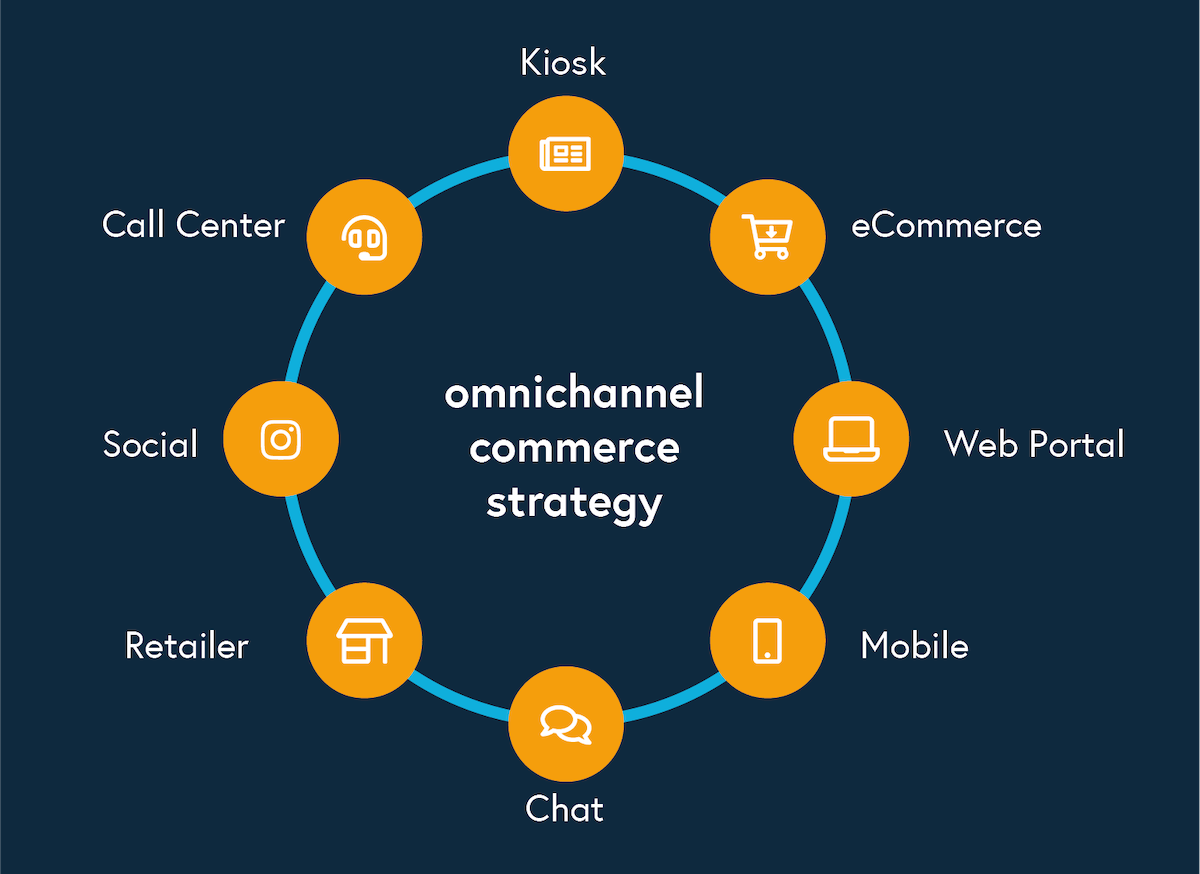 As touchpoints evolve over time, they are driven by eCommerce development, as well as technical development in search and merchandising, and trends in social media.
These different customer touchpoints evolve over time. And this evolution is influenced by three main drivers:
Developments in the eCommerce industry
Changes in technologies like search and merchandising
Trends in social media
One of these touchpoints is Shoppable Instagram Stories. Here, brands' stories are blended with updates from a user's friends or acquaintances. Instagram Stories sits more naturally in a user's day-to-day life, making it more likely they'll explore products that appear in the stories they follow.
Now that users can buy products directly through Instagram Stories, this platform has a definite advantage over more traditional touchpoints, such as an eCommerce website. Research by Facebook IQ suggests that 39% of Instagram users have become more interested in a brand or product after seeing it on Instagram Stories. As Instagram users only follow the brands they want to, every brand has a highly interested group of customers they can engage with directly.
Consumers no longer reach brands in one or two ways, but have many possible paths to purchase. They're increasingly demanding and knowledgeable, at least in part because of the many different touchpoints they have with brands.
As a study by Deloitte mentions, "Customers evidently want to live lean, have the latest products without or at a low upfront cost, be treated individually, and get their purchases done in the fastest and easiest way possible."
This increased engagement can make it easier for brands to put their products in front of customers. However, since this tends to be true for many competing brands, an individual has every incentive to switch their attention to a different brand.
Still, two in three marketing managers believe that digital and social media are the best channels for building a brand. Instagram is very well suited to build a strong brand, using content strategy and brand personality.
Shopper path to purchase has always tended to be a fairly complex, inefficient process with limited opportunities for brands and retailers to influence the experience. With the advent of online shopping, this path has become more straightforward. But in many cases companies are still losing out on the final part of the process - the sale.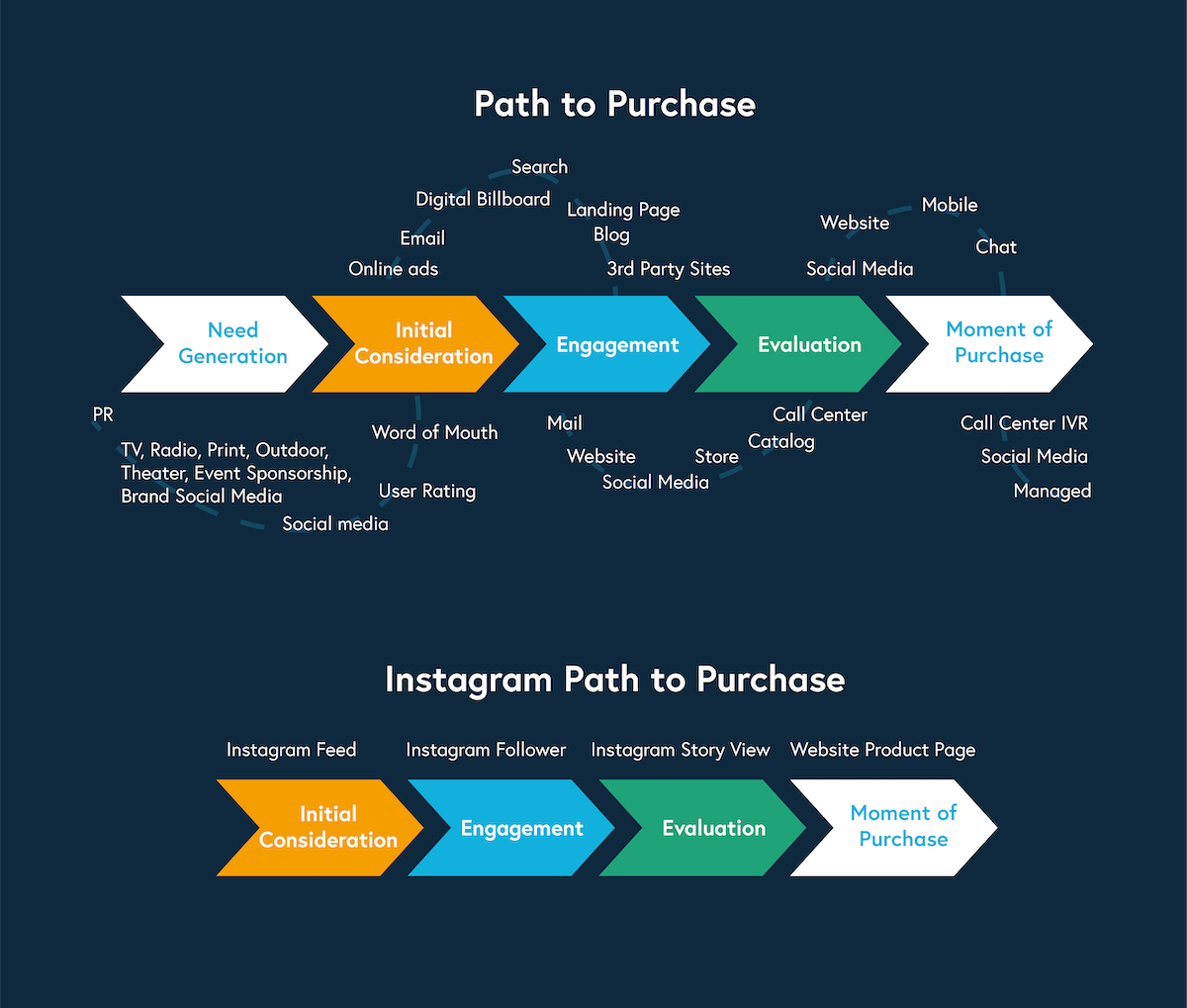 As a result, a priority for most brands is to create customer loyalty, by building a relationship. The fact that Instagram Stories was originally designed to build relationships between individuals makes it particularly suitable for brands to create relationships with their audience.
In times of increasingly complex customer journeys, Instagram Shoppable Stories create a strikingly clear path to purchase. By posting stories on a regular basis, brands have many micro-engagements with their customers, consistently featuring in their customer's Instagram Stories.
Then, as customers can find out more about products using Shoppable Instagram Stories, the path to purchase is shortened and customers are more likely to make the decision to buy, rather than browse for products with other brands.
Shoppable Stories allow brands to engage in powerful storytelling and create genuine interest in their products. They can put products in front of potential customers without shouting, without forcing them to pay attention.
This also creates opportunities for smaller brands. Thanks to readily available systems for marketing and distribution, smaller brands are gaining increased traction by niching down and tailoring their message to a specific audience.
This is in no small part thanks to eCommerce in general and social media in particular. Shoppable Instagram Stories places  a powerful tool into smaller eCommerce players' hands to control their marketing message, and link their brand to a clearly defined action - clicking the sticker and purchasing the product. Shoppable  Instagram Stories are a great way for smaller brands to build their presence and connect with their consumers. And ultimately sell more.
Where are Shoppable Instagram Stories Headed?
Shoppable Instagram Stories is unlikely to lead to any major shockwaves straight away as large eCommerce platforms are expected to continue to grow. In 2016, social shopping still only represents a small portion of total eCommerce sales (just 3% in 2016). Still, Shoppable Instagram Stories is likely to drive significant growth of social shopping over the coming years.
Shoppable Instagram Stories are becoming a widely used touchpoint for customers. At the same time, it could be a powerful catalyst for greater integration, personalization and more genuine marketing in eCommerce in general. Customers' expectations will rise even higher and buyers will become increasingly used to an environment that is highly tailored to their interests, and that helps them find products that are the best fit for what they're looking for.