The Top 3 eCommerce Trends Shaped Black Friday 2019
By Sander den Boer
12/04/2019
The Top 3 eCommerce Trends Shaped Black Friday 2019
Black Friday has always been a huge driver of revenue in a brick-and-mortar stores - but in 2019, we can safely say that Black Friday boosts eCommerce sales just as much.
In fact, Black Friday has become a microcosm within the eCommerce world - all trends that exist in eCommerce year-round get magnified and amplified on Black Friday.
That's why it's important for eCommerce retailers to understand what happens on Black Friday so they can implement the most profitable growth strategies.
Bloomreach collected thousands of data points from the clients we work with. We analyzed sales from over 200 cutting edge eCommerce retailers.
This helped us come up with hot-off-the-press insights, key facts and statistics about leading retailers and their Black Friday sales.
Take a sneak-peek at the main takeaways below or download the full report straight away!
Mobile Traffic Boosts Site Visits in US and UK
Search engines are a major traffic driver on Black Friday - mobile traffic through search engines increased by almost half in the UK in 2019.
Consumers use search engines tend to find the best deals, so eCommerce retailers with strong search engine optimization tend to get the most (and the most profitable) site visits. Consumers do a lot of research before buying online, using free moments to browse products on their mobile device.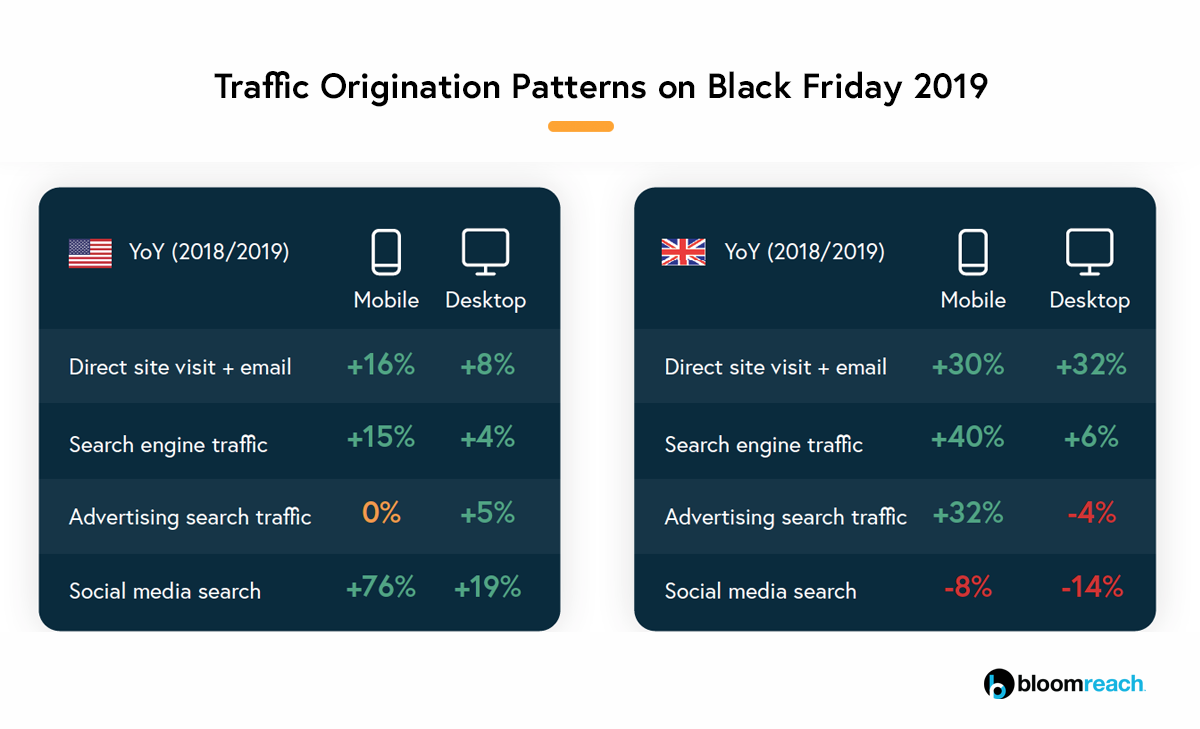 In the US, social media search through mobile is growing fast. This traffic source is still small - but if the current trend continues it could become one of your traffic pillars over the next five years.
Most traffic - mobile and desktop - still comes from email and direct site visits. A combination of a well-known retail brand and targeted deals still scoop up most traffic.
👉  What does this mean for eCommerce retailers?
Traffic generation on mobile should be the top priority for any eCommerce retailer. That means mobile search engine optimization to drive search engine traffic, and strong brand building with personalized offers through email to drive direct site visits.
US Consumer Most Likely to Buy Using Mobile Device
In the US, m-commerce spend continues to explode at double digit growth. Consumers don't take issue with buying directly through their mobile device, often using digital wallets to pay.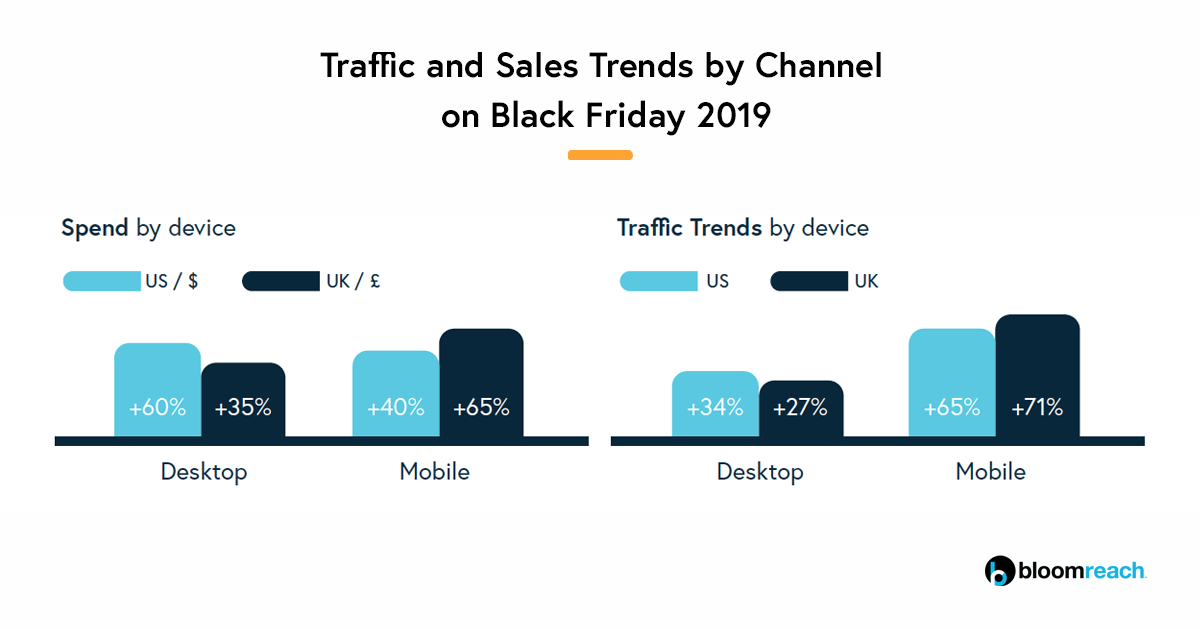 Still, desktop eCommerce isn't going anywhere just yet. A lot of consumers might do research and fill up their basket on a mobile device, but then switch to their desktop to pay and buy. This is especially true in the UK, where mobile traffic grew faster than mobile revenue.
👉  What does this mean for eCommerce retailers?
Integrated experience across devices should be front and center for eCommerce retailers. Now more than ever, consumers are demanding an advanced, seamless experience between mobile, desktop and other devices.
Consumers' Favorite Products Don't Change Over Time
Consumers are creatures of habit and buy many of the same products every year. The top 20 keywords featured home furnishing, products aimed at women and cozy socks in 2018 and 2019. To find what they want, consumers will often use different variations of the same keyword from one year to the next.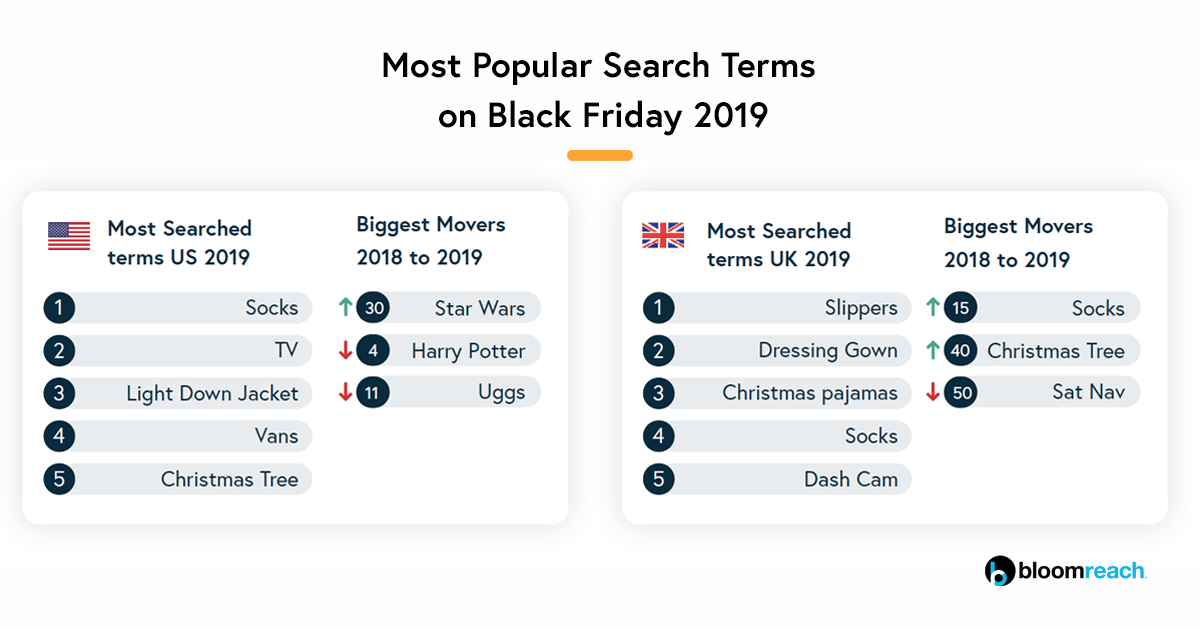 Channels and devices in eCommerce are in constant flux - but the basket of products that consumers buy is remarkably consistent. 
👉  What does this mean for eCommerce retailers?
eCommerce retailers can maximize basket value by understanding what keywords and search terms are popular - and how to make sure people find what they're looking for, even if they type in general, imprecise or vague search terms.
What's Next? A View Into 2020 and Beyond
If you want to better understand what 2020 will look like, download the 2019 Black Friday eCommerce Trends in the US and UK report.
You'll get statistics and analysis covering:
What are the most popular search terms
How consumers use their free time to shop online
What sources of traffic are the most profitable
How consumers use mobile and desktop devices for online shopping
And more...