How to Make the Shopping Experience Smoother with Site Search and Merchandising
By Katie Lawson
12/05/2018
How to Make the Shopping Experience Smoother with Site Search and Merchandising
Let's say a website is a library, full of wonderful books to discover but impossible to look at them all one-by-one before deciding what to check out. In this metaphorical library, you are presented with two helpers:
The library clerk (Site Search): Knows the Dewey Decimal system and library layout front and back, directs you to the right book as quickly as possible.

The librarian (Merchandising): Knows the power of a good story, understand what inspires different readers, helps guide you to your next favorite book.
Both are incredibly helpful, and both are better together.
Search Satisfies
You walk into the library knowing that you want a science fiction novel. You head over to the library clerk and ask for directions. First off, that worker is going to know what you mean when you say "sci-fi", just as your online search engine should recognize synonyms. He's also going to understand if you mispronounce it, as a search engine understands misspellings. Nobody's perfect and his job is to help you.
The clerk also knows if you say you're looking for "Margaret Atwood books" or "The Handmaid's Tale" that one is an author, the other is a title, but both are going to point you in the same direction. Thanks to semantic search, your Site Search can do the same.

If you visit the library enough times, the clerk is going to pick up on your preferences and help you to find books quicker. With the knowledge that you're a sci-fi fan, when you ask for a book about space, the clerk takes you directly toward extraterrestrial fiction instead of textbooks. Site Search can do the same, such as returning more relevant results after it noticed you have primarily been looking at menswear.

Having this fast and understanding helper on your site is not just nice-to-have. With a 1.8% higher conversion rate for customers who use search, while only 8% of retailers are taking the opportunity to personalize Site Search, it's also an untapped source of revenue.  
Merchandising Delights
The library clerk is great when you know exactly what you want, but there are dozens of books with a similar plot, tone, or topic that you would absolutely love - you just have no idea they exist.
This is where the knowledgeable librarian (aka the Merchandiser in this extended metaphor) comes into play. She has a deep understanding of all the books in the library, and has a knack for curating different collections together. She digs down deep into what it is that makes you love a book - is it really sci-fi you enjoy or is it cultural allegories - and she introduces you to a whole new world of authors.  
UncommonGoods does this kind of curation brilliantly. If you make a Google search for "gifts for dad/mom/boyfriend/girlfriend/etc." chances are high you'll find a UncommonGoods page as a top result. With this type of categorization on both product grid pages and shoppable content for the even more unique categories, like impossible-to-shop-for Women, UncommonGoods shows a deep understanding of how their customers actually browse while simultaneously letting the brand personality shine through.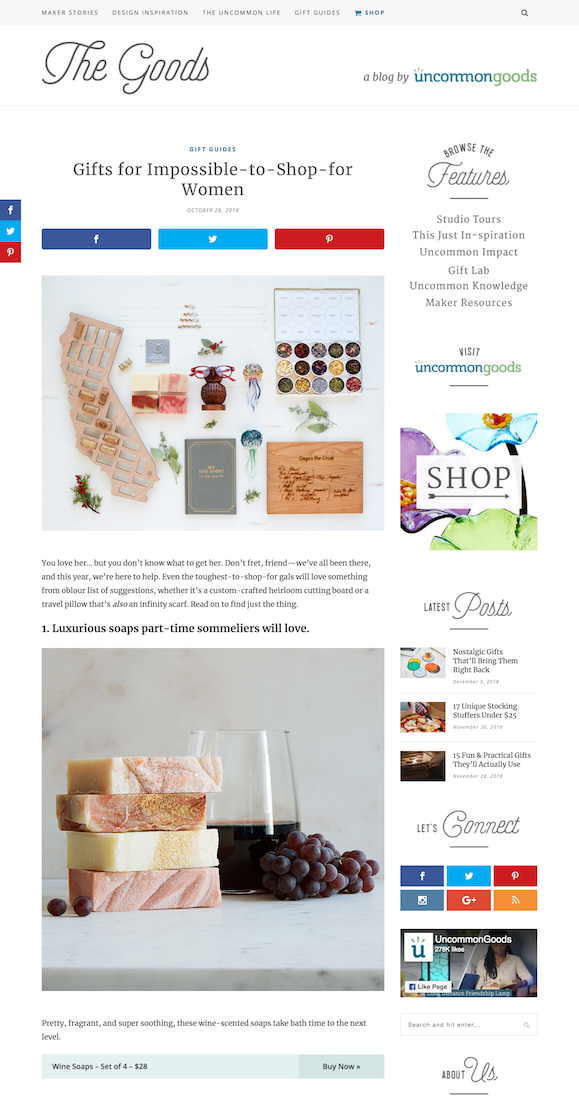 A good librarian doesn't just know the books, she is also keenly aware of the changing interests of readers. Merchandisers have to be on the pulse of what trends their visitors are interested in and have the creativity to curate products to match. Take for instance this wonderful category of "Dad Sneakers" on Neiman Marcus.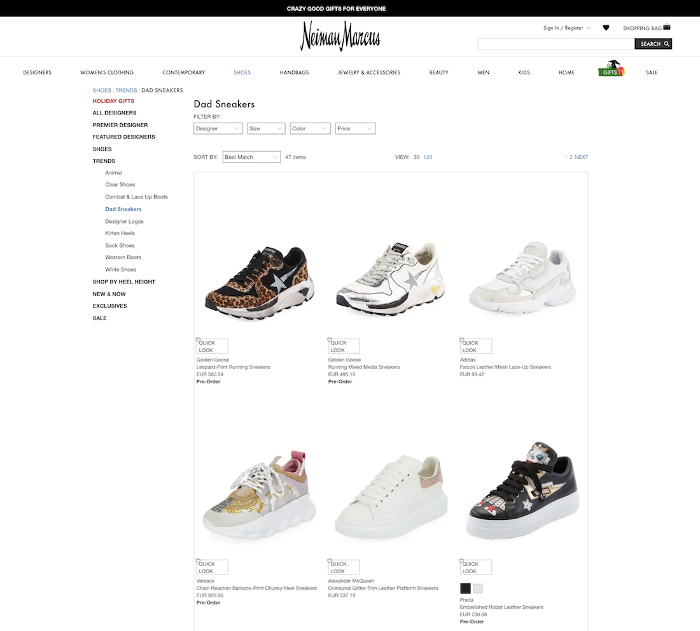 If you go to the library clerk (Search) when you know what you want, then you come to the librarian (Merchandising) when you need a bit of help. One way the merchandising team at Sam's Club acts as this helpful advisor is with their content like 3 Steps to the Ultimate Cheese Board Guide, which shows you how to pair like a pro and leads you conveniently to the cheese shop.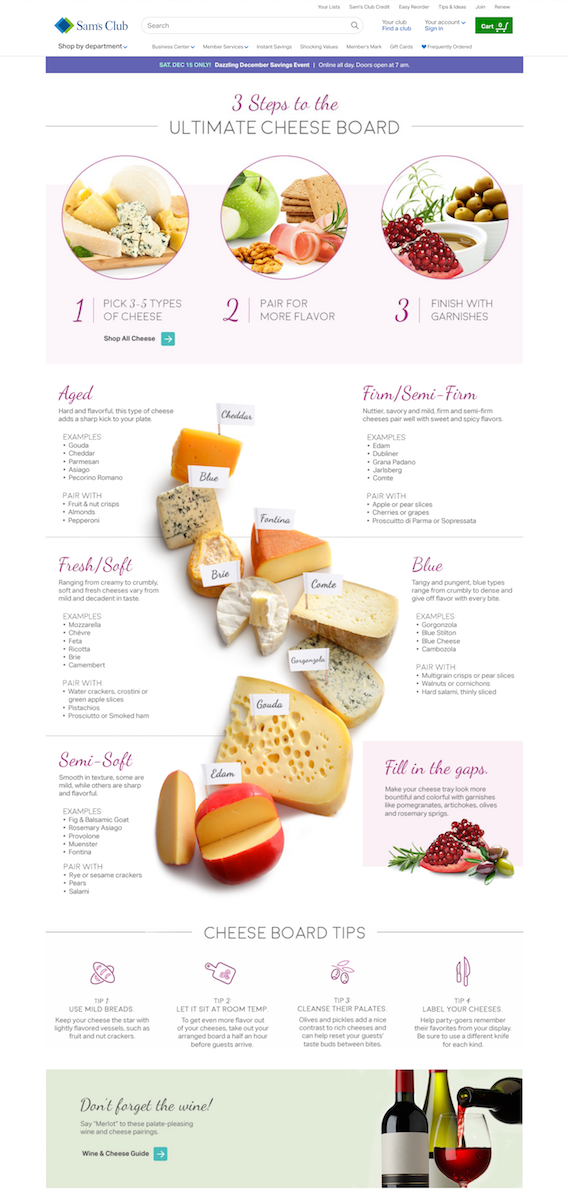 Better Together
Some days you want to come into the library and just have the clerk give the quickest directions. Other days, you ask the librarian to help you explore and discover something new. Both are incredibly helpful, and they are even more so when they communicate.
Knowing how people search can be a boon of data for merchandisers. Are visitors searching by brand or product names? Are they leaving "women's shoes" with a search for "women's sandals"? Does half of your audience call it a "sweater" and the other half a "jumper"? These search insights can help merchandisers to decide on categories, facets, geo-specific terms, and content creation.  
In a recent talk at Bloomreach Connect San Francisco, Lumens' Digital Marketing Manager shared an example of how curated, thematic pages let you act quickly on trends.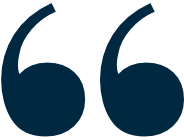 When we go to create a category page it has to go through our Product Information Management system, it has to go through the merchandising team, and you have to manually assign products for it. So if I went to my team and said 'Hey guys, I've noticed there is some search volume for Concrete Pendant Lighting - it's a specific search, people are probably lower in the funnel and more willing to convert - can we create a page for that?' I'm told that we might be able to do so within two months. That doesn't work. I'm trying to get in Google tomorrow. I want to figure out how to get there now. That's where the thematic tool comes into play. Based on product data, making sure we have good data integrity, and being able to group products into a page I can make that page in 30 seconds and it fills in that content gap.
- Jeff Romero, Digital Marketing Manager at Lumens
With a Dash of Automation
Now let's say the clerk is a robot (my metaphor gets a bit slim here, but stick with me), he still understands human language, is continuously learning visitor preferences, and because he works so incredibly fast he can take over a lot of the busy work for the librarians.
Importantly, he does this all without forgetting that, in the end, the librarian knows best. The librarian can strategically curate and display the most important books and the AI clerk can continuously test and improve the rest.
For merchandisers, tasks like boost & bury, facet management, and sort order can be managed on a sliding scale of automation and manual work. This sliding control let's AI do your Search and Merchandising grunt work and rapidly analyse and give insights into data, while ensuring you have full creative control when you want it.
Like the clerk and the librarian, both Site Search and Merchandising make the shopping experience smoother but adding them together - and mixing in some automation - makes a true eCommerce dream team.