3 Cart Abandonment Solutions That Really Work
By Tessa Roberts
08/21/2018
3 Cart Abandonment Solutions That Really Work
The frustrating part about abandoned shopping carts is how close the shopper is to conversion.

The carefully constructed customer journey has led them this far and all that's left to do is to hit the "Buy Now" button.
Imagine the situation:
Through your painstakingly designed PPC ads, a dream customer has reached your site.

After quickly finding what they were looking for, by means of your easy-to-navigate website, the shopper has been drawn to the perfect pair of shoes to go with that handbag, and what about that cashmere sweater?
Your intelligent recommendation engine has led the shopper to accumulate an above-average order value as they continue to click "Add to Shopping Cart". The heat map shows the cursor hover over the "Buy Now" button. 3...2...1…
The window has been closed and the session has ended.
There are many reasons why a session could end.
It could be a distraction out of your hands: time to pick the kids up from school; a phone call out of the blue; or maybe a quick bank balance check before making a purchase.
It could also be something more controllable - shipping takes 4-6 weeks?? - a certain item has just become out-of-stock; or creating a user account just took too long.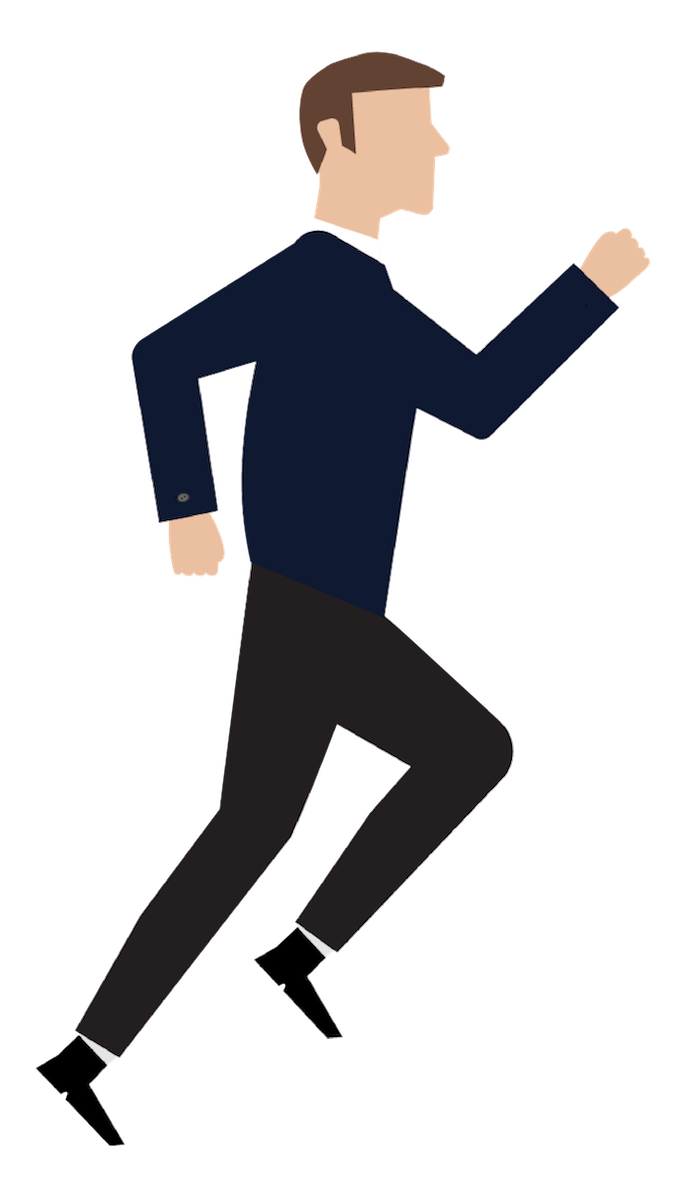 Let's get them back!
Whatever the reason, you've worked too hard to get to this stage to let the customer walk away.

In this post, we'll discuss the tactics you can use to re-engage your shoppers and persuade them to click that "Buy Now" button.
Why Customers Abandon Carts
According to latest quantitative study by Baymard Institute, 58.6% of US online shoppers have abandoned a cart within the last 3 months because "I was just browsing / not ready to buy".

Most of these will abandon even before they initiate the checkout flow. However, if we segment out this "just browsing" segment, and instead look at the remaining reasons for abandonments we get the following distribution: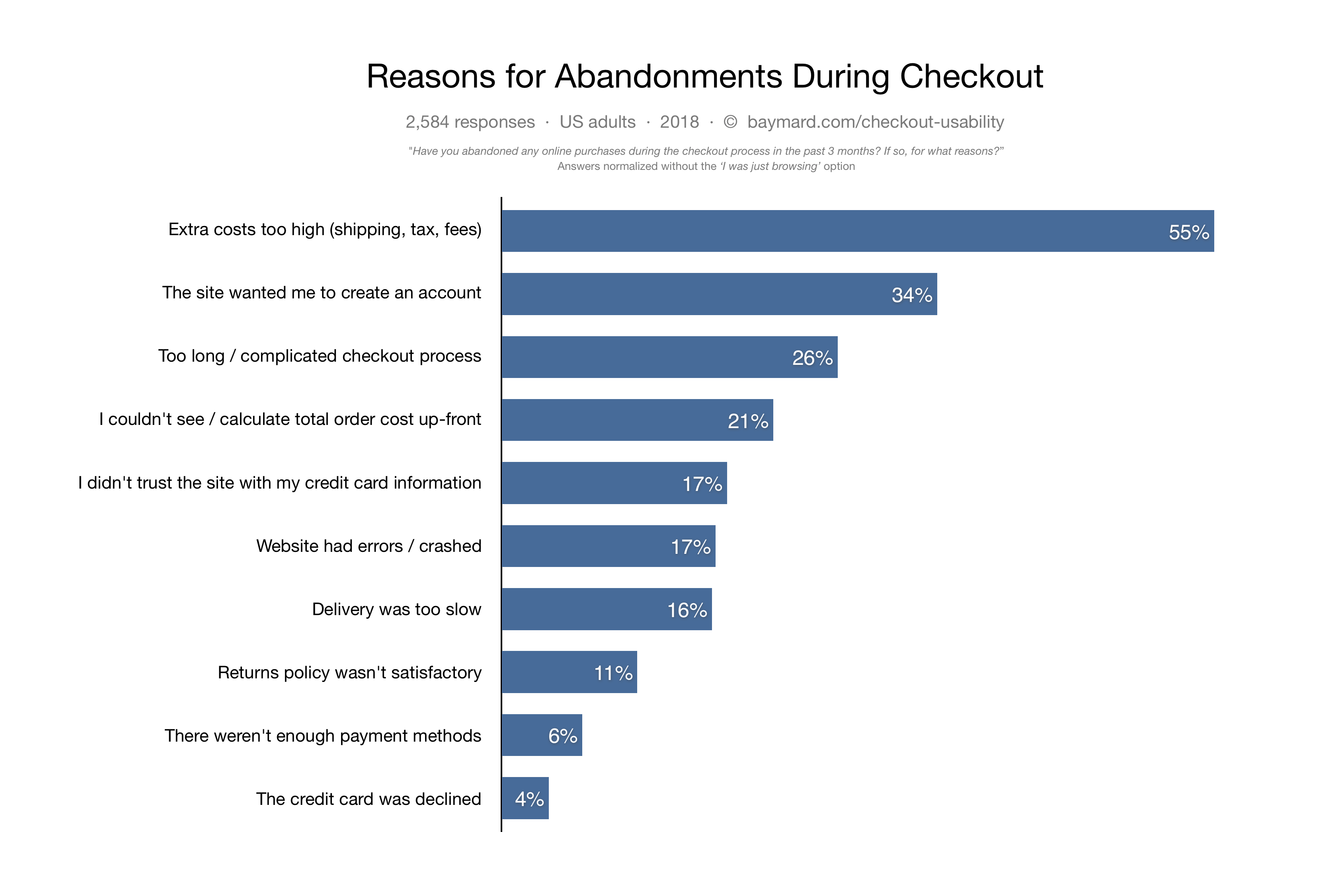 [Solution #1] Shipping Cost Help Them Commit
Many customers have trouble making a decision or moving on to the checkout page. That's normal.

The biggest online e-tailers don't have a way to nudge them along, but you do and you should. If you don't, the customer may simply abandon their journey and vanish.
Several factors can help spot such a customer. The time-on-site, number of page views, number of reviews read, and other browsing behavior can indicate a customer is interested but has a slight fear of commitment.
If the customer profile shows they are motivated by price, display a banner on your reasonable shipping options (especially if you have a "free shipping over $50" type of deal).
If they have been diving deep into product info, directing them to a blog about real use of that product (like a DIY guide or a lookbook) can be useful.
It may also be a good time for an automated assistant to make an appearance, asking if the customer has a question.

The nature of that question may well indicate what the delay is all about, giving you a chance to remove whatever obstacle was in the way.
[Solution #2] Re-engage Your Visitors
There will always be shoppers who simply disengage from the sales process before making a purchase.

Maybe they didn't find exactly what they wanted, thought the price was too high, or just wanted to see what was available on another site.
Whatever the reason, the decision to leave the site represents a lost revenue opportunity.
The good news is that you now have ways to re-engage most of those customers by continuing their digital experience after they leave your site.
Reaching out to a shopper after they leave through a simple text or email can show your eagerness to help them without seeming pushy.

For example, you might send them a notification if a product they clicked on has gone on sale. Or, for visitors who took the time to read detailed product information and compared several products, you might send customer reviews of relevant products.
If they abandon their carts, you might simply ask if they'd like to continue shopping, including inspiring content related to the products in their cart.
[Solution #3] Use Discounts Wisely
It's tempting to entice commitment-phobes or cart abandoners with a discount, but this can quickly lead to low profit margins - especially if you're regular customers start realizing they can simply abandon a shopping cart to get a discount.
Of course, we all love a good deal and you can brighten up a customers day with actual, personal offerings. For customers with accounts, a birthday discount code is always appreciated, along with a "happy 1 year as our customer" code.
Local holidays (IP address) or large events (geo-fencing) can be great to display a special banner with a code. You can get creative as you want with these - if you have a lot of midnight browsers but not a ton of purchases, how about about "Night Owls" flash discount good for 2 hours.
Discounts are powerful, and there are unlimited ways to get creative with them. Using them wisely, and not blasting everyone immediately, keeps them valuable and makes your digital experience a bit more unique in the process.
Summary
Remember to use these 3 cart abandonment solutions to solve cart abandonment problems:
1. Shipping Cost - it helps your customers commit
2. Disengage visitors - Reangage with them  
3. Discounts - Use them wisely
This post offers a selection of ways personalization can be used to close an online-shopping-cart deal, which can be combined with one another or used can be independently.
To take personalization to the next level, check out our 12 steps to perfect personalization whitepaper that tackles other parts of the customer journey, such as ways of blending content and commerce to provide more relevant products, or leveraging geolocation to encourage more in-store visits.