Life at Bloomreach
Meet the Team: Account Manager Christian Tate
By Lucie Cisarova
04/24/2023
At Bloomreach, we're lucky to have Christian as a valued member of our Revenue team. Having joined our company in 2019, they have gained a unique perspective on what it's like to be part of our company. We recently had the opportunity to sit down and chat with Christian about their journey at Bloomreach and gain insight into what it's like being part of our dynamic Revenue team. If you're considering joining our company, read on to discover more about our culture, values, and the exciting opportunities available on our Revenue team.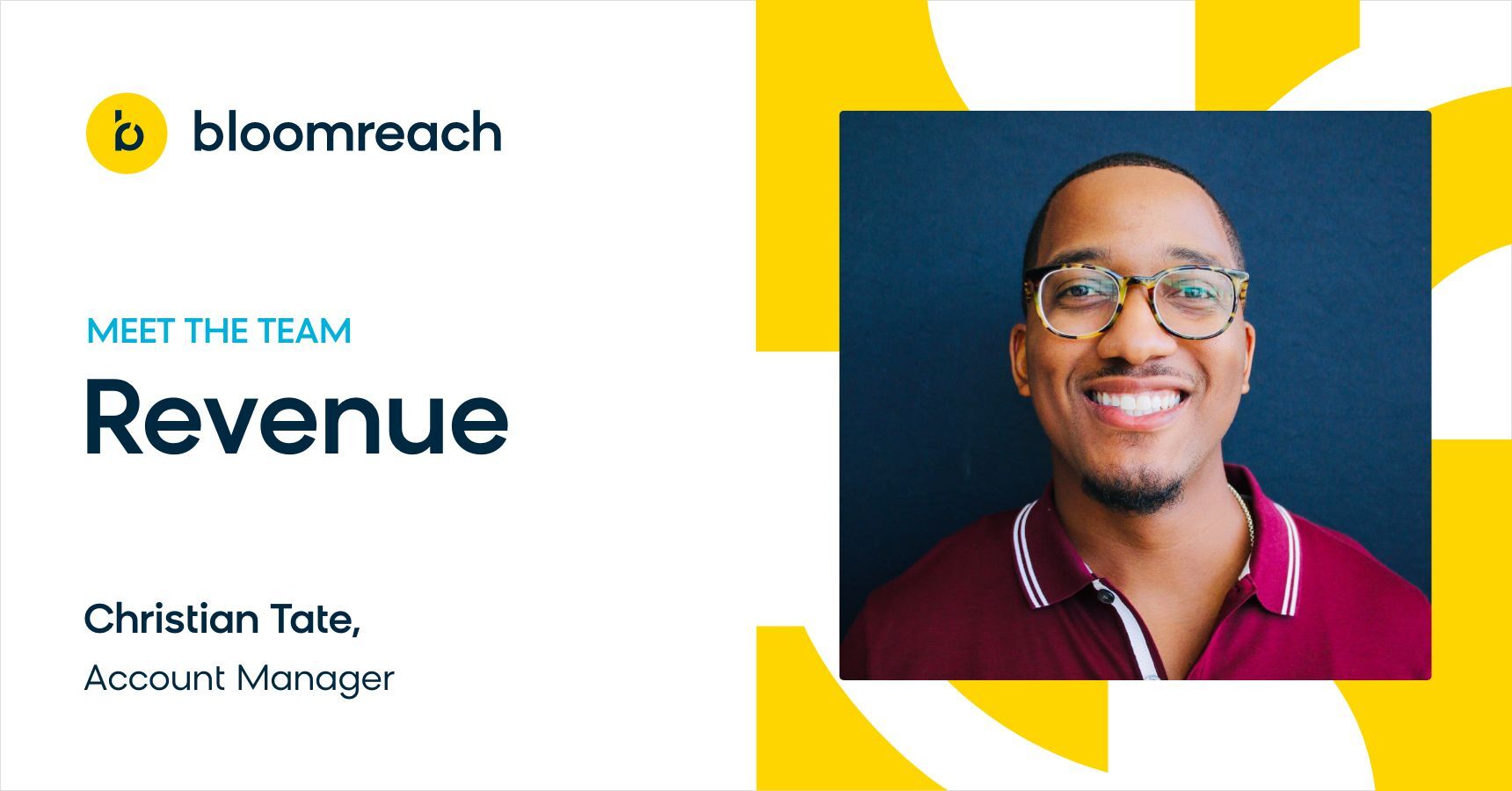 1. How did you find out about Bloomreach?
A former Bloomreach Business Consultant, Matt M., pitched his success story in joining Bloomreach — the rest is history!
2. What's your role at Bloomreach? Tell us more about your team and give us a sneak peek of your day.
I'm an Account Manager. Our team focuses on developing client relationships by identifying ways to achieve their strategic business objectives through value realization and execution.
A typical day begins with checking Slack and email. I usually determine the tasks to tackle based on my scheduled meetings and weekly objectives.
3. What has been the most impactful experience for you during your time at Bloomreach?
Getting to work with brilliant individuals from all different backgrounds on a daily basis. 
4. What is your favorite thing about working for Bloomreach and why?
The culture. The culture at Bloomreach is unique because our leadership empowers everyone to have a sense of ownership. 
5. How would you describe our company culture in 3 words?
Collaborative — We foster an inclusive culture where everyone, including our leadership team, works together to achieve common goals. 
Innovative — Innovation is at the heart of everything we do. We are constantly investing in product and people development to remain a commerce experience leader. 
Supportive — Bloomreach has helped support my career goals and aspirations by providing opportunities, connecting with industry leaders, and investing in my continued education. 
6. What growth opportunities have you had at Bloomreach, and how does the company support your professional development?
Bloomreach does a great job of connecting people from different organizations. This has been helpful when considering other growth opportunities. For example, I joined the company's DEI committee and also helped represent the company on webinars and at live events. I never have to limit my growth opportunities to just my primary role. 
7. In your opinion, what sets our company apart from other companies in our industry, and how can we continue to build on those strengths?
Our drive to be true value-adds for our customers sets our company apart from others in our industry. I also think our leadership's hands-on approach is effective and rare in our industry, too. Encouraging intentional meetings and collaborative environments are ways to continue building on these strengths.
8. Outside of Bloomreach, what are you passionate about?
I am a big music and sports guy!