Life at Bloomreach
Meet the Team: Vertical Marketing Specialist Rae Akinsanya
By Petra Trubinska
11/11/2022
Life at Bloomreach
Meet the Team: Vertical Marketing Specialist Rae Akinsanya
Rae is a member of our Marketing team, and has been with Bloomreach for almost one year now. We spent some time chatting with her about her experience with the company to give prospective candidates a chance to better understand what it's like being part of our Marketing team.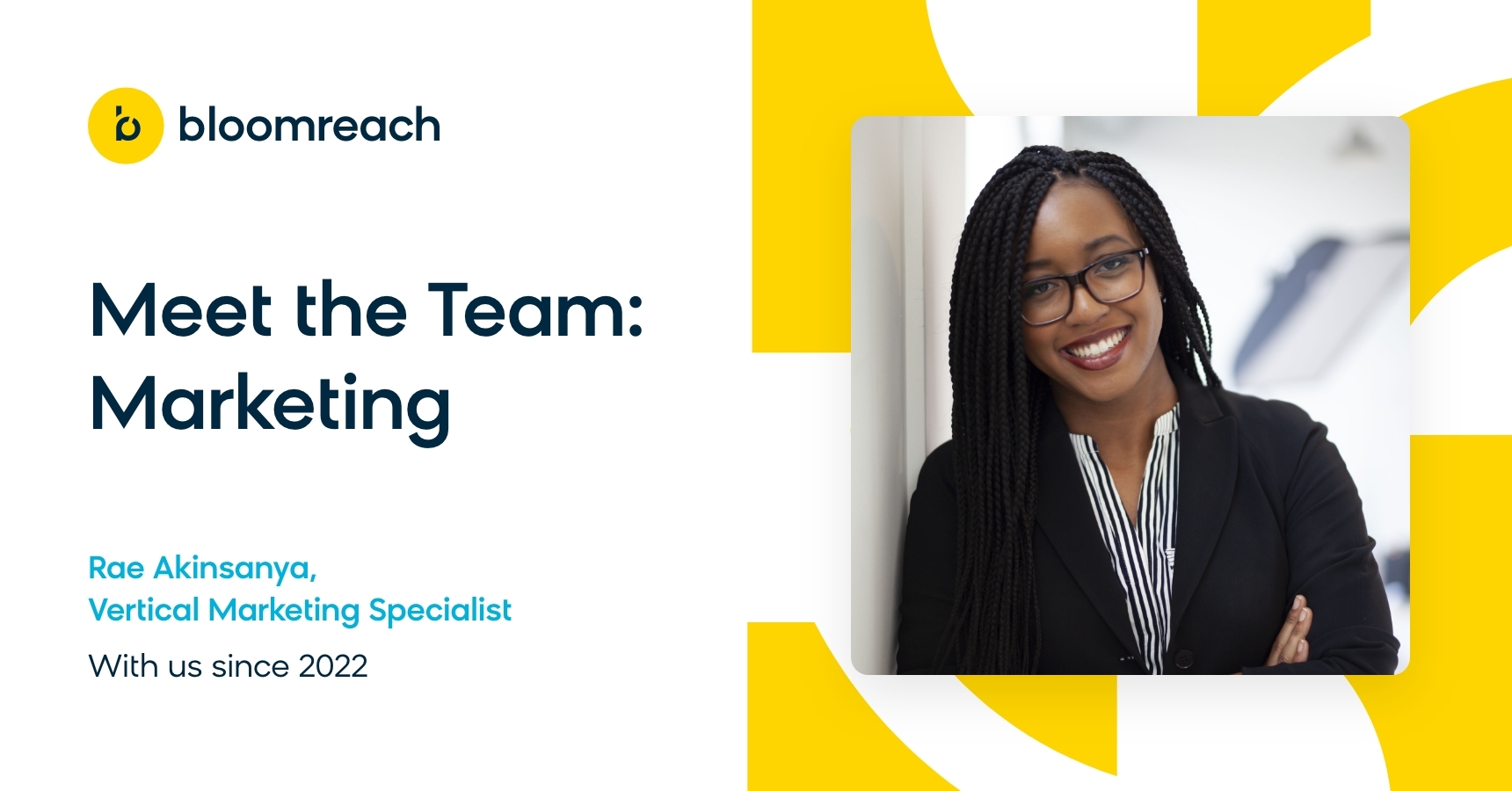 1. When and how did you realize that you would like to work within a technology/SaaS company?
After coming from a more general marketing position where I had the opportunity to to touch on many different aspects of the industry (PR, video production, social, marketing operations), I knew I wanted to narrow my focus and specialize in a specific area of marketing. 
Having interned at an influencer marketing tech company, I had some experience at a SaaS company and really enjoyed working there. During my search, I realized that many of the roles I had bookmarked while casually looking at positions were for tech companies. When I ramped up my search I knew tech was the place for me to be able to work with like-minded people and specialize in a specific area of marketing. 
2. How did you find out about Bloomreach?
On LinkedIn! It was one of the positions I'd bookmarked. I looked at the careers site and felt like Bloomreach was a company that puts people first and prides itself on diversity — which was extremely important to me as a black, queer woman. 
3. What was your journey to becoming a Vertical Marketing Specialist in a software company?
In college at Northeastern University in Boston, I majored in International Business, which gave me a foundation of cultural competence and a desire to work with people from all different backgrounds and walks of life. 
While completing my Masters, I started working at that influencer marketing tech company as a Marketing Intern focused on content copywriting, then got hired at a chemical technology company (the other kind of "tech company") as a Marketing Associate in Cambridge Mass. 
After being promoted to Assistant Marketing Manager, I knew that the part of my job I loved the most was the creative parts and thinking about the technology from different industry perspectives. Since this chemical technology had many applications in different industries, it was a perfect transition for me to go into vertical marketing. 
4. Walk us through a day in the life of a Vertical Marketing Specialist at Bloomreach!
After waking up, walking my dog Stevie, and eating and grabbing a coffee, I usually start with checking the status of my campaigns. Over my three-and-a-half quarters here, I've run campaigns targeting fashion, jewelry, furniture, and grocery. Some mornings, I'll check on how those past campaigns are doing, while other times I'm more focused on getting my current campaign assets over the finish line. This involves checking in on tasks assigned to me and those I've assigned to others, responding to vendors who are going to syndicate our assets, and assessing any roadblocks that may be hindering completion of an asset.
After lunch, I dive more into content/idea creation and requests. This is the time where I outline anything that I need to before requesting it to be edited or fleshed out by our lovely Content team. I'll also submit emails to be sent, catch up on Slack messages, and see how I'm tracking towards getting those tasks that were assigned to me completed by the deadline. 
At the end of the day, I try to think through what I need to get done tomorrow and if there are any adjustments that need to be made for achieving what I need to for the rest of the week. 
5. What do you consider the most challenging part of your role?
The most challenging part of my role is meeting my audiences where they are. I try to find publications, newsletters, events, and other channels where I think professionals in a specific industry consume content, gather, and discuss technology solutions. 
Sometimes these channels are elusive, have audiences that are outside of our ideal customer profile, or simply don't exist. That's when I need to get creative and work with our Paid Ad and Content teams to see how we can best reach my desired audience with targeting and SEO. 
6. On the other hand, what would you say is the most rewarding part of your role?
The most rewarding part of my role is seeing the assets I create for my campaign have a positive impact on our Sales team's outreach strategy. While I hope that our organic and paid channels will bring prospects to our site and lead them to request a meeting, when our Sales team chooses one of my assets because they think it's valuable and needs to be shared with a specific prospect they're working with — that feels great!
7. What would you say is your favorite thing about working for Bloomreach?
My favorite part about working for Bloomreach is the opportunity to work with people from everywhere — remotely. It allows me to lead the life I want here in Portland, ME, and also have daily interactions with so many different people from so many different places and backgrounds. We get ample opportunities to travel and meet with our team and people outside of our teams, so I'm never missing the office environment and our time together is even more special and objective-focused. 
8. In three words, how would you describe the culture at Bloomreach?
Fast-paced — At Bloomreach, there's always something to do, and in the tech world, there can be a lot of changes. Collaboration with other teams is key to keep up.
Considerate — Even though there's always something to do, no one expects you to work after hours or be locked to your desk all day. Taking advantage of our unlimited PTO is encouraged and muting notifications on Slack to go for a walk or take a screen break is commonplace. 
Creative — At the beginning of each campaign, we can sit down and come up with the wildest ideas, which we often say to ourselves, "Actually, why not?" and then implement many of them.
9. How do you learn new things applicable to your role?
Mostly by talking with vendors in the industries I'm targeting. There's absolutely no way for me to really know all the specific pain points for industries like grocery, furniture, fashion, etc. Speaking with people in the industry broadens my perspective and enables me to target prospective customers in a more relevant and meaningful way. 
10. Outside of Bloomreach, what are you passionate about? 
Music! I play the tenor saxophone in my town's community concert band — it brings me a ton of joy. I've been playing instruments since I was five, so to keep doing it without the institutional community of a school or university has been really important to me.