Life at Bloomreach
Meet the Team: Value Delivery Manager Olexandr Ostrovskyy
By Petra Trubinska
11/21/2022
Life at Bloomreach
Meet the Team: Value Delivery Manager Olexandr Ostrovskyy
Olex is a member of our Operations team and has been with Bloomreach for eight months now. We spent some time chatting with him about his experience with the company to give prospective candidates a chance to better understand what it's like being part of our Operations team.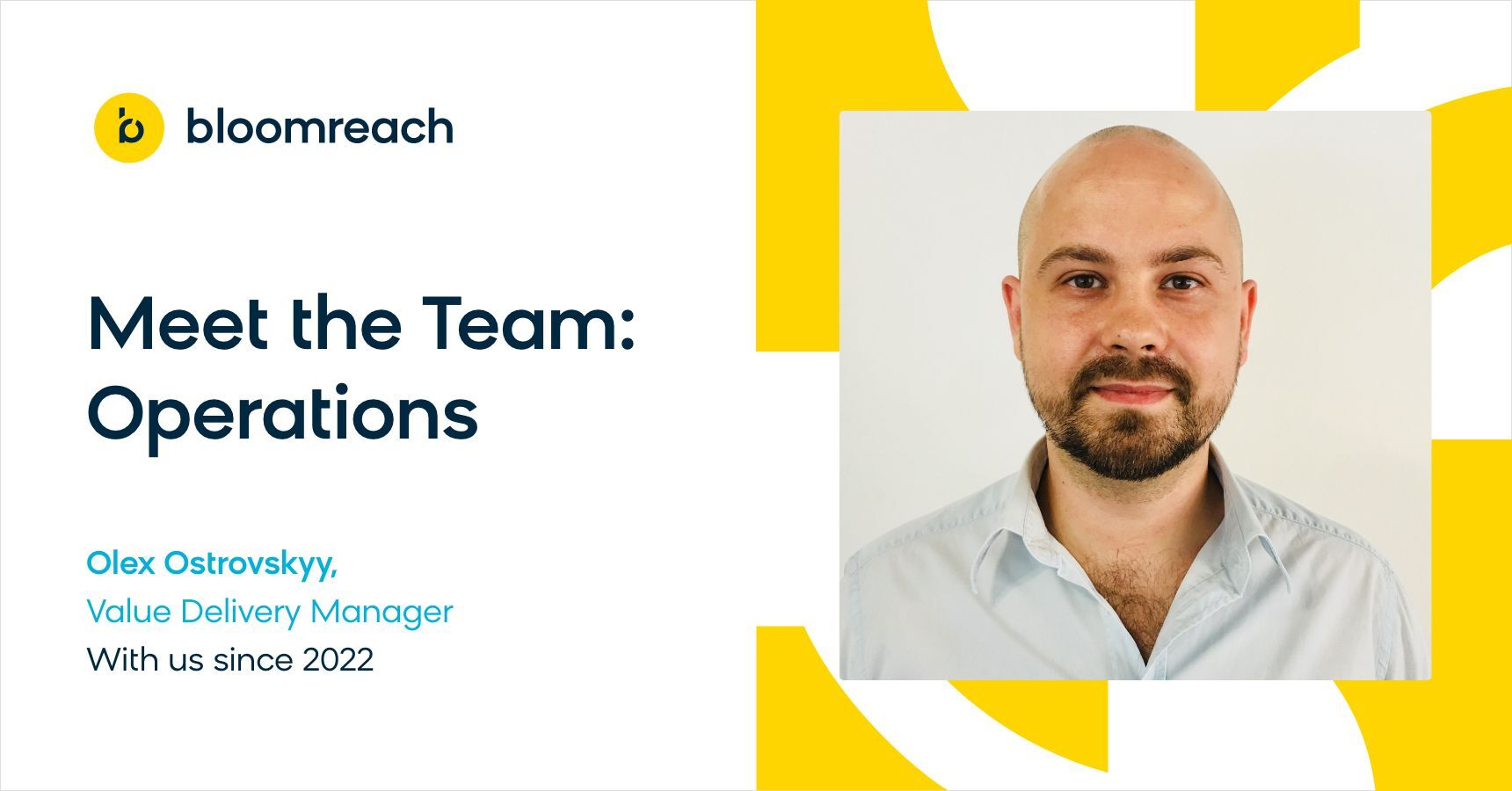 1. When and how did you realize that you would like to work within client services?
For the last 13+ years, I've been working with clients. At first, it was pipe production, then consulting. And for the last 10 years, I have been working on projects in software development and related services. 
So, I guess I made the decision a long time ago. :) I think it is because I like to work with people to see how their business improves with our software, and see how tech changes the way people think and operate. 
2. How did you find out about Bloomreach? 
My friend and colleague is working at Bloomreach. He told me how fantastic the team and the company are, so I decided to join. I think it's also a good sign for the company if its employees are spreading good things about it and are bringing in skilled friends.
3. What was your journey to becoming a Value Delivery Manager? 
During my career in IT, I've been a project, program, portfolio, and delivery manager, as well as a Delivery and Technology Director. I've also been a Solutions Architect and sometimes even Business Analyst. 
As it turns out, all my previous experiences have been helpful for the position of Value Delivery Manager. Not just in terms of managerial experience, but also technical knowledge and skills. APIs, Javascript, and even machine learning — all of these are helping me in my day-to-day work. 
4. Walk us through a day in the life of a Value Delivery Manager at Bloomreach!
My job as Value Delivery Manager is to ensure that our platform is ready for use by the customer and that it brings the necessary value — it's about managing the implementation. My daily work usually includes between three to six hours of meetings, mostly with customers and the project team. It is essential to align all the project stakeholders and educate the customer on how the platform works and how to implement it. 
The remaining part is working with the platform, technical integrations, and sometimes testing. 
5. What qualities would you say a person who wants to become a Value Delivery Manager needs to possess?
There are a few things that I find very useful for this role: 
The ability to work with multiple projects at the same time without losing focus on any of them
Patience
Communication skills and the ability to build relationships with trust
The ability to learn constantly and quickly
It is also essential to enjoy working with people. Most of the time, we deal with people! :) 
6. What is the most rewarding part of your role? 
Feedback from satisfied customers and happy teams. 
7. What do you consider the most challenging part of your role? 
Implementation of Bloomreach Engagement is a very particular project. It requires focus and involvement from customer teams, as a significant portion of work is done by customer teams with our assistance and help. This specificity requires us to be very articulate and focused on educating and consulting customer teams.  
Sometimes it can be challenging, especially in big projects, because we might not have access to all stakeholders. And it is hard to assess how well people understand the platform until they start using it and making mistakes. So, we have to work our magic to ensure that all stakeholders are satisfied, educated, and making the fewest possible mistakes. 
8. What would you say is your favorite thing about working for Bloomreach? 
It's the culture. First, I see how the stated values are followed across the company. For example, the "NO DRAMA" value is very relevant to the client-facing roles. If you have some issues with the client, we gather and talk calmly. Of course it's a big deal, but nobody blames you for anything and we try to find the right way to deal with it. Also, the friendly environment of trust and support. 
9. In three words, how would you describe the culture at Bloomreach? 
Support - I feel the support from my manager and my colleagues. Even though our calendars are super busy, people at Bloomreach always find time for a chat with you. It's actually about small things that mean a lot in the end.
Ownership - Being in a role where I am in contact with many people across the company, I can really see that people own their tasks and think about the business impact.
Trust - This is connected to ownership. We believe that everyone did the best thing possible and if we see that something should be done better, we don't blame each other, but rather try to look for ways to improve it next time.
10. How do you learn new things applicable to your role? 
I read a lot and watch training videos. Lately, I've finished four courses in our Bloomreach Academy, including one for Discovery. 
I like Bloomreach's suite of products. It is truly outstanding. I've seen and worked with other tools, and our product is much better. 
11. Outside of Bloomreach,  what are you passionate about? 
Machine learning, IoT, cloud, and tech in general. When I want to relax, I always go for all active kinds of sport, like hiking and martial arts.