Life at Bloomreach
Meet the Team: Senior Software Engineer Pankhuri
By Petra Trubinska
05/04/2022
Life at Bloomreach
Meet the Team: Senior Software Engineer Pankhuri
Pankhuri is a member of our engineering team and has been with Bloomreach for five years now. We spent some time chatting with her about her experience with the company to give prospective candidates a chance to better understand what it's like being part of our engineering team.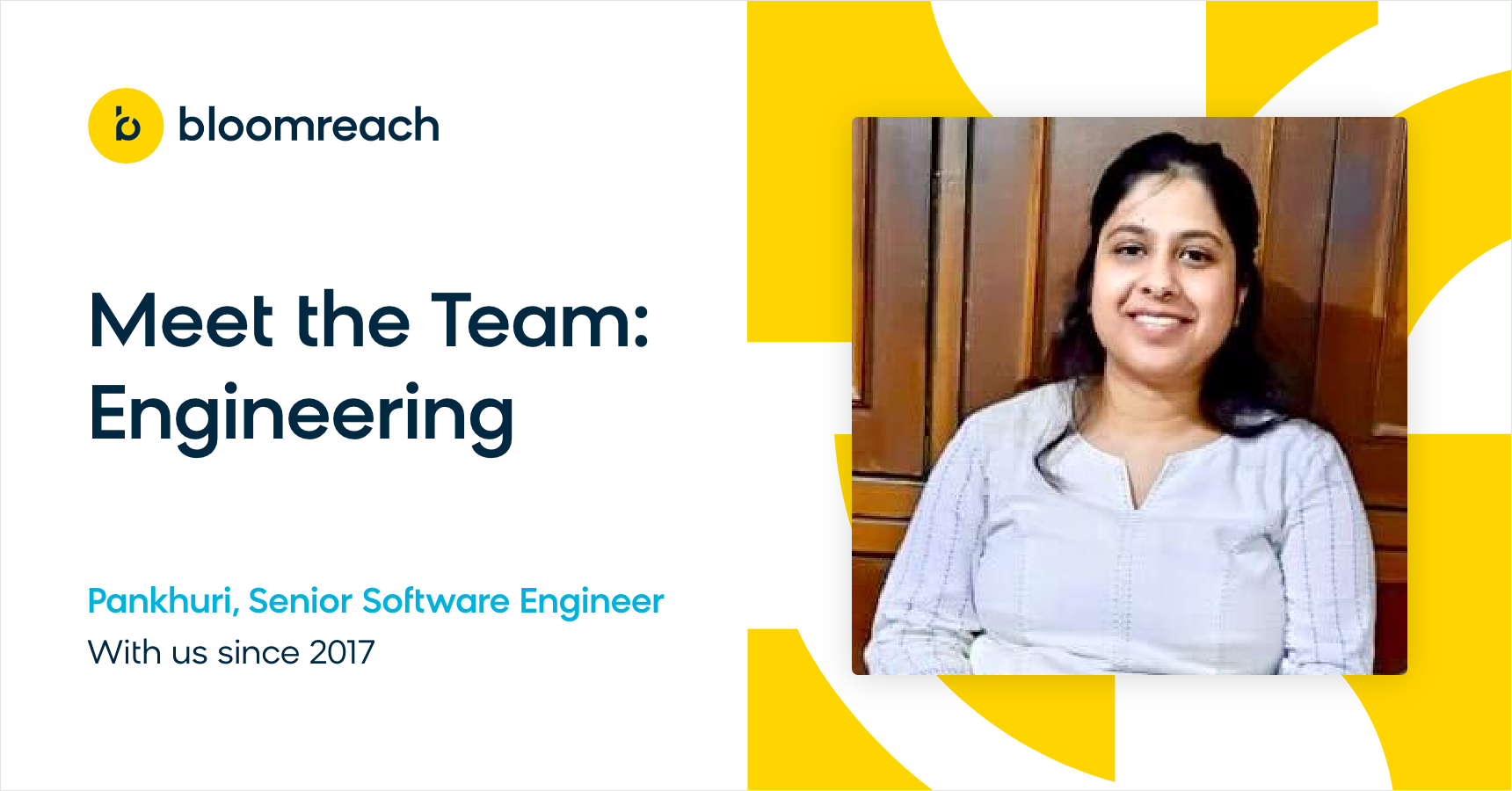 When and how did you realize that you would like to work within technology/engineering?
I always admired technology and software, but the first concrete step would be choosing mathematics and physics in high school. I loved these subjects and pursued them. After school, I filled applications for different engineering colleges and computer science/information technology was the first in my priority list. Luckily, I was able to secure a seat for this branch in one of the colleges where I got to learn a lot about coding and software principles. I was intrigued by various concepts and decided to pursue my Masters in the field, after which I joined Bloomreach. 
How did you find out about Bloomreach?
I found out about Bloomreach from my college. It was one of the companies which participated in the on-campus placement during my final year of graduation. I learned about the domain in which Bloomreach deals and it appealed to me.
What was your journey to becoming a Senior Software Engineer?
For pursuing engineering in India, one has to pick mathematics and science in high school. Afterwards, I did my B.Tech from the National Institute of Technology, Patna in Information Technology. Then I appeared for the GATE examination and got a seat in M.E. at the Computer Science and Automation department of the Indian Institute of Science, Bengaluru. I joined the software industry after my studies. I started as a Software Engineer, then was promoted to Software Engineer II a few years ago, and was recently promoted to Senior Software Engineer.
Walk us through a day in the life of a Senior Software Engineer at Bloomreach!
A day in the life of a Senior Software Engineer involves working on the highest-priority OKR items, onboarding and mentoring new joinees , unblocking other team members when possible, attending team syncs and other meetings, a bunch of code reviews, and interviewing new candidates. 
What is the most rewarding part of your role?
I like to code and design software. Coming up with a good design and code to solve a problem is like an art. You study and discuss with different people, and then you come up with a piece of solution that you think is the best. But there is always room for improvement, and once the code is under review, you see how different people view the same problem in different ways. This process is the most rewarding part of my role since this is where a lot of learning happens.
What do you consider the most challenging part of your role?
The most challenging part of my role is dealing with a P0 situation. It occurs when something has gone wrong on our production site and we have to fix it ASAP. It is usually a high pressure situation where you need to debug the root cause and ensure all the live traffic is served properly.
Coolest story involving your team? 
With remote work over the past two years, it had been a long time since our entire team had met each other physically, and there were many new members of the team as well. Recently, all the engineers in the Discovery team decided to meet. Most of us traveled to our office in Bengaluru from different parts of India to spend an entire week together. This was filled with multiple meetings and syncs on one hand, and parties and games on the other.
In three words, how would you describe the culture at Bloomreach?
Fun — before COVID, we had many fun activities in the office, and even though we're now working remotely, the company culture is great and we can be honest with each other.
Open-minded — in Bloomreach, everyone can have an opinion and it doesn't matter if it's a manager or newcomer — every voice counts. 
Erudite — with the development of our technology, we must learn almost every day, so I am happy that we can share our thoughts, knowledge, and feedback with each other.
What would you say is your favorite thing about working for Bloomreach?
My favorite thing about working for Bloomreach is that people are always enthusiastic and ready to learn new things. If you have an idea, you are free to share it with even the most senior people in the organization. You don't have to follow the hierarchical ladder for raising any queries or sharing your thoughts. The senior people are ready to learn even from a newcomer.
How do you learn new things applicable to your role (within the team, outside work)?
For learning new things, I try to read blogs and books. There are many free online courses and tutorials which are very helpful. Sometimes, healthy discussion on a topic with my teammates is the best way to learn and look at problems from a new perspective. I am also thinking about how to utilize our learning budget for the same.
Outside of Bloomreach, what are you passionate about?
Outside of Bloomreach, I am passionate about different social issues. I feel strongly about feminism, mental health, and access of education to all. I have worked with some NGOs providing free education to underprivileged local kids in the past. I try to generate awareness about LGBTQIA+ rights and mental health on social media. It's amazing how even this small step gets people talking and sharing their experiences with you.