Life at Bloomreach
Meet the Team: Senior Program Manager Preeti Kalal
By Petra Trubinska
09/13/2022
Life at Bloomreach
Meet the Team: Senior Program Manager Preeti Kalal
Preeti is a member of our Engineering team for the Bloomreach Discovery product and has been with us for over three years now. We spent some time chatting with her about her experience with the company to give prospective candidates a chance to better understand what it's like being part of our Discovery Engineering team.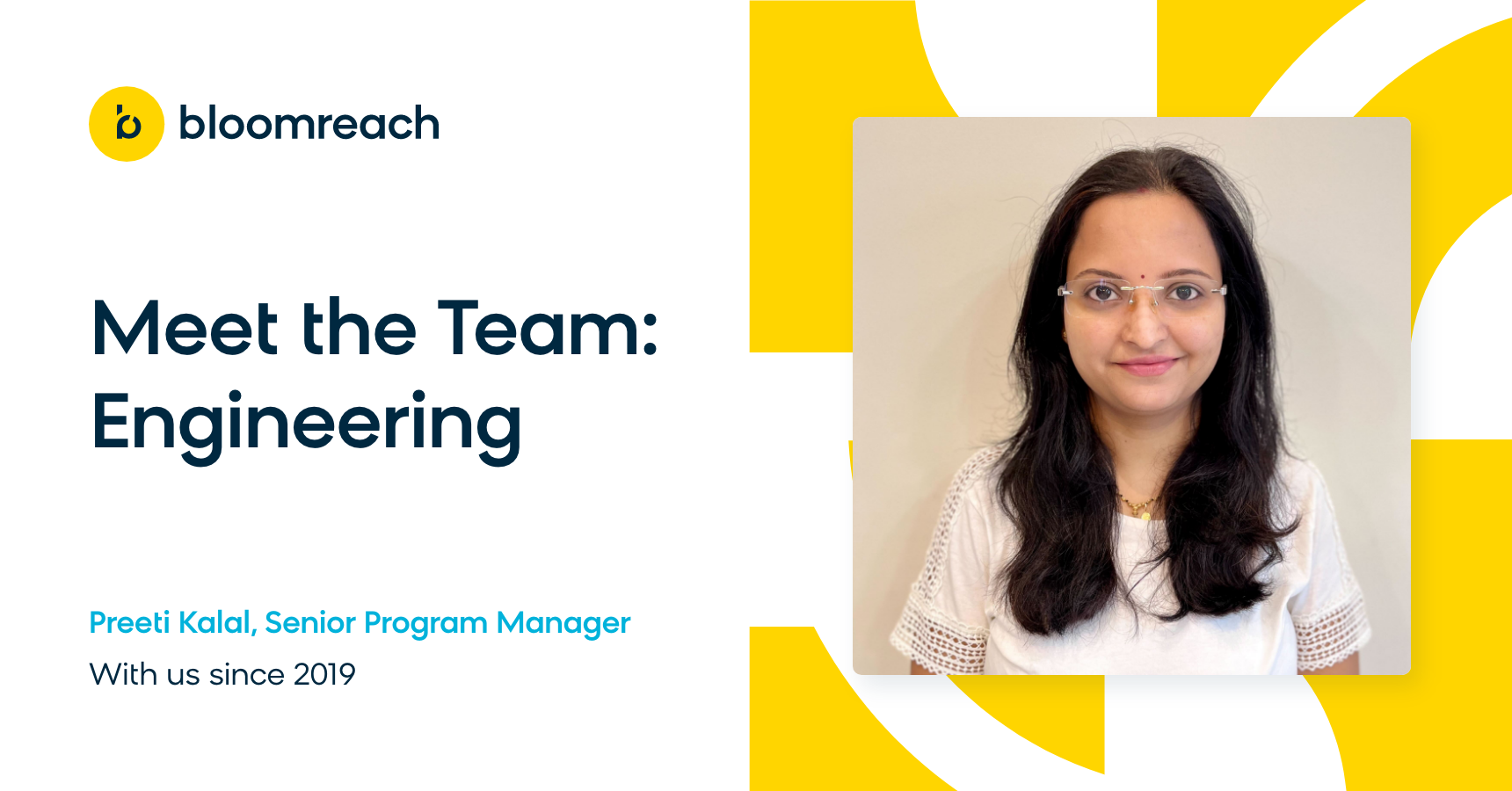 When and how did you realize that you would like to work within technology/engineering?
Earlier, I was part of the Product team and realized that I am engaged with engineers more than the Product team. We realized that the PMO team did not add much value to the Product team because we were dealing with the Engineering team day in and day out. Later, we moved to Engineering.
How did you find out about Bloomreach?
I found out about Bloomreach through a consultancy (Krishna from TecForce). He approached me and explained the roles and responsibilities needed for the role Bloomreach was looking out for, and it excited me to take up the challenging role of being a Scrum Master. What interested me most about Bloomreach was the amazing product and the high ratings on Glassdoor.
We heard that you were promoted recently. What was your professional journey to becoming a Senior Program Manager?
Yes, I got promoted this year in April to a Senior Program Manager. I must say, I had a roller-coaster ride on this journey. When you try to bring in a potential change (scrum introduction) in the company, it's common not always easy to accept the changes. But slowly and steadily, the teams tried to gel into this change and started to perform really well with the scrum terms.
Walk us through a day in the life of a Senior Program Manager at Bloomreach!
As a Senior Program Manager at Bloomreach, I'm responsible for bringing in change and making sure everyone understands why the changes are made and make sure everyone follows the changes introduced. I work within the whole Discovery team, and a typical day for me starts with responding to emails, addressing queries around processes, going to meetings and more meetings, facilitating cross-team coordination, etc. I spend time catching up on the status of projects through daily scrum meetings and individual sync calls.
What do you consider the most challenging part of your role?
Change management as a whole process: Define process → Lead people to follow the change → Achieve desired outcomes. It's very challenging to be in contact with so many people coming from different cultures and successfully reach the goal.
What is the most rewarding part of your role?
Definitely working with engineers to help them achieve their goals. Also, helping them understand the critical issues. I am also constantly learning new things, which is so rewarding at the end of the day!
In three words, how would you describe the culture at Bloomreach?
People: I've had a chance to work with some of the smartest people in the industry.

Transparent: Our CEO is always so transparent about the progress of the company through various forums. I can really evaluate this since I've been with the company for over three years, and transparency is still an important part of Bloomreach.

Merchandise: We are receiving so much cool merchandise from Bloomreach that it always makes my friends jealous! I have plenty of jackets, T-shirts, etc. — and I simply love it.
What would you say is your favorite thing about working for Bloomreach?
Bloomreach is an employee-centric organization with great work-life balance.
How do you learn new things applicable to your role (within the team, outside work)?
Within the team: The acquisition of knowledge or skills is always an ongoing process. I get to learn many things at work like professionalism, leadership, self-organization, and strategic thinking.
Outside work: By socializing with like-minded people, I get to learn lots of things from their experience. 
Outside of Bloomreach, what are you passionate about?
I am passionate about gardening, and I recently bought a book about how to grow all types of plants, which I am reading in my free time. I just love to be in my garden and take care of all the plants. Taking care of them and watching them blossom is blissful and therapeutic.