Life at Bloomreach
Meet the Team: Senior Customer Success Manager Taylor Whiteley
By Petra Trubinska
10/13/2022
Life at Bloomreach
Meet the Team: Senior Customer Success Manager Taylor Whiteley
Taylor is a member of our Operations team, and has been with Bloomreach for one year now. We spent some time chatting with her about her experience with the company to give prospective candidates a chance to better understand what it's like being part of our Operations team.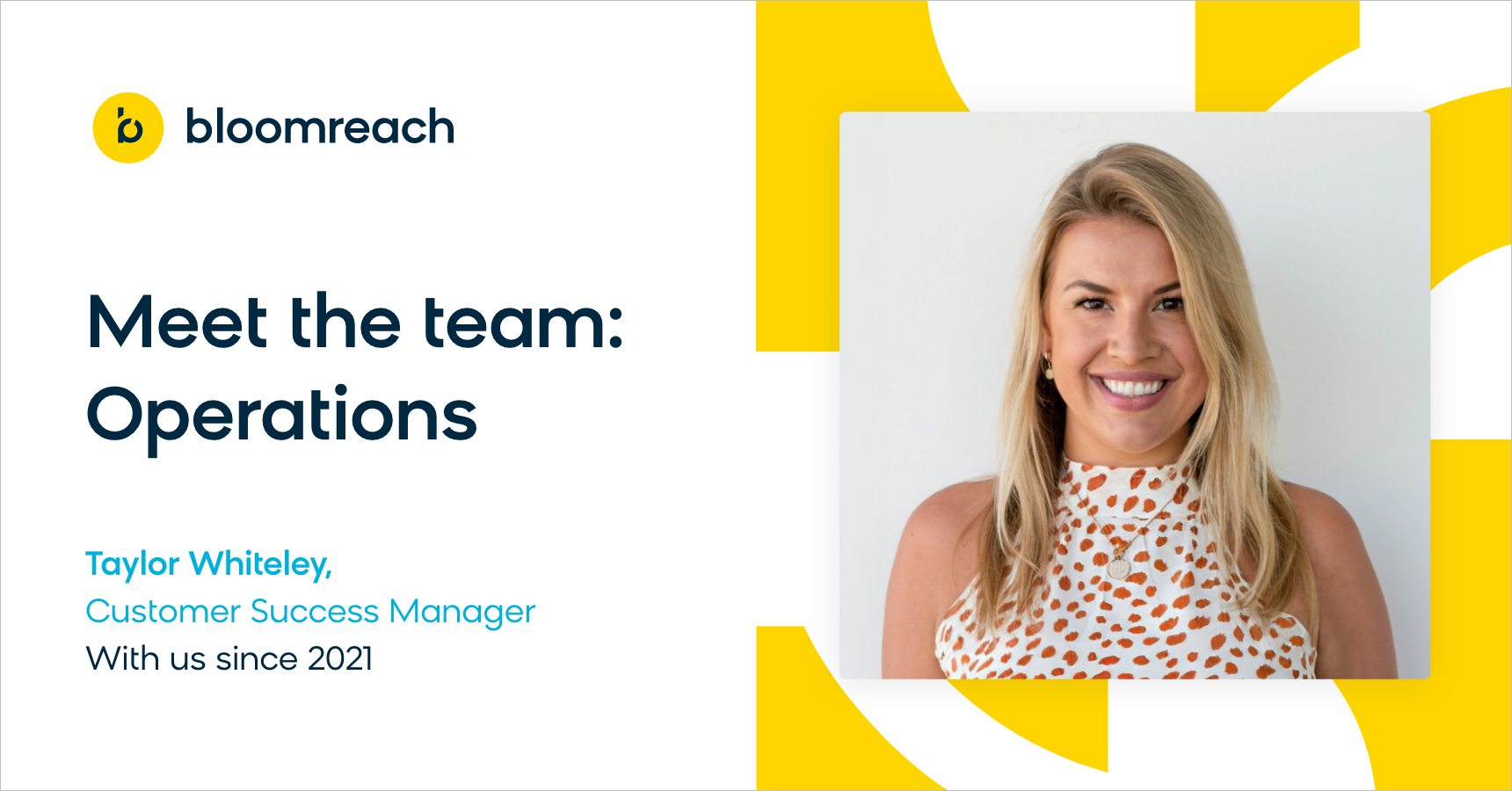 1. When and how did you realize that you would like to work within a technology/SaaS company?
I've actually always worked in technology/SaaS since graduating from university, and if I'm honest, I actually fell into it very much by accident. It wasn't my dream career — I think I actually wanted to be a vet! I don't think I really even knew what SaaS was back then, but I've been very lucky and had some amazing experiences working in technology across a variety of industries, including healthcare, business intelligence, and now, marketing automation!
2. How did you find out about Bloomreach?
In my previous roles with other MarTech companies, I'd often come across Bloomreach (or Exponea as it was known back then before the acquisition). However, one of the guys from our in-house recruitment team had actually placed me before in my previous role as a CSM and asked the team to reach out to see if I would be interested in moving to Bloomreach. I had a few calls with members of the team and management, and could just tell it would be a brilliant opportunity and great culture fit.
3. What was your journey to becoming a Customer Success Manager in a software company?
I've always worked in client-facing roles for software companies. I started out after a languages degree as a Mandarin-speaking Account Executive for a healthcare software company. I remember in the interview someone saying that the role ultimately boiled down to the ability to make friends…and I thought, GREAT! It wasn't quite that straightforward, but being good with people definitely helps in any client-facing role and has served me well in my career so far. After three years of working there and spending a lot of time in China collaborating with health bureaus, I moved to London as an Account Manager for a business intelligence software company, as I'd always been interested in the big data side of things. 
From there, I moved to marketing automation as an Account Manager/Customer Success Manager. The customer experience is something that we all experience in our day-to-day lives, as we're all technically customers in one form or another, from the restaurants we eat at to where we buy our shoes and how we choose to travel! I quickly became passionate about improving the overarching customer journey and driving personalization. 
4. Walk us through a day in the life of a Customer Success Manager at Bloomreach!
Well first, no two days are the same. Looking after a diverse client portfolio means that we are constantly kept on our toes! We are in regular contact with all of our clients and support them in delivering on their KPIs and marketing objectives using Bloomreach Engagement. CSMs are tasked with creating success plans for clients in order to help them leverage the platform and get the most value out of Bloomreach. We also have a number of internal initiatives that we work on to help improve processes within the business and help share best practices. 
5. What qualities would you say a person who wants to become a Customer Success Manager needs to possess?
In my opinion, a good Customer Success Manager has strong interpersonal skills and can build a good rapport with clients, colleagues, and partners.  It's a client-facing role at the end of the day, and we are often the face of the business, so we need to have the confidence and ability to support client's ambitious strategies, while also representing Bloomreach and its core values.
6. What do you consider the most challenging part of your role?
Having a lot of clients means spinning a lot of plates! It can be tough to stay on top of everything all the time and make sure everyone is receiving the right level of support. 
7. On the other hand, what would you say is the most rewarding part of your role?
Definitely those high-five moments with clients when a project all falls into place and we can shine a light on their amazing achievements and celebrate the wins from using the Bloomreach platform. It's great to feel like an extension of the team with the client, and getting to share in their successes as their trusted advisor is very rewarding. 
8. What would you say is your favorite thing about working for Bloomreach?
I don't think I can pick one, so here are my top three:
My incredible colleagues, who are all so supportive and up for a laugh at the end of a hard day.
Our wonderful clients, who make it so easy to love what I do.
The opportunities for professional growth. If you're willing to get "stuck in," everyone is able to contribute to new projects and initiatives that influence change right across the business.
9. In three words, how would you describe the culture at Bloomreach?
Progressive/fast-paced - There is never a dull moment. We are always growing and innovating, and there are still many ongoing projects and opportunities.
Collaborative - Bloomreachers really live by the WE value, so I find that everyone is very engaged, invested in common goals, and always there to help one another.
Rewarding - We're always encouraged to go above and beyond, and are recognized for our efforts in doing so. I love sharing client success stories with the wider team and recognising the hard work from other team members that played a pivotal role in their success.
10. How do you learn new things applicable to your role?
We are fortunate to have access to a lot of learning tools that allow us to work on our professional development. We also have an annual training budget, so we can enroll in courses or attend events that are relevant to our day-to-day roles and contribute to our career growth. I'd say one of the main learning areas for me personally, though, is working closely with my colleagues in the wider Client Services team. It's a very close-knit, collaborative team, and everyone is always so willing to help each other out. 
At Bloomreach, one of our values is "WE," and it really feels like we're all in this together, so it's great to have such a supportive team and leadership where we can constantly learn from one another and work together to achieve success.
11. Outside of Bloomreach, what are you passionate about? 
Since lockdown, I've actually developed a bit of a passion for cooking! Also, having studied French, Spanish, and Chinese at university, I love getting the opportunity to practice my languages and travel the world. I've been to 35 countries so far, and can't wait to visit more.