Life at Bloomreach
Meet the Team: Senior Business Consultant Matthew Middleton
By Petra Trubinska
07/05/2022
In the latest installment of our Meet the Team Q&A series, we spoke with Matthew Middleton. Matthew is a member of our Operations team, and has been with Bloomreach for five years now. We spent some time chatting with him about his experience with the company to give prospective candidates a chance to better understand what it's like being part of our Operations team.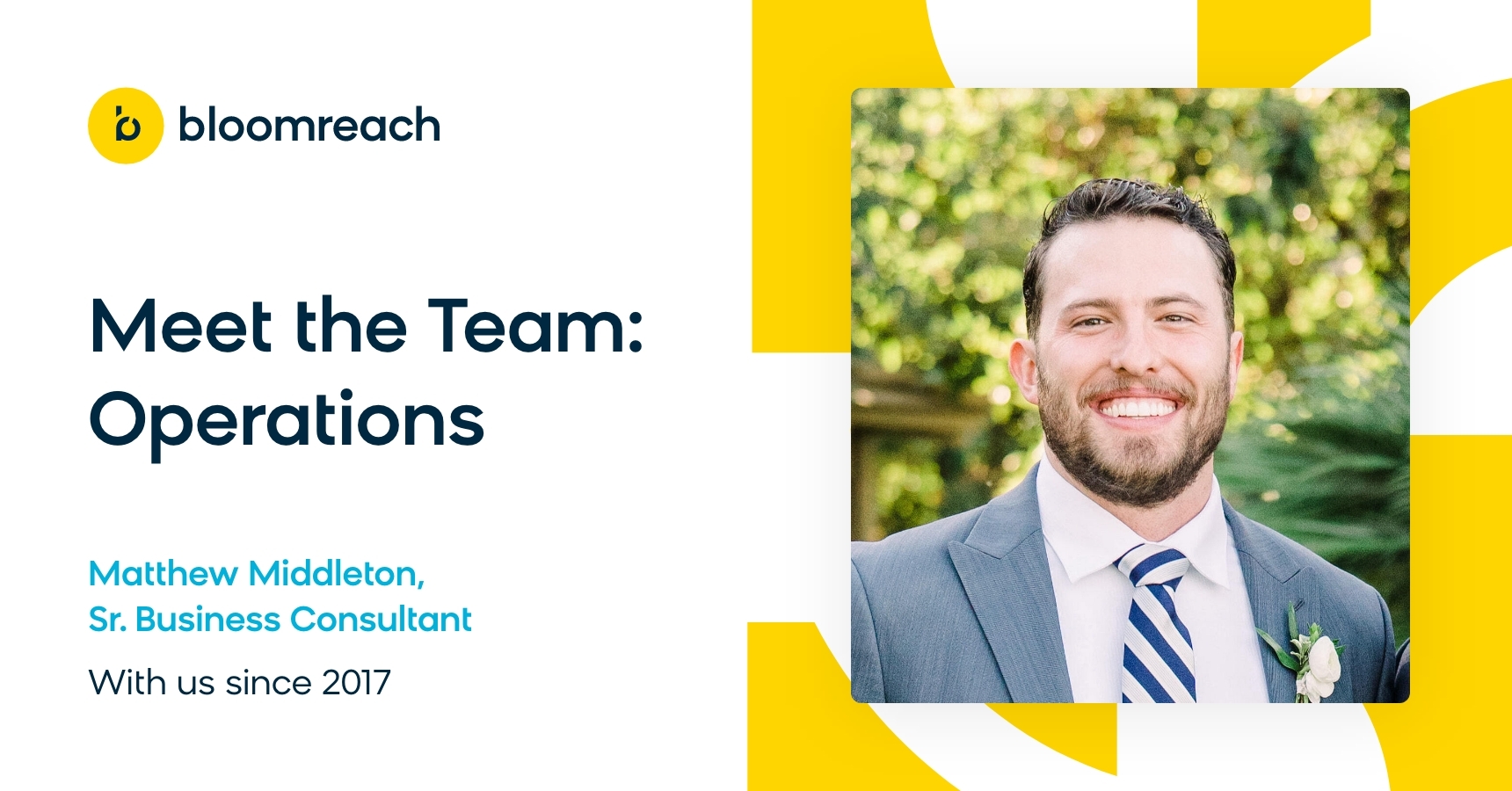 When and how did you realize that you would like to work within client services?
When I joined the Discovery Business Services team in 2018, it was relatively new — less than a year old, in fact. Coming from a sales background, I was looking for certain job characteristics out of my next role and career: to be customer-facing, analytical, and critical to customer success. Client Services embodies all of those qualities. 
How did you find out about Bloomreach? 
Funnily enough, I was in the process of interviewing with a competing search company that a college friend of mine worked at, and I knew of Bloomreach from my competitive research. Thus, I knew that they were the leader in the search space. During that process with a competitor, Bloomreach opened a role in the Dallas office (now closed) that was exactly what I was looking for. It was an incredible opportunity to work at a great company with amazing people. 
What was your journey to becoming a Senior Business Consultant? 
My first role at Bloomreach was as a Sales Development Representative for the Bloomreach Discovery product. That role taught me the importance of product and industry knowledge in solving the challenges that prospects were facing, which was critical to opening sales opportunities with them. This led to my desire to become a product expert, so I started to work on the post-sales side to use that expertise to help our customers use our product to its full potential. 
In 2018, I joined the Business Services team to do just that, and I had the opportunity to not only train customers on Discovery, but also to work on long-time projects with some of our largest North American clients. I became very interested in Bloomreach Engagement after we acquired Exponea in 2021, and in January of 2022, I transitioned to the Engagement business consulting team in order to learn the new pillar and bring over my experience working with enterprise clients. I am now involved in what we call cross-pillar projects, where I can bring my knowledge of Discovery and Engagement to implement them together and create solutions that utilize both products to solve unique customer use cases.
Walk us through a day in the life of a Senior Business Consultant at Bloomreach! 
The work in any client services team is a great balance of customer meetings and the background work that helps keep our clients happy! In client services, we interface with so many other teams here at Bloomreach — from Customer Success and Sales to Product Management, Engineering, and Customer Support. 
Most of my eight clients right now are in the implementation phase of Engagement. In this phase, we meet with customers on a regular basis to provide and receive status updates, as well as do some ad-hoc training on the platform. Most of my work involves implementing the use cases that the client bought through the sales process, as well as implementing any custom use cases they require. In addition, my colleagues on the Technical Consulting team and I will help debug any issues that the client may be facing in their integration. This allows them to hit the ground running when they transition out of implementation and to our amazing Customer Success team. Some clients will also have dedicated professional services hours, wherein they can request consulting from my team on their long-term initiatives. 
What is the most rewarding part of your role? 
Something that's critical to a customer-facing role is wanting to see your clients succeed, and those moments are definitely the most rewarding. It could be when a customer has an "Aha!" moment with the product, when we help them create a compelling and complex use case, or that feeling when we can show them the return on investment they are getting from partnering with Bloomreach. Customer satisfaction is key to customer loyalty, which is what we need to build an amazing software business. 
What do you consider the most challenging part of your role? 
This would be the flip-side of the last question in that the answer is also the same — customers. We at Bloomreach are so lucky to be able to work with the best customers in the commerce space, and they keep us sharp with their expectations of not only our product, but our people. Our clients are moving at the speed necessitated by a fast-paced industry, and their customers are demanding the next big experience at every turn. To that end, our clients bring us some of the biggest challenges they are facing, which can require considerable time, analytical skills, creativity, and teamwork — both between us and the client and internally at Bloomreach — to solve. 
What would you say is your favorite thing about working for Bloomreach? 
The people, hands down. Not only do I work with some of the most intelligent folks in the business, we also have a great time together. I joined Bloomreach right out of college, and Bloomreachers have been around for some huge milestones in my life. I have learned so much from so many colleagues over the years, and their mentorship and, in many cases, friendship, is invaluable. We have a solid group in the Denver area now, and try to set up events like baseball games and happy hours to make sure we are able to meet in person!
What is the best part of being in your team? 
How many times am I allowed to say "the people"? 
In three words, how would you describe the culture at Bloomreach? 
Driven —  Everybody is working towards the same goal: to build a great company and enable our customers to create amazing digital experiences. 

Collaborative — We're encouraged to ask questions in order to learn and grow, and there is always someone there who will happily answer that question. Despite being individual contributors, we have to use the expertise of multiple teams to execute on projects. Collaboration also applies to the executive team, who regularly asks for feedback from the rest of the company to ensure they are leading in the right direction. 

Stimulating — We operate in a fast-paced industry — there's always new technology, new features, and new expectations from our clients' customers, and we have to work at that speed. Staying on top of this market is the challenge that keeps us focused and excited. 
How do you learn new things applicable to your role? 
The best advice I ever received in my career was to never be afraid to ask questions. Luckily at Bloomreach, that's not only acceptable but encouraged at every turn. There are so many highly intelligent people around here at Bloomreach and I try to bug them every chance I get! Outside of that, I use resources like Udemy to not only refresh my existing skills, but also to learn new ones. I hope to learn some front-end dev skills later this year! I'm constantly learning here at Bloomreach.
Outside of Bloomreach,  what are you passionate about? 
I'm lucky enough to live in a great place like Denver, Colorado, and I try to take advantage of the outdoors whenever I can. I love to hike, backpack, camp, and fish, as well as snowboard in the winter. Because of that, I am also passionate about conservation and the environment so that we can keep enjoying those activities for years to come. I love music, and am a musician myself — I play guitar, piano, and drums, and on any given night, you're likely to see me at a concert (preferably at Red Rocks).