Life at Bloomreach
Meet the Team: Junior Account Manager Emily Spencer
By Lucie Cisarova
05/19/2022
Emily is a member of our Revenue team, and has been with Bloomreach for over one year now. We spent some time chatting with her about her experience with the company to give prospective candidates a chance to better understand what it's like being part of our Revenue team.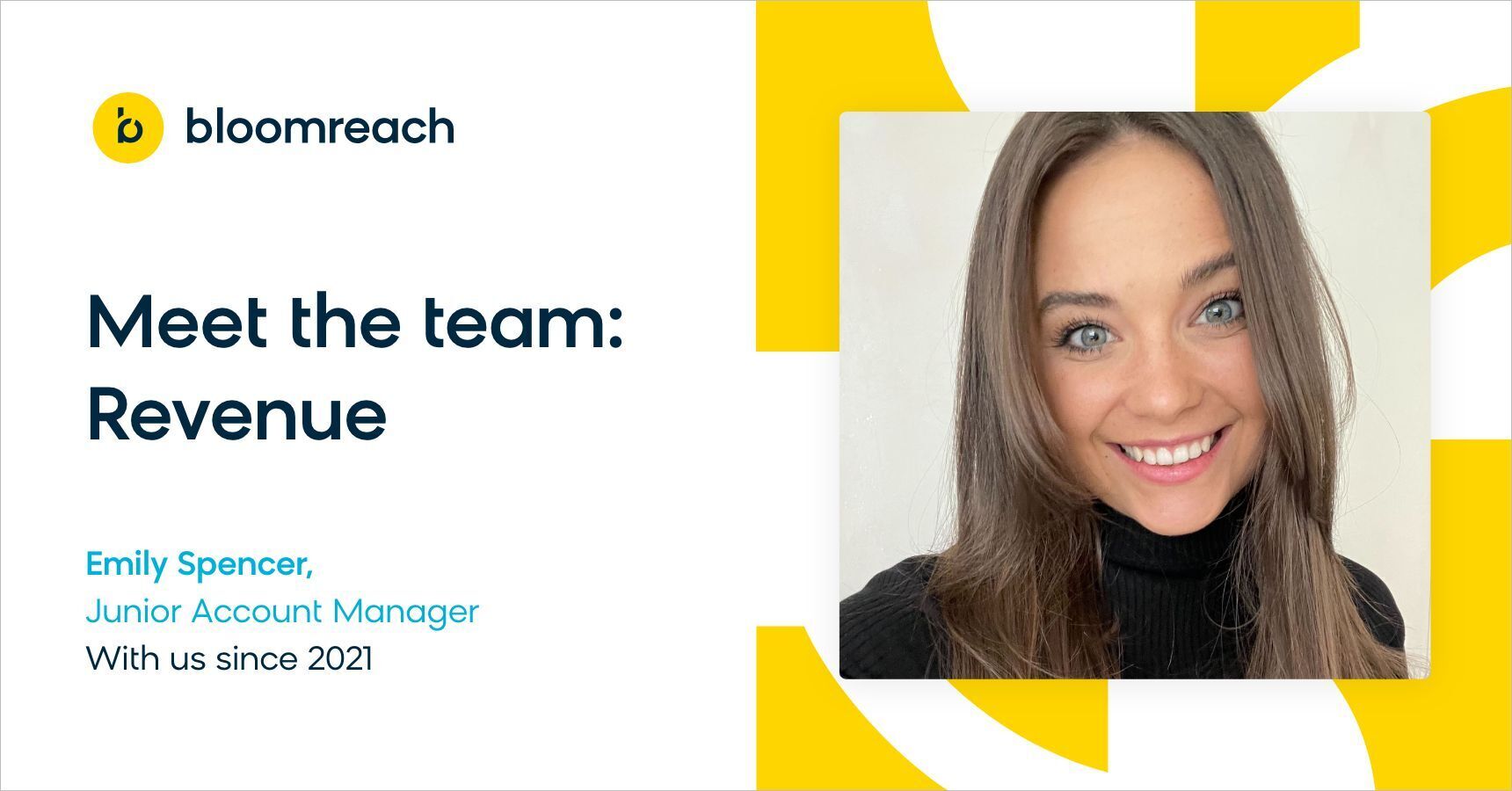 When and how did you realize that you would like to work within technical services?
I have always felt like this space is, as Bloomreach says, 'future-proof'. When it comes to working in sales, software is the space you want to be in, and then with e-commerce in the mix, it couldn't be more perfect. 
How did you find out about Bloomreach?
I was approached by the hiring manager at the time for an SDR role and I was really intrigued by the world of e-commerce software. Her message was so personalized and the more I learned about Bloomreach, the more I wanted to work here. My first interviews with the sales team were super motivating, and as I listened to how they worked and their structured processes, it made me confident that this would be the place where I would develop my skills.
What was your journey to becoming a Junior Account Manager?
I started my career in financial recruitment, but had more of an interest in tech sales, so I applied for a sales development role in a SaaS company. After a year, I saw that there was a lot of opportunity and growth in the e-commerce software space, and Bloomreach looked like a great fit. Here, I started off as a Sales Development Representative, but I have always wanted to go into the Account Management side of sales. However, before doing this, I knew that I would have to master my current role, which was being an SDR. I focused on hitting and exceeding my quarterly targets and developing my product knowledge. Then, when I saw the opening for an opportunity as a Junior AM in the Revenue team, I spoke to my now manager, Toney, about the process — I wouldn't have been able to do it without him!
Walk us through a day in the life of a Junior Account Manager at Bloomreach!
This is what's so fun: every day is genuinely different! But essentially, it boils down to customer meetings and following up on the action points we discussed. I also handle renewals and upsells, so finding the best price that benefits both the customer and Bloomreach. 
What is the most rewarding part of your role?
Definitely working with customers to help them achieve their goals. Also, finding solutions to complex queries. I am also constantly learning new things, which is so rewarding at the end of the day!
What do you consider the most challenging part of your role?
I would say keeping track of all the plates that are spinning! I have quite a few customers, all with different needs and challenges, so making sure they are all tended to. However, this makes the day go faster and means I learn new things every day. I'm also super competitive and target-driven, so I like the challenge.
What would you say is your favorite thing about working for Bloomreach?
I can't express how motivating the people you work with are! We have super successful sales representatives at the company and I learn so much from them. It feels like the whole company is striving towards the same goal and it really shows in the culture. We all truly believe in the tech and that it can make a difference to business' outcomes, and with that, we want to drive success in all aspects of our work lives.
What is the best part of being in your team?
My team is full of high performers who come from lots of different tech backgrounds, so there is so much knowledge sharing between us. Everyone is so supportive and helpful — if you ever come across a challenge, someone usually has an answer! We also meet up together around twice a month and do something fun like mini golf or dinner and drinks, which is a great way to bond outside of work
In three words, how would you describe the culture at Bloomreach?
Inspiring — everyone is working towards the same goal

Fun — great company atmosphere

Friendly — you can quite literally talk to anyone and everyone is always happy to help
How do you learn new things applicable to your role?
I learn a lot from other people in the company. Senior leadership is super motivating when it comes to learning new things about Bloomreach's vision and place in the market. Our General Manager of EMEA, Hugh, and my management Toney and Rhett are amazing at supporting me when it comes to challenging commercial conversations. Our technical team like Pieter and Junaid are actual wizards with the product. Also, we have loads of useful resources like Allego, and people are always happy to help in Slack.
Outside of Bloomreach,  what are you passionate about? 
I really love sports and running. I love the scenery of a nice, long trail run and the headspace it gives me. I also absolutely love going to the theater and any kind of musical. I've seen Wicked at least 5 times!