Life at Bloomreach
Meet the Team: Commerce Experience Advisor Ozioma Obele
By Lucie Cisarova
02/16/2023
Ozi is a member of our Revenue team and has been with Bloomreach since 2021. We spent some time chatting with her about her experience with the company to give prospective candidates a chance to understand better what it's like being part of our Revenue team.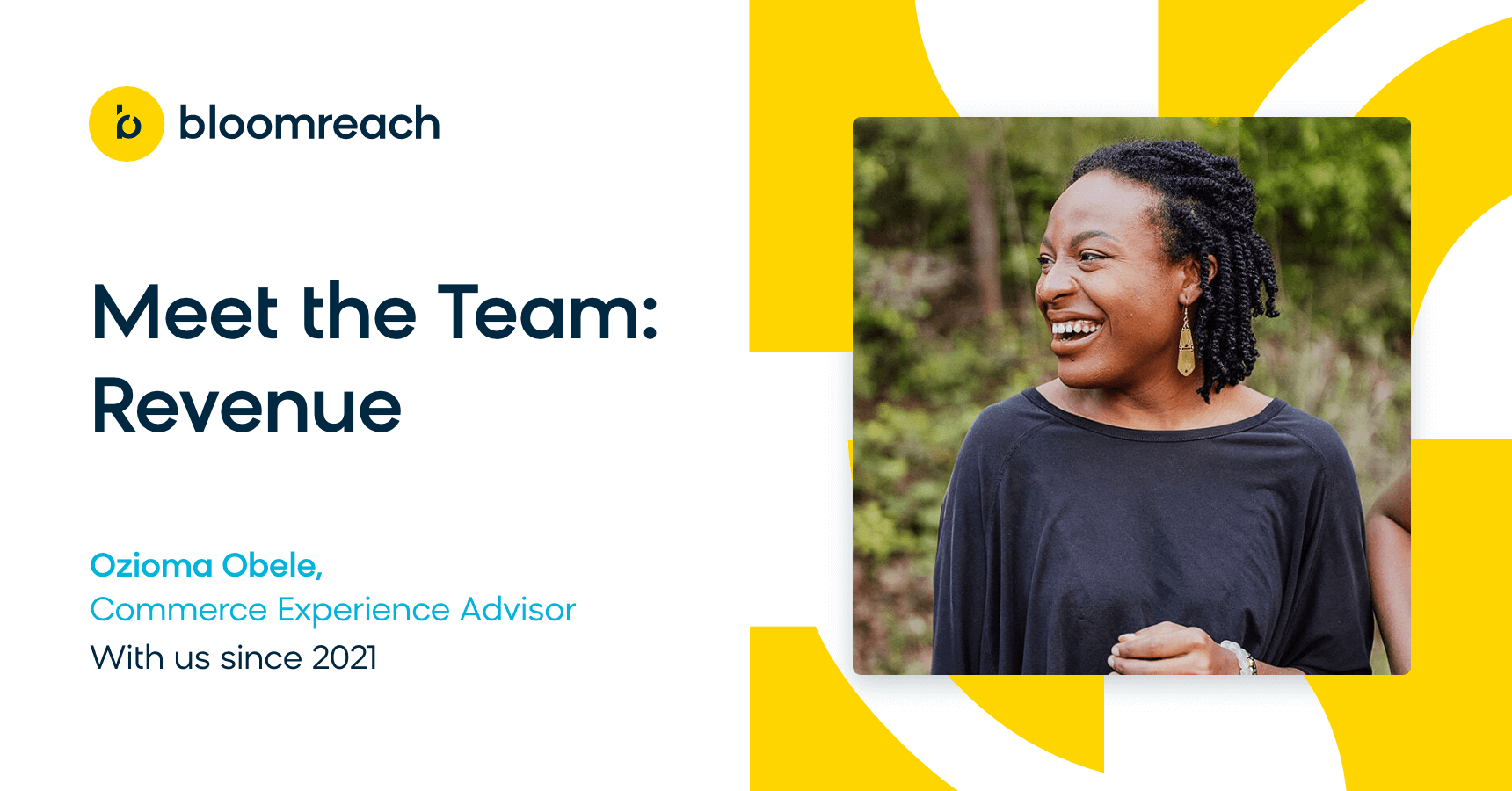 When and how did you realize that you would like to work within a technology/SaaS company? 
Summer of 2021, I was at a crossroads. I was working for a small home decor store wearing multiple hats, one of which was helping with their digital marketing. While I enjoyed the marketing aspect and getting to help grow a small business, I knew that I didn't want to stay in retail forever. I had a few friends who suggested I look into the tech startup space. As I began to do some research, I was immediately drawn to tech sales because it's highly relational and is all about connecting businesses with tools that will help save time and money. 
How did you find out about Bloomreach? 
I was searching for opportunities within MarTech on LinkedIn, and stumbled upon Bloomreach! The first thing that caught my attention was that the company has a great product with a clear goal, which is to help improve businesses everywhere. I was really excited about how suddenly my life in digital marketing could start to make sense. The icing on the cake was just the interview experience. Unlike other companies, Bloomreach strives for two-way communication, and you can see that the people at the interview really care about you and are trying to get to know you. They don't just check off the boxes to see if you fit into the position. I have never seen such a humane approach during an interview.
 
What was your journey to becoming a Commerce Experience Advisor in a software company? 
When I first started at Bloomreach, it felt like drinking from a fire hydrant of information! Learning about the e-commerce industry, the lingo, the challenges our customers are facing, and our solutions — it all felt very new, exciting, and overwhelming. The three things that have been so beneficial throughout this journey have been our amazing Enablement team, the collaborative culture within the CEA function, and keeping up with fun e-commerce/marketing newsletters!
Walk us through your day at Bloomreach! 
My work day always starts with coffee. Then, I'll go through inbound leads/requests that came in the previous day and set up intro calls to gain insight into their business and e-commerce goals. In addition to inbounds, I'm also responsible for breaking into a set of TAM accounts, so I'll dedicate the latter part of my day to account research (i.e., brand story, mission, goals, MarTech stack) and try to connect with key personas within the brand to demonstrate how our commerce experience solutions can support their digital growth. And, depending on the day, I may have a sync with my AE to talk strategy, my manager for accountability, or marketing to chat about upcoming events. 
What qualities would you say a person who wants to become a Commerce Experience Advisor needs to possess?
Natural curiosity, empathy, and resilience. 
What do you consider the most challenging part of your role? 
Cold outreach, for sure. That's because no one likes getting irrelevant sales emails and/or calls. It's a disruption to their day and workflow. But, I think it presents a unique opportunity for CEAs to be the advisors that we are, by showing a deep understanding of their business and challenges, and also personalizing our outreach in a way that resonates.
On the other hand, what would you say is the most rewarding part of your role? 
The most rewarding part is getting to connect with marketing leaders for some of my favorite brands.
What would you say is your favorite thing about working for Bloomreach? 
The culture was the thing that has stood out to me from day one, and my favorite part of being a Bloomreacher 1.5 years later. I love that we're a company led by our values, we celebrate wins of all sizes, and take care of our people.  
In three words, how would you describe the culture at Bloomreach?
Honest: We have a high value for transparency that starts from our leadership team, and creates a safe space where all Bloomreachers are empowered to share honest feedback, as well.
Collaborative: Because we're all working towards the same goal, everyone is so willing to offer help in the form of knowledge sharing.
Kind: The culture at Bloomreach is set up to always put people first. One of the values ("WE") is proof of this. There are always ways to help when one of us is affected by events (e.g., the war in Ukraine, and the overturning of Roe v. Wade in America). It is also completely normal to let your coworkers know that you are not okay and need time off. At Bloomreach, we are still humans who support each other.
How do you learn new things applicable to your role? 
We have a really helpful enablement platform with a wealth of resources available there. Apart from Allego, I also find that watching demos and connecting with members of our DXM/CSM team helps me understand the use cases most important to our customers and how our solutions solve for them.
Outside of Bloomreach, what are you passionate about? 
Outside of Bloomreach, I'm passionate about my family (my husband, Ben, and our pup, Bernie). I also enjoy DIY home renovations, traveling, and specialty coffee.