Life at Bloomreach
Meet the Team: CEA Growth Overlay Samantha Wilhelm
By Petra Trubinska
08/19/2022
Life at Bloomreach
Meet the Team: CEA Growth Overlay Samantha Wilhelm
Sam is a member of our Revenue team, and has been with Bloomreach for over one year now. We spent some time chatting with her about her experience with the company to give prospective candidates a chance to better understand what it's like being part of our Revenue team.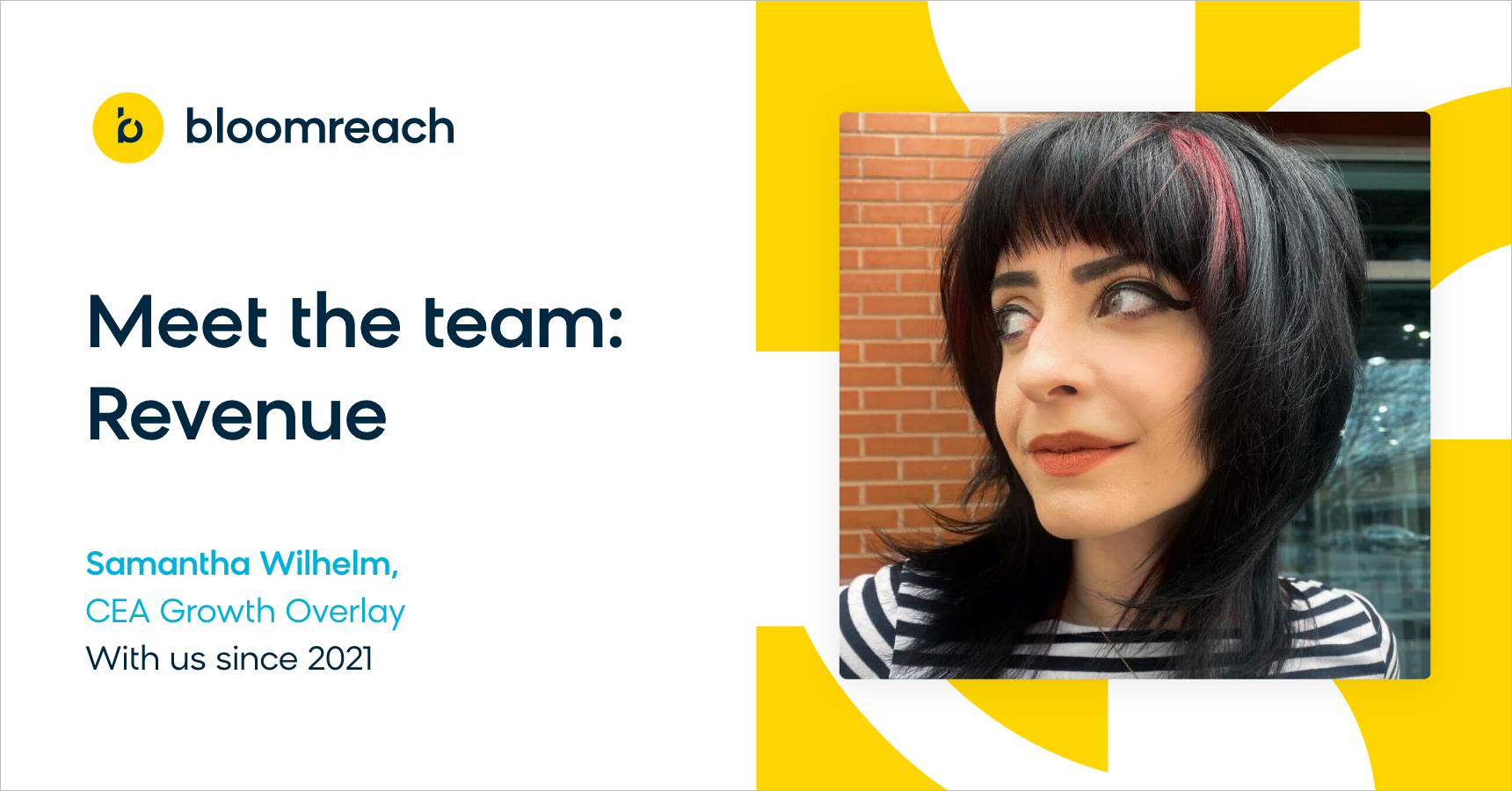 When and how did you realize that you would like to work within Sales?
I did my major in oil painting and creative writing, and after school I tried many different jobs. But my very first sales job was selling ads for a New England art publication called Art New England Magazine. At the time, I didn't necessarily know I wanted to work in sales. I really just wanted to work somewhere where I could be creative and exposed to art. I saw a job posting where they were looking for a sales representative, and I thought to myself, "I could do that!" And, of course, my very first sale was myself. With little to no experience in sales, but a background in fine arts, I had to really think about what I could offer a sales organization. That was, bring art and creativity into sales as a whole. They hired me, and I can't imagine myself in any other field of work. 
How did you find out about Bloomreach?
After Art New England, I spent a few years working in the SaaS space, and I am very thankful to have found out about Bloomreach from Kristian Driscoll, who referred me and whom I also worked with at a previous company. I also would be remiss to not mention Lawrie Martinez here — as soon as I interviewed with him I was 100% positive that I belonged at a company that had him in a leadership role. He was inspiring and our thoughts on creativity being a core component to sales sealed the deal for me.
What was your journey to becoming a CEA Growth Overlay? 
I started my journey at Bloomreach within the SDR function (we call our SDRs Commerce Experience Advisors, or CEAs). As already a bit of a veteran in the space, I quickly became a Senior and then a Lead within the function. The CEA Growth Overlay, or as I call it, Creative Strategist for the CEA team, was a unique role that was created just this quarter for me. 
Not everyone might be familiar with what your role entails — walk us through a day in the life of a CEA Growth Overlay at Bloomreach!
My role is so new I'm sure most people have no idea what it entails! My job is to really sit between the SDR team, Marketing team, and the Sales team to help with coming up with creative "big" ideas that will get the attention of strategic prospective customers. I also do extensive research into accounts, assist in crafting messaging, conduct introductory calls and high level demos of our platform, assist in conversion with deals in earlier stages, and much more — all with a creative flare and an "out of the box" mindset. I often compare it to the situation when you are in a museum and there are many paintings around you. And then there is one that is somewhat special and catches your attention. And I'm trying to make that interesting presentation for our Sales teams.
What is the most rewarding part of your role?
When I can play a part in helping to solve a prospect's pain or problem. A big thing that had me fall in love with sales was not "winning the deal" but rather helping someone find the perfect solution to their problem. When I get to show someone the platform or connect the dots between their business issue and a potential fix — that's the most rewarding. 
What do you consider the most challenging part of your role?
Honestly, availability. A huge area of focus for me is to help other members of the CEA team strategize on their top accounts. Some days, my calendar gets filled up really quickly and because I tend to be a "workaholic," I want to stay logged on pretty late to make sure I can help everyone the day they need it. But I am always learning to make sure I protect my calendar for a healthy work-life balance. Thankfully, this is greatly encouraged and easy to have — if you allow yourself to — here at Bloomreach!
What would you say is your favorite thing about working for Bloomreach?
The people, 100%. Everyone is such an inspiring force of learning, thought leadership, and encouragement. I truly feel like everyone at Bloomreach wants everyone to succeed — and thrive. 
In three words, how would you describe the culture at Bloomreach?
Collaborative - All of the teams are working together and we also try to think outside our roles to succeed together.

Inspiring - I think that we are all going above and beyond to make sure that our teammates can grow. And I am really impressed with the willingness of helping each other.

Motivating - Bloomreachers are hard workers. And not because they need to, but because they really want to! We really motivate each other.
How do you learn new things applicable to your role?
Reading. I read everything. Books, forums, social media, news articles. Anything I can get my eyes on to consume, I am a sponge with. I am constantly signing up for newsletters, publications, and the like. If there's something out there that I can learn from, I want to read about it!
Outside of Bloomreach, what are you passionate about? 
I am a writer! I am in the process of revising my debut novel, the first of a Young Adult Fantasy trilogy called The Last Touch. It's a coming-of-age story that takes place in an alternate medieval universe where humans have magical senses (i.e., hearing, tasting, smelling, etc.).  I also love roller skating and hiking with my rescue dog, Kado.