Life at Bloomreach
Meet the Team: Account Executive Scott Stirk
By Lucie Cisarova
05/10/2022
Scott is a member of our Revenue team, and has been with Bloomreach for four months now. We spent some time chatting with him about his experience with the company to give prospective candidates a chance to better understand what it's like being part of our Revenue team.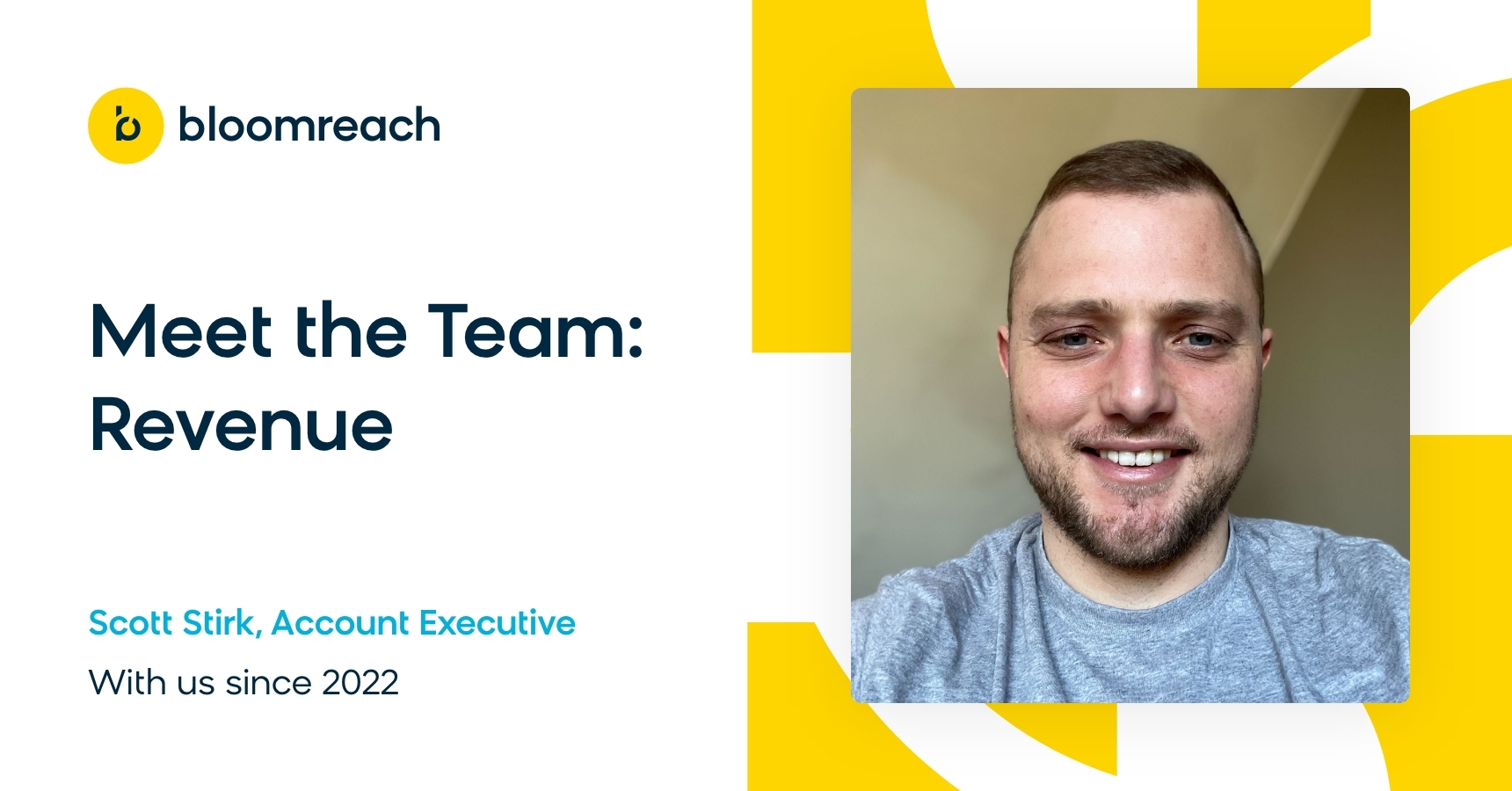 How did you find out about Bloomreach?
I found out about Bloomreach through an old colleague. He was on the move to Bloomreach and informed me of all the good things going on, and asked if I would be interested in joining him. What intrigued me most about Bloomreach was the amazing product, great ratings on Glassdoor, and its rapid growth in the market, which proves that investors and customers believe in us. So I thought it would be a great opportunity to join the business and help develop it.
What was your journey to becoming an Account Executive in a software company?
After graduating from university with a Business degree, I knew that I wanted to work in a commercial customer-facing role. The market was super competitive, so I took the first role available to me, which was selling LED lighting into the UK wholesale market. After working there for a couple of years, and learning all of the hard lessons you need to learn I then made the switch to data and technology. This was much more suited to me as a person, and so I was given the chance to work as an SDR at Experian. After a small hiatus in a seven-year stint, I worked my way up to being an Account Director in the Retail sector at Experian, before joining Bloomreach as an Account Executive. Now, I focus on making myself an expert on our product and therefore be the best sales person not only for myself, but also for our business.
Walk us through a day in the life of an Account Executive at Bloomreach!
My typical day starts with a trip to the gym. I like going on the treadmill, as it gives me some time early in the morning to respond to any emails before starting my working day. The first hour or so involves preparing for any prospect meetings I have that day. I find it so important to spend lots of time understanding the businesses we are looking to work with and preparing to the best of my ability. The next couple of hours I dedicate to prospecting, as I'm at my most energetic in the mornings and often at my most creative to open those doors! The afternoon is often full of meetings and follow-ups to prospects, along with moving any deals through the sales stages and completing any scoping and commercial sessions. The evening is then a perfect time for Salesforce! 
What qualities would you say a person who wants to become an Account Executive needs to possess?
DRIVE — I think having a hunger to succeed is one of the biggest traits I see in successful Account Executives. Being able to turn up every day, be your best, and not get disheartened by setbacks. Another key trait is teamwork. I'm so lucky to have an awesome SDR working with me to generate pipeline, a fantastic solutions consultant to help me demo and scope projects, and an immensely supportive manager who will always be there to help me find the answers I need to be successful. Without a strong team around me, it would be impossible. And finally I think "perspective." Sales is often an overthought profession, when ultimately all we are trying to do is help people buy from another person. I think remembering that, being yourself, and keeping a good perspective is key. 
What is the most rewarding part of your role?
Getting to work with such influential brands across the world. Each business we work with has a really unique set of individuals that have different goals and objectives that we are trying to help them achieve. Moving through that process with them is what makes me come back for more and more. 
What do you consider the most challenging part of your role?
Time management is a big one. It can be a real challenge to prioritize what tasks need to be done and are going to add value to our customers and to Bloomreach. The second one is switching off, which is something I have yet to master (to the annoyance of my wife!). It can be challenging to embrace the importance of switching off and taking time to reset in order to stay motivated and work at my most effective. 
You joined Bloomreach just recently, around four months ago. How do you like it so far?
Raj, our CEO and co-founder, always states that he wants Bloomreach to be the most impactful stage of employees' careers, and it's definitely that. I am completely blown away by the opportunity everyone has in front of them and it excites me every single day. Another thing that has really impressed me so far is the culture — being able to execute in an environment of high performers, no drama, and owners of the business really sets us apart as a place to work. It's awesome! 
What would you say is your favorite thing about working for Bloomreach?
My favorite thing about working for Bloomreach is the people, and working with an amazing team each and every day to help our customers be better. Oh, and the awesome solutions we get to sell — they blow competitors out of the water. 
Coolest story involving your team?
I haven't got too many at this stage, but I think the coolest story so far, as a massive F1 fan, is that a colleague's brother in my team is close friends with Lewis Hamilton's dad! Currently in the process of tapping him up for tickets to this year's F1! 
In three words, how would you describe the culture at Bloomreach?
Fun — We all work hard at Bloomreach, but have so much fun in the meantime. Working with like-minded people who are all pulling in the same direction enables a really fun atmosphere across the business. 

Friendly — The team is awesome here. They're always offering a helping hand and everyone has been more than welcoming in my first three months in the business.

Impactful — We really have the momentum in the market due to having a great proposition. We are able to deliver a truly unique experience for customers around the world.
How do you learn new things applicable to your role?
There are so many ways to learn new things in my role. Every day is a school day. I think the biggest one is listening — being able to listen to colleagues and customers who have walked the path you are embarking on and getting help from them to be successful and avoid any pitfalls they may have had along the way. A key one for me is just "doing." The best way I learn is through trial and error, chucking myself into things that I sometimes dont feel most comfortable doing, and learning through the process, all of which have stood me in good stead so far.
Outside of Bloomreach, what are you passionate about?
I have an amazing wife and six-month-old daughter, and they both keep me busy. I LOVE Formula 1, and am going to both Silverstone (UK) and Monza (Italy) in September. I am also a big Leicester City fan, so it's been a great few years for us foxes. Something a bit more academic I am passionate about is financial literacy.  When I get the time in a few years, I would like to go into schools to teach children how to manage their finances, something I feel that isn't taught enough across schools in the UK and wish I had been taught about during my education.