Content Management System (CMS)
Say Hello to Bloomreach Content
By Niklas Winkels
06/30/2021
Meet your customers where they are. It's the golden rule for every business.
In the past, your sole option was to place a physical storefront in front of foot traffic. Now, the world has changed and e-commerce has become a bigger part of our lives than ever before. Your business needs to meet shoppers with an experience that feels native, tailoring your brand's story with content for the digital world.
If you take a look at winning brands today, you can see that they weave content into every aspect of their e-commerce experience - to tell an immersive story that hooks the customer and finally helps to convert. But here is the problem - telling these interesting and coherent stories to differentiate from the competition is not an easy task. 
Too often, you see products advertised on the homepage or in marketing materials that are out-of-stock or feature the wrong SKU or image variant. And maybe you've been able to fix this for your most visible pages, but what about the other 95%? 
The need for a new approach to content management, bringing together content and products, has never been more apparent. It's no secret that Bloomreach is constantly innovating and improving how successful companies manage and optimize their commerce experiences. We think it's time to pull back the curtain. 
Introducing… Bloomreach Content ✨— the new headless content platform built for commerce.
Bloomreach Content
A new era of headless content is here. Bloomreach is happy to announce the newest addition to its product family: Bloomreach Content.
Built For Commerce
The headless content platform is built for commerce to empower marketers and merchandisers with:
Fast page creation 

In-page merchandising product 

A visual preview 

Visual, in-line editing 

Page scheduling
Teams can work in parallel on creative copy, compelling visuals, beautiful design, and profitable products with one unified platform. Bloomreach Content enables you to build more high-converting landing pages and get a head start with pre-built commerce components like a product showcase, a product grid, or a recommendations widget that you can add to any page with just a few clicks.
 
Start Small, Scale Up
Gone are the days of lengthy CMS re-platforming projects. You don't need an army of developers to support it, or millions of dollars to run it. With Bloomreach Content you can start small and scale up by launching your most important landing pages first or enrich your existing commerce pages with better content. All incredibly fast, with partnerships and built-in connectors: 
🔌 Quickly connect to your commerce platform of choice 
💥 Set up a new store or microsite faster with pre-built integrations to blazingly fast storefronts like SAP Spartacus, Vue or React Storefront
🎁 Start with SDKs and a reference app 
Bloomreach Content enables you to launch a faster, more engaging, and higher converting commerce site in weeks, not months. 
 
Headless Page Management
To achieve faster page load times, companies usually build progressive web apps based on javascript frameworks like React or Vue. And these apps consume content via APIs. Unfortunately, the APIs of generic solutions fall flat when it comes to managing these storefronts of the future, resulting in the loss of preview, visual editing, and personalization capabilities.
Don't let a modern frontend slow down your workflow. With Bloomreach Content, you don't need to pass on personalization or preview. 
Bloomreach Content is your ideal companion for headless commerce. You can go beyond a static content infrastructure with Headless Page Management, which lets you take full control of the layout of your progressive web app (PWA). Bloomreach's powerful API retains preview, personalization, and visual editing capabilities, even when powering a PWA. It's time to leave your legacy headless software behind.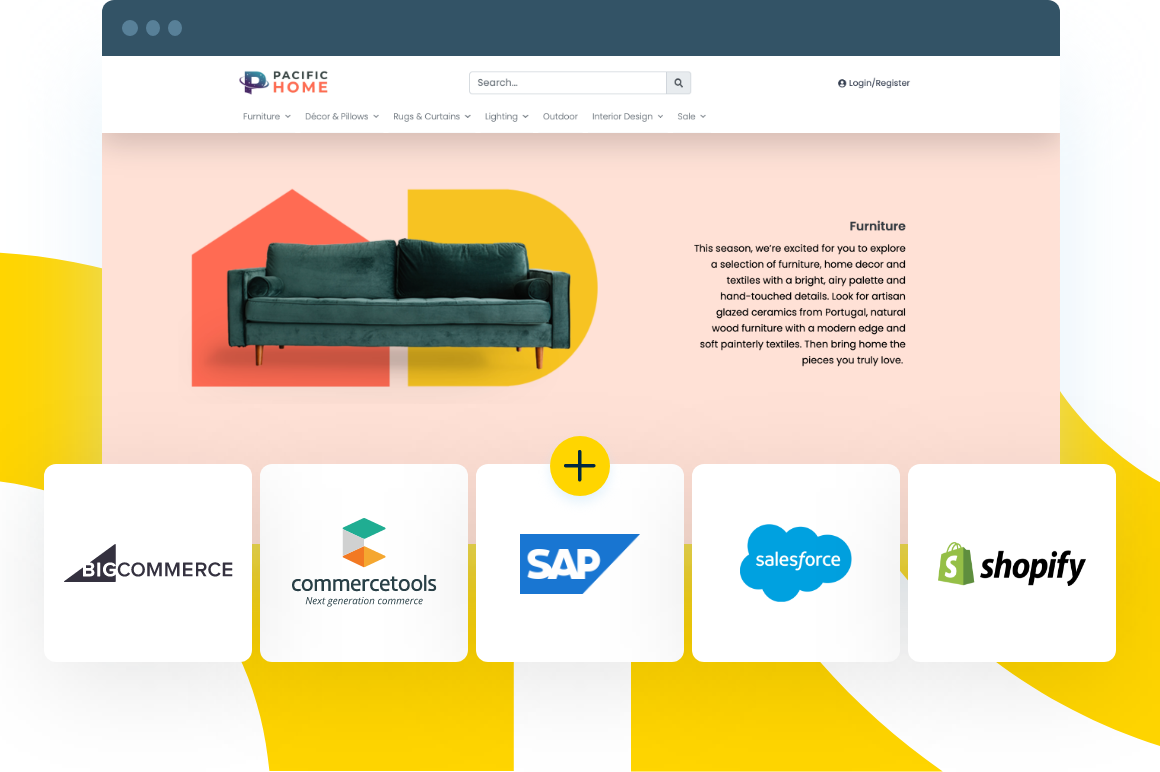 As we continue to invest in building out essential business features for the content platform, we believe that the value of the Bloomreach platform to large and small companies will only grow. With more distributed workforces, growing digital collaboration, and increased competition, high-quality content management is the key to delivering better, faster results.
Interested to learn more? Head over to  the official website or talk to us . If you're interested in easily add products to any page with Bloomreach's powerful APIs and software solutions designed to help you capture more revenue, now is a terrific time to start.