Life at Bloomreach
Meet the Team: Staff Engineer Scott Powers
By Anna Petrescu
10/07/2021
Life at Bloomreach
Meet the Team: Staff Engineer Scott Powers
Welcome to our Meet the Team Q&A series, where we feature interviews with Bloomreachers to give prospective job applicants a better understanding of what it's like to be part of the Bloomreach team. Our first interview of the series is with Staff Engineer Scott Powers. Read on to see what Scott has to say about his role in engineering.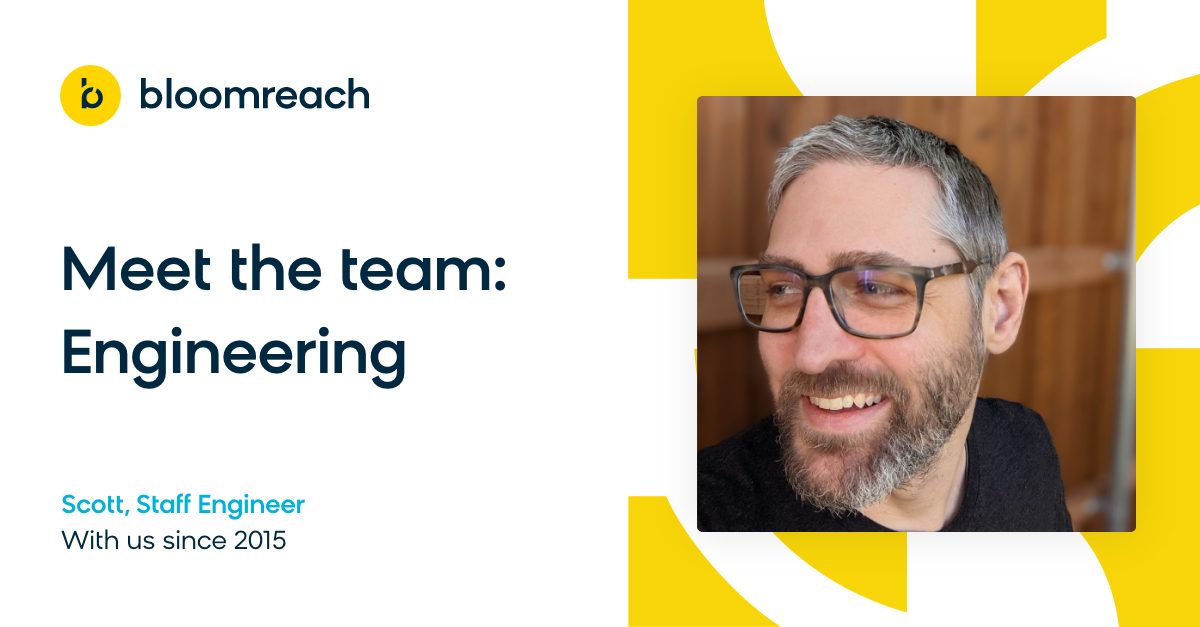 Scott Powers is our Staff Engineer, and he's been with Bloomreach for 6 years now. The other day, we spent some time chatting with Scott about his experience with the company.
Without further ado, let's jump straight into our first question.
Q: Scott, what led you to your role as an engineer at Bloomreach?
Well, it was still Bloomreach's early days. An old coworker invited me to look at the company's website to see what I thought. A few days later, my future manager, my friend, and I met up to chat about the open position they had. Bloomreach was still in the beginning stages of growth and still needed to build out its team architecture and structure. 
But that's what made me excited to learn more. At that point, I was working in the financial sector, where I was primarily serving as a "problem solver" for the company. I wanted to try working for a more agile company in a more fast-paced environment. 
After learning who I'd be working with and what I'd be working on, I was 80% excited and 20% scared. So I took the job. Honestly, it took me a while to get used to the role - it wasn't until maybe a year in that I really understood what my real value was as part of the company.
Q: And now, how do you feel about the choice?
Haven't regretted it. You know, if I had to refer back to that excitement scale, it started off as an 8/10 and is now at a 10/10. However, it never fell below a 7. I can probably count my bad days on two hands
Q: What are some of your favorite things about working for Bloomreach?
To begin with, Bloomreach is at the perfect stage for what I'd like to do. I like a company that has a lot of modernization work to do. We've been very successful with the products, and now we're in the next chapter, where we have to live in the environment of the early stages of a start-up and bring it to a larger-company mindset. What I love is trying to understand how we're going to take an older product and make it cutting-edge now. And it's also great that there's supportive management behind everyone trying to make this happen. 
Beyond that, I like what we're working on and the products we're working on. I believe in the products - they're on a very good path of helping our customers do something that matters. We're helping our customers advance their goals, and that feels good. 
Also, the whole code and system archaeology is fun for me. The day-to-day enjoyment is being able to collaborate with competent people that are smarter than me and learning from them. 

Q: In three words, how would you describe the culture at Bloomreach?
Friendly (we're not a drama-filled company) 
Thoughtful (whenever we have to discuss hard topics in meetings, people are always open to hearing the best ideas and concepts)
Driven (we're a company with clear goals, so the culture is about aligning and driving towards those goals) 
Q: What is the most challenging part of your role?
Hiring talent. We need more good people. We want them to stick around, keep delivering, and reach their full potential. 
Q: What advice would you give to a future candidate who's looking to join your team?
There's a lot to learn, but it is all learnable. Bloomreach has existed for over a decade, and there's a lot of term learning and collision, mostly because of the companies we've acquired.
 So my advice is to really focus on the learning. As you become more comfortable, you expand your sphere of understanding of the company. The more you grow, the more you start to overlap with other teams, and the more you understand how everything connects, how you can bring value to the company, and how you can grow in your career. It's all about LEARNING. 
Q: Outside of Bloomreach, what are you passionate about? 
I used to do a lot of woodworking, but since I have two kids, I've cut down on that. Now, I'm really into miniature painting, as well as any type of logistics-based games (like Satisfactory or Factorio). Whenever I have the time, I'm always super interested in exploring the concept of perceptual image comparison - how can I take that concept to code? What is the degree of similarity between images (a picture of a beach and one of a cat, for example)? 
Stay tuned for more interviews with our team members. We are hiring big time. If you're interested, visit our careers page to check out the open roles.