Customer Data Platform (CDP)
CDP vs MDM: The Growing Role of Customer Data Platforms
Since emerging on the market in 2015, customer data platforms (CDPs) have steadily carved out their role as a key piece of any company's tech stack. 
With its main goal being to compile and utilize customer data, a CDP is the best platform on the market to compliantly connect with customers on the best channel for them. 
With the CDP market booming, Bloomreach acquired Exponea, the most loved CDP on the market, and now offers Bloomreach Engagement , which is designed to unify all of your customer data and deliver connected customer experiences across multiple touchpoints. 
Bloomreach Engagement is more than just a CDP — it ensures that marketers can take meaningful action with the customer data that has been collected. 
Thanks to the addition of Bloomreach Engagement and the ability to now harness the power of both product and customer data, the Bloomreach Commerce Experience Cloud now provides an unrivaled experience. Let's learn more about CDPs and exactly how they turn customer data into marketing magic. 
What is a Customer Data Platform?
A customer data platform is a type of software. Specifically, it's a kind of database software: one that creates persistent, unified records of all your customers, their attributes, and their data. A good CDP should both easily integrate with your existing data and allow for easy retrieval of the data it stores.
A CDP builds a complete picture of your customers on an individual level. It collects first-party customer data (transactional, behavioral, demographic) from a multitude of sources and systems, and links that information to the customer who created it. 
This creates a 360-degree customer profile, also called a single customer view, which can then be used by third-party tools or built-in marketing automation tools to execute marketing activities and analyze their performance.
All customer data is neatly organized and available for immediate use. Some technical resources are required to set up and maintain the CDP, but it does not require a high level of technical skill compared to a traditional data warehouse.
What a Customer Data Platform is Not
A CDP is not simply an email service provider (ESP) or other single-purpose marketing automation tool. 
An ESP will offer your company's marketers the ability to send email marketing messages via an email platform. This often means marketers can send or create normal emails, newsletters, or other email promotions without assistance from IT or other stakeholders. 
Through integration with an ESP, Bloomreach Engagement enables easy sending of personalized email campaigns to targeted customer segments using a simple visual editor or a more traditional HTML builder. It supports the creation of typical emails, newsletters, or promotional emails without IT help that are proven to help increase revenue.  
But Bloomreach Engagement does so much more than just email marketing. 
It allows marketers to own multiple other channels so they can connect with customers on the channel that is best suited for them. Whether it's push notifications, in-app messages, retargeting, or WhatsApp, you'll find the best way to connect with customers. 
Is a CDP Right For My Company? 
This is a very important question. It's essential to truly understand the problems that your company is facing when considering purchasing a CDP or upgrading your existing one.
If you don't have a CDP and you are currently trying to stitch together legacy systems to carry out the tasks a CDP is natively able to do, it's time to get into the market for a good CDP. The opportunities your company is missing to personalize marketing campaigns and connect with customers on the channel they want to hear from you on, are too great in 2021 to continue just "getting by" with old systems. 
Additionally, if your company relates to any of the below challenges, a CDP can help your bottom line right away: 
Siloed customer data sitting across many different data sources
Customers receiving irrelevant campaigns or messages across numerous different channels
A lack of actionable insights into customer data and marketing efforts 
CDPs excel with data management, data activation, and data measurement. The combination of these three things allows for a single customer view, personalized omni-channel marketing campaigns, and accurate, meaningful reporting. 
Fitting a CDP in Your Tech Stack
Your tech stack is likely already an overflowing bowl of alphabet soup: MDM, CRM, DMP, JOB, etc. 
Is the addition of a CDP really necessary? Yes, because CDPs are natively capable of essential actions that none of those other products are. 
The comparison of the platforms that are most alike shows us that CDPs collect data from online and offline sources in real time to create customer profiles that power highly-personalized marketing campaigns. DMPs segment anonymous third-party data to power retargeting campaigns while CRMs enable customer-facing teams to best manage customer relationships.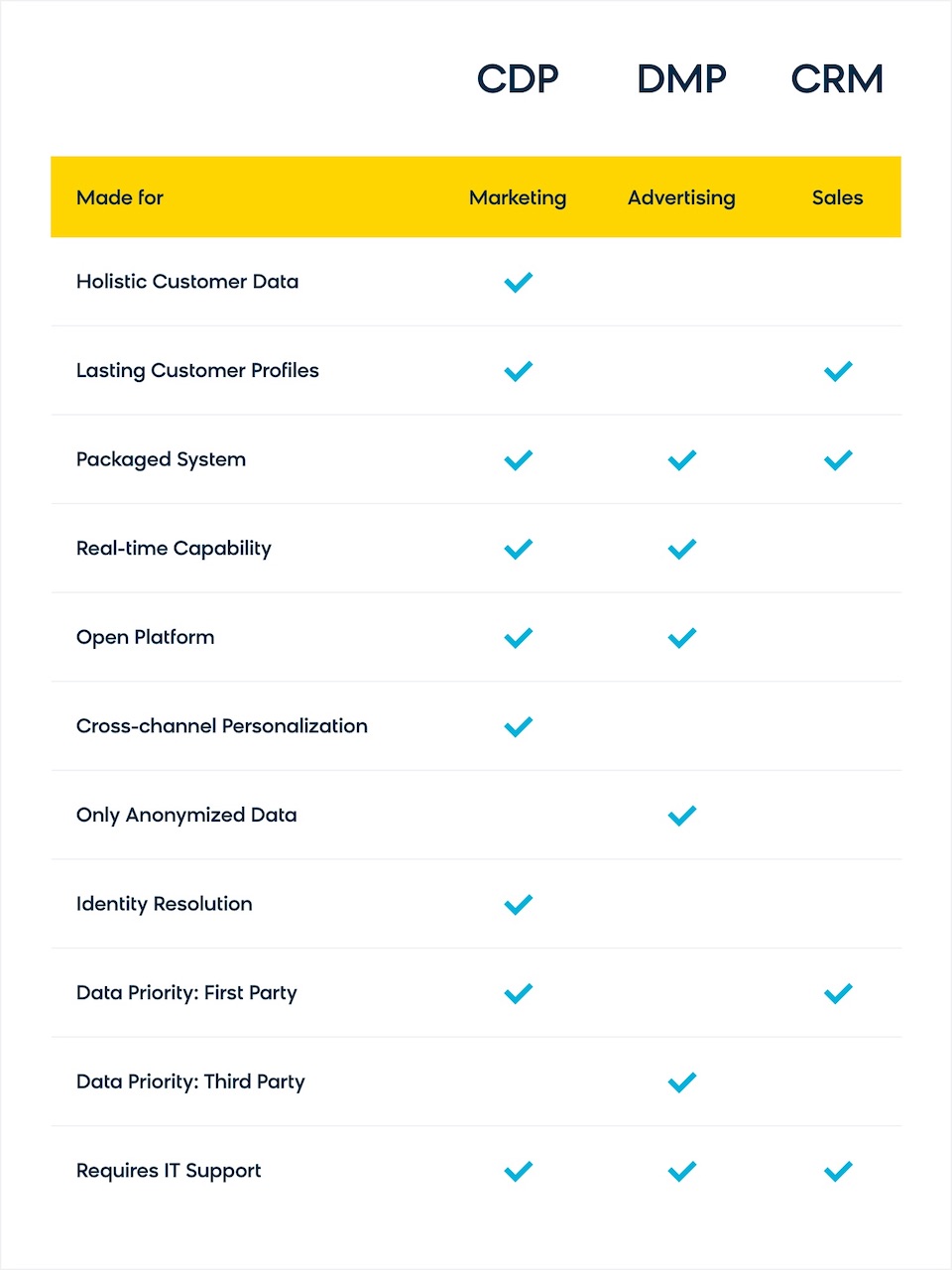 If your company's goal is to improve the customer experience and foster customer loyalty, the platform you need is a CDP. 
Why is a CDP So Important Now? 
The sense of urgency in the CDP space right now is thanks in large part to the growth in digital commerce over the past 18 months. The digital commerce boom has sent the competition for clicks and conversions to new heights as shoppers have not raced back to brick-and-mortar stores despite government-mandated lockdowns loosening in many places across the world.
Customers want a personalized experience on the channel of their choosing. A CDP featuring the below components and modules is the perfect solution to deliver on that expectation. 
Single Customer View
Data collected and organized with a CDP is visualized through individual data profiles for each user. This 360-degree view of the customer is called a single customer view and is possible due to the fact that all customer data is located in one central location.
These data profiles contain purchase history, site activity, product recommendations, and other important customer behavior data for every individual customer that your company has. Bloomreach's CDXP takes it one step further and creates a profile for every visitor, as well. Our CDXP is able to track the action of anonymous profiles, which gives marketers the ability to attempt to turn anonymous visitors into loyal customers.
A true single customer view has the aforementioned features but is also scalable, flexible, and most importantly, updates in real time. Real-time updates are a huge difference maker. Customer data enables segmentation and omni-channel orchestration. If the system isn't fully updated, your customers may be getting marketing campaigns or email messages that won't hit home like they should. 
Personalization 
In a digital-first world, it is basically a requirement to personalize communication efforts to customers these days. 
CDPs make it second nature to personalize marketing campaigns such as an email, a pop-up, or another type of advertisement. E-commerce personalization efforts make your customers feel that your brand values them and cares deeply about earning their loyalty. 
Bloomreach's Engagement features product recommendations that take personalization to the next level. Personalized product recommendations help drive conversions with customers and ensure that they are delivered relevant content no matter where they are in their customer journey. 
Using a CDP can greatly limit or completely eliminate any non-personalized marketing campaigns from going to customers. With the competition as fierce as it is in the digital commerce space in 2021, personalized campaigns are a must.
Your CDP and our New Privacy-Centric Internet
With browsers implementing changes to third-party cookies and third-party tracking, marketers have had to adjust their strategy for many campaigns. 
The changes to Safari and Firefox have made having the right CDP more important than ever. Why? It has become one of the last sources of reliable data for companies. 
Companies are beginning to connect more and more systems to their CDP. Bloomreach's CDXP can ingest data in a server-to-server manner to allow companies to continue getting the full picture of customer behavior. There is also a direct integration with Facebook to keep Facebook Ads performance from suffering because of the browser changes. 
Those without a CDP, or without the right CDP, will be left behind in our cookieless world. 
Data Privacy and Security 
Along the lines of the same topic, surely you've seen the gaudy fines for failing to fall in line with regulations surrounding data privacy and security. 
The General Data Protection Regulation (GDPR) and other regulations like it have made things a bit tricky for marketers over these past few years. Nobody wants to be hit with an outrageous fine for carelessness with customer data or a security breach. 
Most CDPs have security measures in place. But not many can claim the security repertoire that the CDXP can. Bloomreach's commitment to security can be seen through our security certifications that are currently held. 
With the amount of customer data a CDP holds, don't make the mistake of using a platform that isn't universally trusted like Bloomreach is. 
CDPs Are Here To Stay 
With the growth of digital commerce showing no signs of slowing, customer data platforms are here to stay. 
The rise of CDPs have inspired marketers to go to new heights to connect with customers and stop at no end to increase brand loyalty and provide the best possible customer experience. A CDP is unbeatable when it comes to increasing customer lifetime value and keeping your company top of mind with customers. 
If your company's problem is siloed data or an inability to connect with customers in an optimal manner, Bloomreach Engagement is the solution you've been waiting for. Schedule a personalized demo today to learn more about how we can help your company drive revenue fast.