Commerce Experience
Bloomreach Commerce Pulse: A Year of COVID-19
By Brian Walker
04/16/2021
As hard it may seem to believe for some, the COVID-19 global pandemic is now over a year old and digital commerce will never be the same. 
We at Bloomreach have been tracking the impact of the pandemic on e-commerce and consumer behavior for over a year now. As we look back and begin to annualize the "great acceleration" of digital commerce, it is clear that not only is e-commerce here to stay, it has been cemented as the primary channel for customers to engage. We are entering the digital age in full-force -- regardless of geography, economic conditions, or the state of the pandemic. 
No statistic supports that claim more than this: overall sales for Bloomreach's North American customers are up 51.17% since the pandemic began*. That is staggering. Digital commerce has not seen growth like that since its early days in the late 90's and 'early aughts'. While multiple factors have contributed to this, there are three main reasons that stand out: 
The complete adoption of digital commerce. While e-commerce and mobile commerce were already ubiquitous across many segments, shoppers who were hold-outs had no choice but to embrace digital channels. And that adoption of course spanned into categories that had seen relatively low digital commerce penetration in the past such as grocery or home improvement. Fifty percent of consumers bought in categories they had never bought in before** as the pandemic began. 
 
The pivot of stores and the embrace of omnichannel fulfillment. Buy online pickup in-store (BOPIS) and click and collect were not new ideas, but many retailers who had been hesitant to invest in technology and operations to support them quickly implemented these capabilities and began to leverage their stores for curbside pick-up programs. These programs were embraced by their customers and became a life saver for their businesses. This relied on the digital channel for the shopping and conversion and drove some meaningful changes in key metrics - some of which we illustrate below in the segment analysis.
 
Economic policy. In the U.S., there is no question that the government's stimulus policy and direct payments to many citizens fueled consumption and helped drive e-commerce results as it was really one of the few ways to spend the money. 
And while Europe and the United Kingdom did not grow as aggressively, with sales up a relatively low 17.49% in the same period, traffic to our customers' sites in the region was up 42.19% over the "COVID year". Some key reasons for the regional differences include: 
Much more severe supply chain disruptions and inventory challenges. We can see this in the drop in conversion rates over the year, down 1.65%, which contrasts with North America, which saw a conversion rate increase of 9.24% during the period. Inventories were low in key categories like COVID essentials while imports were disrupted. 
 
Maturity of grocery meant there was lower growth. Online grocery adoption in the U.K. and BENELUX regions was already far ahead of the U.S. and Canada as the pandemic began. As a result, there was not the same inflection in some of these key categories that drove N.A. e-commerce growth overall.
 
A very different economic and cultural environment. European customers responded with a very conservative approach in general to the crisis, pulling back on spending overall. The pandemic also came at a time of other heightened socio-economic uncertainties as a result of BREXIT, which was impacting not only the U.K., but also EU consumers by raising uncertainty. Add to that the reality that work-from-home was typically much more difficult across much of Europe (as people live in smaller homes in dense urban areas) and homeschooling, which was also more challenging, impacted incomes. 
 
Economic stimulus also took a very different form. In Europe, the stimulus was not via direct payments to many citizens, but rather through job assurance programs. Many consumers' incomes were reduced during the period and there was a higher level of anxiety over job insecurity. As a result, there was much lower consumer confidence than in the United States***. 
It is of course also very interesting to look into the key segments we have been tracking and look back at the year. Including:
In the grocery segment, overall traffic was up 70.45% with sales up 92.66% year over year. Click and collect and curbside pick-up led to dramatic shifts in average order size (down 13.96%) and conversion rate (up 50.66%) as order minimums changed and grocery shopping became very convenient. We also saw the profound importance of site search to this segment with customers using search up 134.46% for the year and search-related sales up 90.97%. It is important to note that overall grocery sales were also up 21.40% month over month in March (March 2021 to February 2021), so even as the pandemic is easing its hold on much of the U.S. and U.K., e-commerce is still growing in the grocery segment.
 
The home improvement segment has also seen drastic changes during COVID-19. Like grocery, curbside pick-up plays a big role here as well. Home improvement overall sales increased 160.49% despite the average order size decreasing 75.43%. Conversion rate skyrocketed, up 120.23%, as consumers were no longer just researching online, they were buying - including cement, sand, and lumber - and then running to the store to pick it up. Those pandemic DIY home projects really show up in the statistics here.
 
The home furnishings industry also experienced significant growth. Overall traffic was up 115.31% while overall sales increased by 59.03%. Comfortable furniture became a necessity for many seekers trapped at home during mandatory closures and many were upgrading work and school from home situations with new desks. But outdoor furniture and upgraded kitchen and dining also drove the category. 
 
Apparel struggled for much of the year, as consumers relied on the comfort of casual clothes and sports apparel, leading to average order sizes dropping 3.45%. Sales were only up a relatively low 26.62% for the year, despite traffic being up 44.57%. And this trend seems to be persisting, with traffic up 52.87% YoY in March, but sales only up 19.44% YoY, and conversion rates down 10.18%. The demand is there for new clothes but what consumers want does not seem to be available to buy.
 
The one consumer segment that really struggled in our analysis was luxury, with sales only up 1.06% for the pandemic year. Considering that stores were also closed, this was a disaster for the segment, but logical considering consumers had nowhere to enjoy these products. What sales that did occur were at deep discount, evidenced by average order sizes being down 7.54% for the year.
 
In the B2B segment, overall sales were down. This is the only category of Bloomreach customers that experienced a decline in sales during the pandemic, down 13.06%, even as overall traffic for B2B was up 33.94%. What is in play here for the B2B sector is that the macro economy was so significantly impacted by COVID with most offices, schools, stadiums, and other areas of public life simply closed. If the overall traffic is any indication, B2B is ready to get onboard with other categories when things reopen worldwide. 
One way to tell that we are entering a new phase and consumers lowering their level of concern is by taking a look at our most recent top search terms. 
Our top search terms for March 2021 -- while not totally back to normal -- are looking much more like they would have pre-pandemic compared to what was on the minds of seekers in March 2020 - and we all seem to need some new clothes and shoes!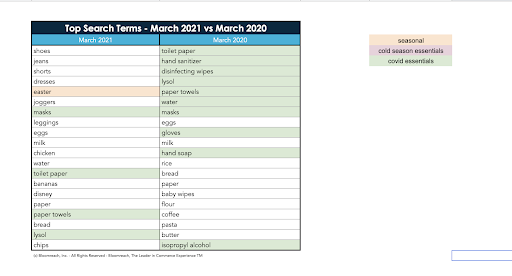 Only a few COVID-19 essentials like masks, toilet paper, lysol, and paper towels still make our top search terms list in March 2021. And while those new clothes are top of mind, so is comfort. Meanwhile, grocery continued to show in our top searches with eggs, milk, chicken, and bananas in the top 20.
The bottom line is that e-commerce is continuing to aggressively grow and all of our data points to that trend continuing even as we begin to emerge from the pandemic across the globe. And while we can expect consumers to shift spending as dining out, entertainment, and travel pick back up, the convenience of e-commerce has firmly wedged itself into our lives and a new era of digital first commerce has clearly arrived. 
If you're interested in diving deeper into the data with industry experts, register for Commerce Pulse Quarterly: Spring 2021 event on June 29.  Our experts will lead an interactive roundtable that will explore unique insights in digital commerce and discuss changes in consumer behavior and purchase patterns across the digital commerce landscape.
About Bloomreach
Bloomreach powers 25% of US & UK e-commerce search and commerce experiences. If you're looking for more information or have a question, feel free to reach out to learn more. We will be bringing you monthly insights as we navigate the changes in digital commerce together -- whether you are a customer or not. 
Notes:
*We are counting annualized sales from March 2020 through March 2021, compared to February 2019 through February 2020.
** See State of Commerce Experience 2020 
*** Information obtained via McKinsey research data