Life at Bloomreach
Bloomreach Announces $150m Investment and the Acquisition of Leading CDP and Marketing Automation Provider Exponea
By Raj De Datta
01/26/2021
Bloomreach announces an investment of $ 150 million (USD) by Sixth Street Growth and signs a definitive agreement to acquire best-in-class CDP and marketing automation provider Exponea in a move that will transform the commerce landscape. CEO and Co-Founder Raj De Datta shares his vision for the company and why he's excited about the future. 
Today marks an exciting new chapter in Bloomreach's journey to becoming the global leader in digital commerce experiences. After witnessing the astonishing growth of eCommerce and digital marketing over the past year - and helping many of our customers adapt to the realities of 2020 - I am very proud and exhilarated to share two major announcements. 
First, we announced an investment of $ 150 million (USD) into Bloomreach from Sixth Street Growth to fuel the ongoing growth of our commerce experience platform ( brX ), including the solutions customers already use and trust from Bloomreach to drive their digital businesses. We are thrilled to have the support of such a great partner. 
Secondly, we announced that Bloomreach has acquired Exponea, the market-leading and most loved Customer Data and Experience Platform.  
Watch the video on what Bloomreach's acquisition of Exponea means for the commerce landscape, and why we're excited about it. 
What makes this partnership unique is that Bloomreach majors in commerce experience, with deep product data and AI to help people find the right product and deliver great experiences on eCommerce sites, while Exponea majors in customer data, a very deep understanding of customer profiles and marketing channels so that marketers can execute campaigns across all marketing channels to create impact on conversion, customer activation, and marketing efficiency. For the marketer, this is gold.
The combination of Bloomreach and Exponea gets to the heart of what eCommerce, digital marketing and merchandising is all about: getting the right product in front of the right customer at the right time in the right channel - to drive business growth.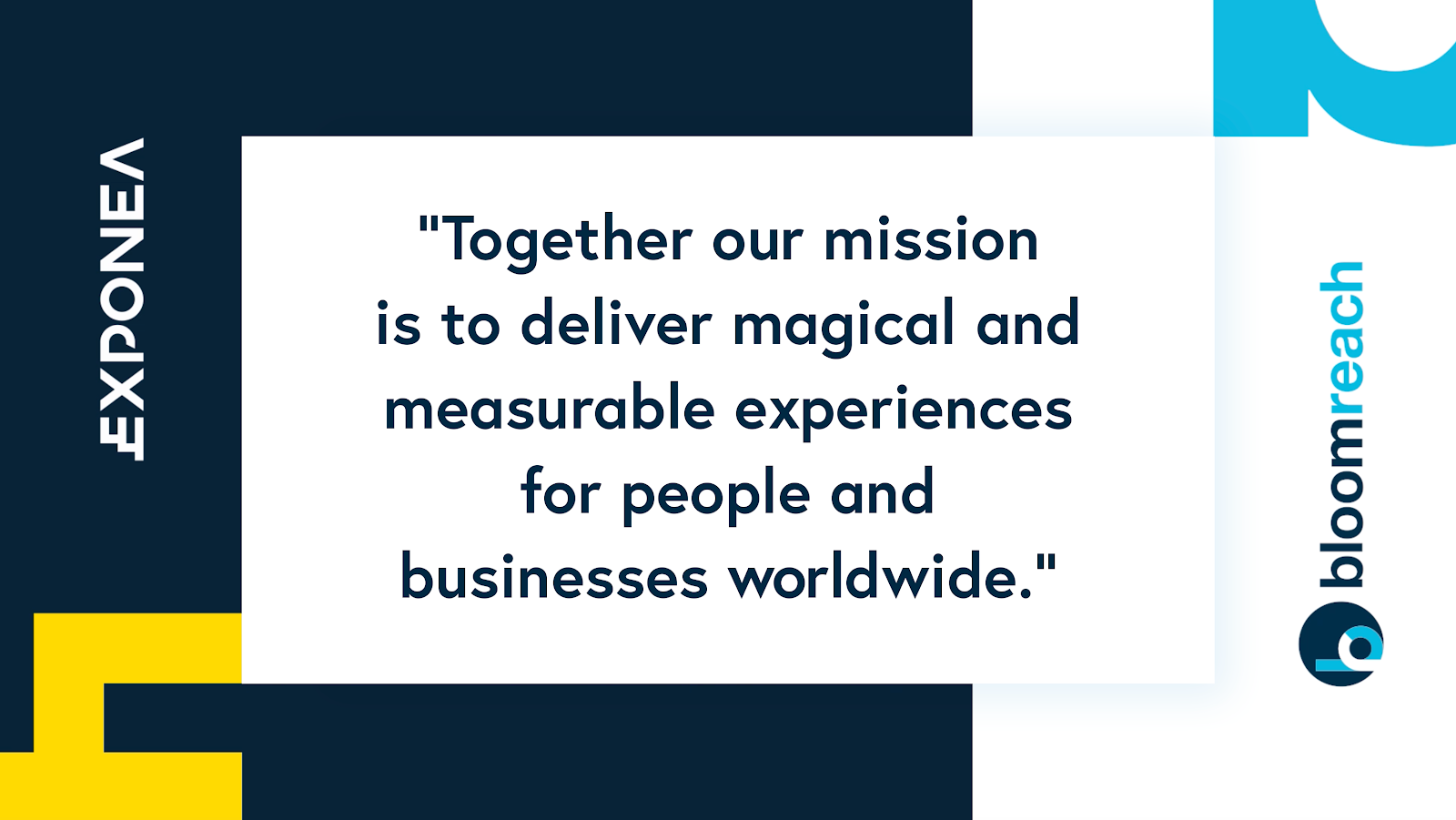 The Next Wave of Commerce - Differentiation Through Personalized Digital Experiences
Most marketers today think about personalization in a highly siloed way. For example, an email marketer might think of personalization in the context of personalized emails. For the merchandiser, it might mean thinking about personalized search as people are browsing a site. By bringing together the core marketing automation capabilities of Exponea and the onsite digital commerce capabilities of Bloomreach, we're going to be able to blur those boundaries.   
The only way to predict customer behaviors is through data and AI. AI makes sense of the non-linear loops that consumers are traversing and, in doing so, helps us identify the next experiences that we need to put in front of them.
Our combined offering will deliver a personalized journey end-to-end, from the marketing touchpoint through the conversion funnel until a customer decides to buy. 
Why Exponea?
In a world of CDPs, why did we decide that Exponea was special? It comes down to this:
Ecommerce customers love Exponea. 
It's the most loved CDP in the market, and for good reason. Quite simply, it is the best product for eCommerce marketers. It stitches data together, adds analytics on top and enables actionability to accelerate time-to-market and time-to-value for the marketer.

Bloomreach and Exponea have a shared value system. 
There are many complementaries and synergies between the two companies. An entrepreneurial mindset, a desire to be great, high integrity and a common set of cultural practices make Exponea a perfect fit and new member of the Bloomreach family. 

The Future of Commerce Experience
The acquisition of Exponea is a realization of our core mission. Bloomreach was started to deliver magical and measurable experiences to people and businesses worldwide. When we spend all our time online, we need the web to deliver the right product and content that we need at that moment. No other platform in the history of software has been able to do this. Until now.  
Why has this been so hard? Why can't some of the large cloud vendors and software companies that have millions of dollars of capital pull this off? Fundamentally, they are missing three ingredients preventing them from solving the core problem of putting the right product and right piece of content in front of the right customer: 
It starts with data. The partnership with Exponea means that natively we're going to have the best customer data and product data that can be leveraged by world-class AI - that is the heart of eCommerce.
Seamless execution to drive business growth so people can act on that data to drive real-time outcomes, revenue growth, brand growth and achieve objectives within the toolset, without having to go outside and integrate with multiple systems. 
Our focus is completely on commerce. This enables us to focus on the use cases that eCommerce marketers, merchandisers and businesses face that are unique to them. That focus will translate to every feature we build, every support interaction, every customer success best practice, every implementation service and every partner that we bring to bear. That focus will deliver incredible results for eCommerce businesses. 
Growth Turbocharged, Transforming a Market
With the investment in our growth, and together with Exponea, we're going on an exciting journey. Here's what we promise: 
To drive growth: Our purpose is to help you grow your digital business with the technology, tools, partners, and services you need to accomplish your goals.
 
To deliver the best, most personalized commerce experience platform for our customers: We will deliver the world's best commerce experience platform - all powered by unique data and AI - with tools and modern technology companies need to grow their businesses, personalize every touchpoint and optimize all their digital channels.
 
To focus on what matters: Our customers and our ecosystem are what make us tick. That is and will remain our focus. If our customers and partners are successful, we are. 
Watch the full video interview with Bloomreach CEO Raj De Datta and Exponea's CEO Peter Irikovsky on what Bloomreach's acquisition of Exponea means for the commerce landscape, and why he's excited about it. 
Learn more about Exponea . 
For more information about the acquisition, read our press release .