Commerce Experience
Bloomreach Commerce Pulse: Update on NA, UK+EU eCommerce Traffic and Sales - Week of April 26 - May 2, 2020
By Brian Walker
05/05/2020
Commerce Experience
Bloomreach Commerce Pulse: Update on NA, UK+EU eCommerce Traffic and Sales - Week of April 26 - May 2, 2020
The week of April 26 saw coronavirus discussion transition into the next phase: opening back up. Nations, regions, provinces, states, and cities are all grappling with the timing and 'stages' for loosening social distancing rules and a return of typical business practices. Everyone is wondering how that will impact online business in the near and long-term.
We of course do not really have a good way of forecasting this. But what we do know is: 
North America's online and digital commerce continues to be on a roll with overall sales growing again week-on-week and up a staggering +83.34% year-over-year across all Bloomreach North American customers. In Europe, not quite as rosy with sales falling slightly week-over-week and overall sales only +8.09%. This may reflect inventory availability and supply chain challenges beginning to impact Europe and the UK to a more significant degree than in the United States, as traffic remained much healthier. We continue to see increased adoption of increased adoption of buy online pick up in store (BOPIS) or curb-side pick up programs - with 'Click+collect+essentials' also becoming a top search term in the UK. Perhaps this is an early indication of consumer sentiment or spending pattern differences across the continents.
 
With the growth in online shopping due to the coronavirus-related crisis, we have seen some interesting changes in Search, which is now more important than ever. Search as a percentage of site traffic was +31.95% last week versus last year in the UK+EU. In NA, this was a more modest .5% last week, but has been trending +3-5% YoY since March. Search conversion rates illustrate another dimension to the importance of search, with search conversion rates roughly double overall conversion rates on the sites we power. Last week NA Search-conversion-rate* was 5.55% and in UK+EU it was 5.8%. These are huge numbers. Across all Bloomreach customers, roughly 20% of all site traffic utilized search, but in key categories such as Grocery and B2B it was much higher at ~35% of traffic.
 
As we have said, the overall trend is toward higher average-order-size and conversion rates. In NA last week, for example, AOS was +15.31% YoY and conversion +14.89% YoY. 
 
Disinfectant wipes have been holding the top position across segments in the last few weeks. This could imply the onset of new habits like disinfecting surfaces more than usual. Masks are no longer in the top searches!! Meanwhile, 'freezer' is now a top searched term in NA.
Let's dig into this past week's numbers: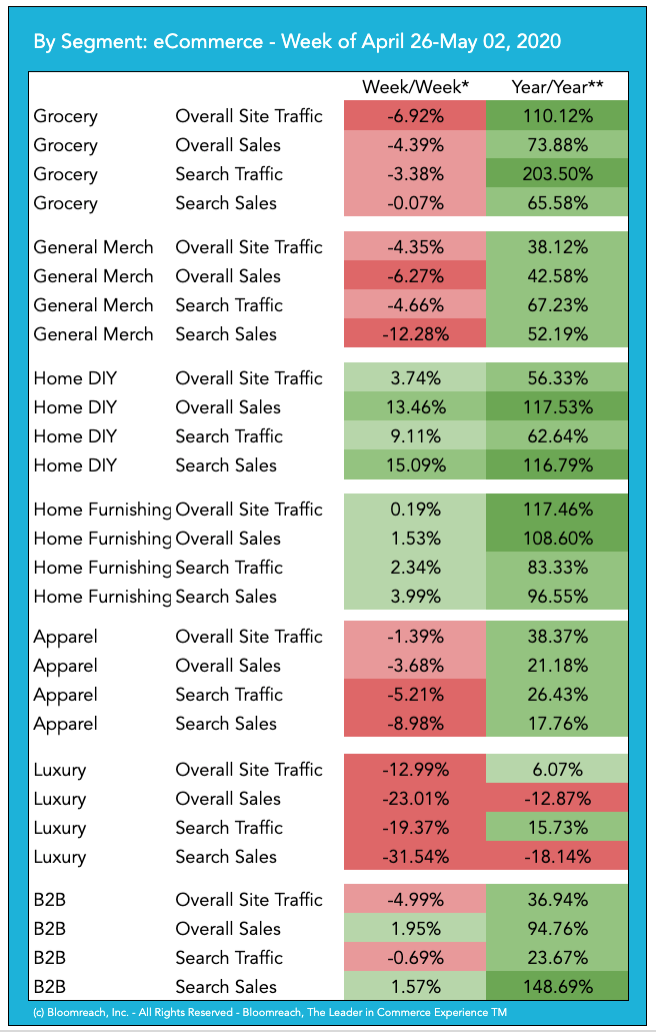 What it means:
North America's online and digital commerce saw a slight moderation in traffic versus the previous week of April 19-25, but remained very strong with overall sales growing again week-on-week and a staggering +83.34% year-over-year across all North American customers. In NA AOS (average-order-size) and conversion rates were up YoY last week. Top search terms in NA are no longer dominated by grocery items which indicating a shift in shopping and buying in our new COVID world.
 
In the UK & EU, traffic went down somewhat more week over week, but remains +40% YoY. However we see an interesting dip in AOS and conversion rate. However Search-related conversion rate and search -related sales remained very strong versus LY, indicating European and British consumers are using search to be very directed in their purchases. 'Click+collect+essentials' search term seen in the UK could be the onset of the next new retail strategy.
 
The Grocery segment was down slightly WoW, possibly indicating consumer challenges with pick-up oor delivery slots may be leading a few to venture out to the stores for fresh produce and groceries. However, Grocery continues to put up impressive numbers YoY at +74% overall sales versus LY. 
 
General Merchandise saw a WoW dip across all top-line metrics, though remains very strong YoY at +42.58% in overall sales. 'Balloons' has made an entrant as a top search term, likely due to graduations needing to be celebrated at home. Terms like scrapbook, Cricut (a home crafts brand), and sewing machine, balloons imply that people are doing more home-based arts and crafts projects while at home.
 
The Home-Improvement/DIY segment continues to be on a roll, with very strong WoW sales growth at +13.46% versus the previous week, and an incredible +117.58% YoY. Search terms like 'soil', 'planters', 'seeds', 'fence', 'lawn mowers' are an indication that consumers are spending discretionary money by investing into their garden spaces and terraces as we begin to see spring bring longer warmer days. 
 
Home Furnishing similarly saw a very strong week. WoW sales grew modestly at +1.53%, but YoY the Home Furnishing segment is +108.6%. Consumers continue to invest in their kitchens, home offices, and living spaces as they are stuck at home. 'Freezer', 'refrigerator' and storage search terms are trending high.
 
Apparel was down slightly WoW last week compared to the week prior, possibly reflecting the out-of-stock situation on the back of a highly-promotional period. This can be seen in the relatively low search related metrics, indicating a high degree of out-of-stocks when customers are searching for specific items in specific sizes. While comfy clothes like 'joggers' and 'shorts' are top terms in Apparel, 'dresses' and 'linen' are seen creeping up as search terms, indicating spring is in the air.
 
The Luxury segment had a touch week coming off a rebound. The Luxury segment has been the most up-and-down segment of all during the crisis, and we continue to see that with traffic and sales down last week WoW and sales down YoY even as traffic as less so. Indicating consumers are not finding the size and colors they want as they continue to search specific brands such as 'Tory Burch', 'Gucci', 'Burberry', and others, often appending 'sale' to the end of their search.
 
B2B saw a slight dip in traffic last week with sales holding steady relative to the week prior. However the year-over-year numbers are impressive with overall sales +94.76% and search-related sales +148.69%. In B2B we see he importance of search in particular, with nearkly 35% of visitors using search, and those customers converting at an incredible 11%, compared to ~4% for all other traffic. We see construction related search terms making a stronger presence in the search terms this week in B2B. 
Bloomreach powers over 20% of US & UK eCommerce search and commerce experiences across the 300+ global enterprise businesses - many of whom have multiple brands and eCommerce sites. You can find all of Bloomreach's Coronavirus related research, including previous weeks, on our Coronavirus Content Hub. If you have any further questions, I encourage you to reach out here, and we will follow up with you ASAP. We aim to bring you further insights each week as we navigate these challenges together - whether you are a customer or not. 
Thank you and be well. 

*Search-conversion-rate: the rate at which site search users actually purchase.