10 eCommerce Trends To Watch For In 2020
By Tessa Roberts
01/08/2020
10 eCommerce Trends To Watch For In 2020
When it comes to eCommerce - or commerce in general - as the line between bricks and clicks continues to blur - the number one focus is the customer.
Something we are taught and have been very aware of for a long time, but perhaps slips our minds when it's time to chew over higher profits and market share growth.
Now is more important than ever that the customer's needs stay firmly rooted at the forefront of our minds.

There's always an alternative offered by your competitors just a click away if your experience doesn't hold up.

Which is why it's now the consumer who drives changes in shopping behavior.
By means of a quick illustration, let's take a quick look at the steady growth of the search term "customer experience" over the last five years, according to Google Trends:

Because of this rising importance of customer experience, and the benefits of repeat purchasing and customer advocacy, it'll come as no surprise that the trends in this article will relate to the customer's shopping experience and the technologies that support it.
But what does customer experience actually mean?

And how do you execute it practically?

In this article, we'll try to answer these questions by taking a look at the rising popularity and significance of unified commerce, the offline experience and consitent brand values.
Here's a list of eCommerce trends for 2020:
Appreciate the Entire Ecosystem
 
A Smooth Customer Journey, Personalized
 
Experimentation is The Key
 
Human Interation is The Key
 
Offer a Unique Opportunity for Physical Exploration of the Product
 
Fast Delivery
 
Cross Border Delivery
 
Explore New Industries
 
Delivery & Returns
 
Importance of Brand Story
Unified Commerce
Deloitte makes it clear: "Consumers are channel-agnostic"
Consumers bounce around different touchpoints whether that's an Instagram ad, a pop-up store or an Alexa search.

To make it more complicated, the number of touchpoints is dramatically increasing, both in terms of availability and customer usage.
Trends in commerce chatbots and immersive technologies like augmented and virtual reality are exciting new ways to break through the noise and reach the customer, but they also add further complexity to this web of touchpoints.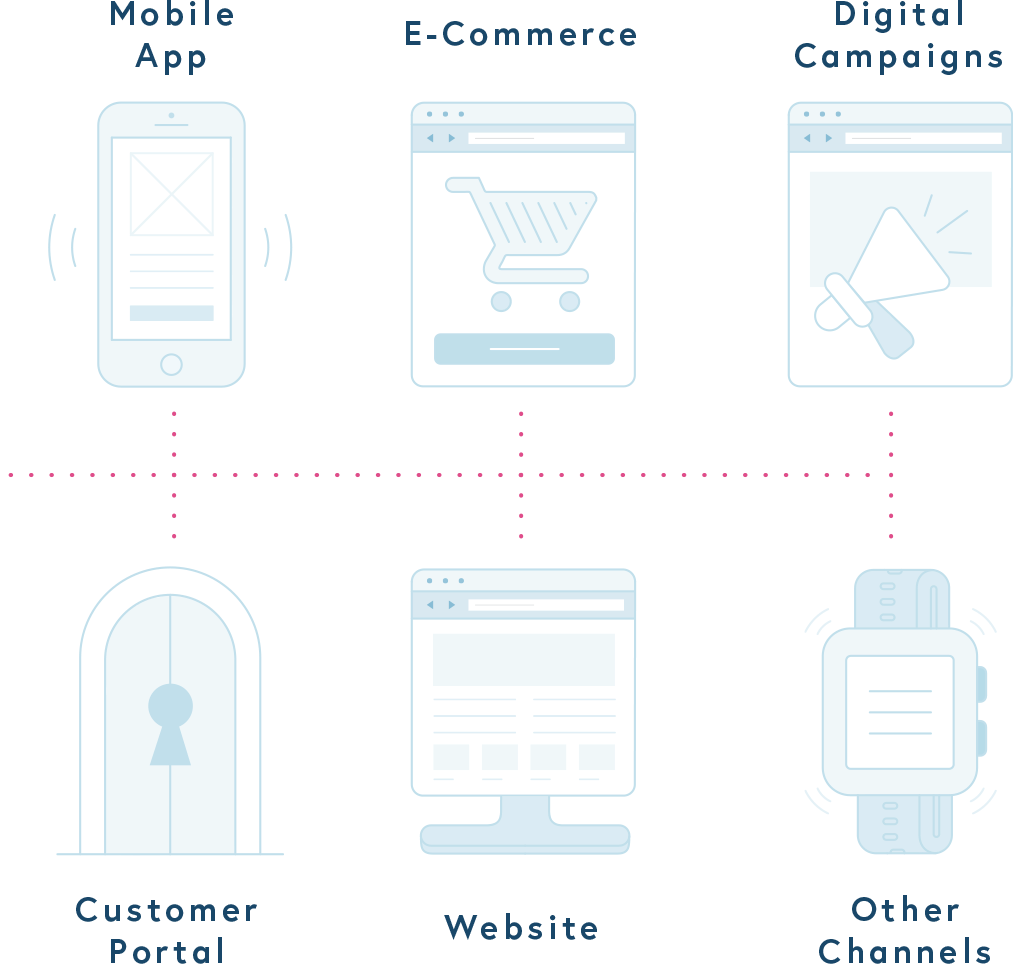 Despite the added intricacies, customers still demand a seamless experience when they decide to hop on and off of the various channels.

A seamless shopping experience is no longer nice to have, but essential.
However, even when companies want to put the focus on new customer interactions, it isn't easy to break away from the traditional approach.
For the most part, marketing budgets are largely allocated to tried-and-tested channels like offline paid media and offline platforms (think in-store displays, printed in-store media and targeting through coupons based on products that the consumer has previously purchased).
2020 is the year to shift spending from traditional channels to an approach that will delight your digitally fluent shoppers.

[eCommerce trend #1] Appreciate the Entire Ecosystem
In order to truly focus on the customer experience, you need to move away from channel-specific, offline versus online marketing strategy, and instead look at the bigger picture.
Take a look at the end result first, and then zoom into how you can improve each channel and deliver a more powerful and holistic customer experience.
This strategy is exactly why we, and other digital advisors, are noticing a shift in the technologies central to eCommerce.

Businesses have started to build modular platforms, with a focus on customer experience, instead of relying on a single monolithic commerce solution.
A modular platform allows companies to mold their technology to the customer, rather than have their approach decided or limited by the software purchase.

But a unified buying experience isn't the consumer's only wish. They also expect a seller to intimately know them and, if this expectation is not met, they will easily switch to a different brand.

In fact, 77% of consumers demand products and promotions that appeal to their personal tastes.
[eCommerce trend #2] A Smooth Customer Journey, Personalized
Technology and data are crucial for showing the right product to the right person at the right time and place.

This could be through targeted online ads, but also through dynamic relevant website content, or helpful information served through an app personalized to the receiver's needs.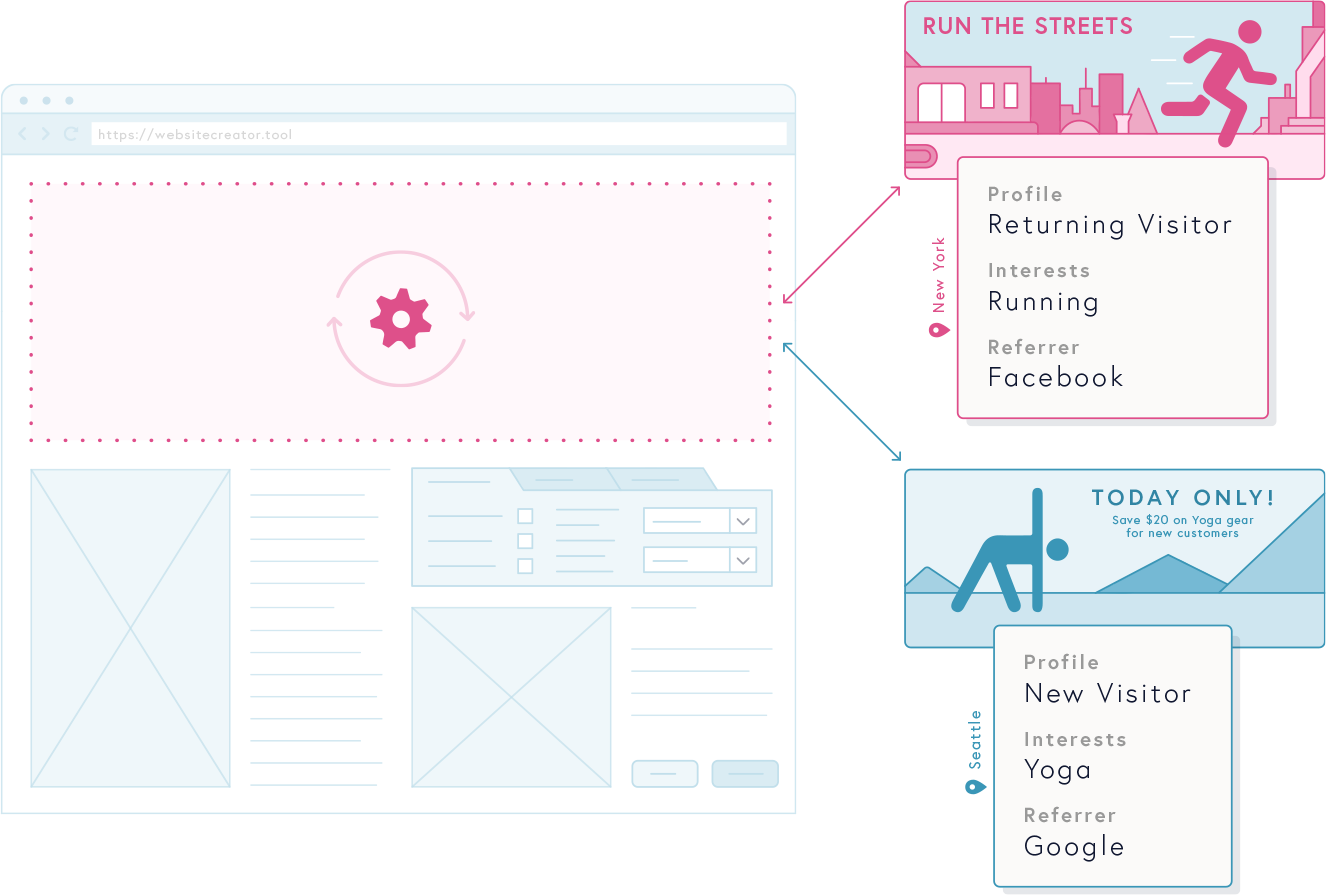 Personalized, relevant messaging is something that brands realize the importance of, given that 92% of brands identify personalization as a top priority.

The question now is how to make this experience, firstly precise and secondly scalable.
As hinted at already, data and technology is the key here. Data to improve the accuracy of the relevant content (which most importantly requires a clean set of data) and technology to reach a high volume of consumers.
The mesh of customer touchpoints includes every interaction a customer has with a brand - online and off. It's this realization that has influenced the comeback of brick-and-mortar stores.
The Offline Experience
This revival has meant an entire re-evaluation of the purpose of a store.

Again, rather than thinking this offline channel is simply necessary for every business, retailers should consider the unique qualities of online and offline channels instead and try to optimize each of them.
We can see this approach in action from former "online pure-players" like Amazon and Alibaba, which have started to open brick and mortar stores.

These physical shops were not opened to offer customers convenience and a huge product selection, but instead to provide customers with an experience incomparable to their eCommerce sites.
As part of this re-evaluation brick and mortar stores need to be examined much like any other marketing initiative.

Which audience segment is this store targeted to?
Which part of the customer journey do you expect people to enter the store?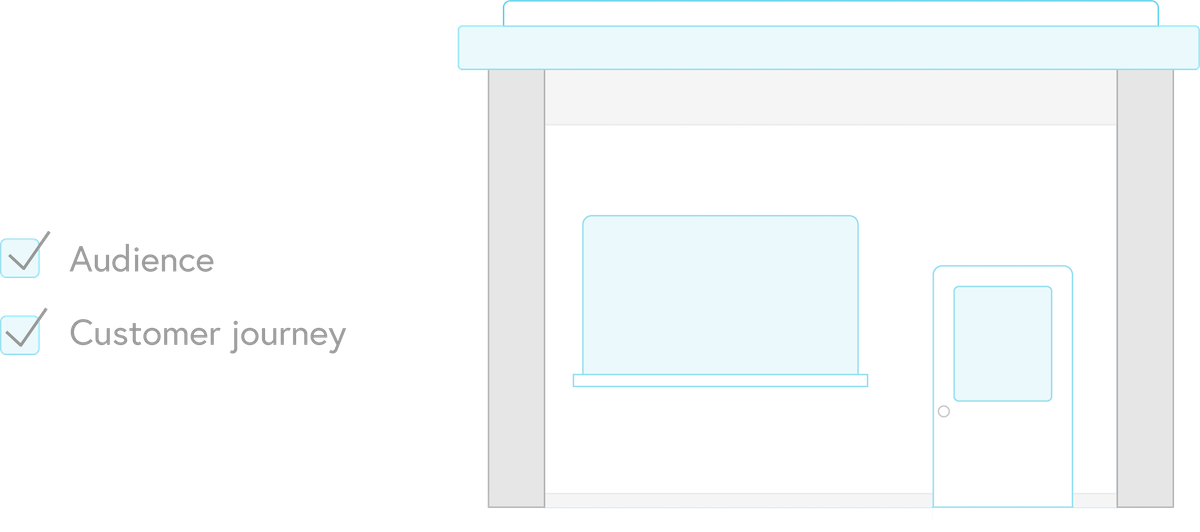 The decided goal will shape the store concept itself and affect how to calculate the success of this initiative.

Here are three directions businesses are taking when it comes to physical stores:

[eCommerce trend #3] Experimentation in Physical Store
Most clearly demonstrated by pop-up stores, investments in physical stores can be leveraged to float a new product, technology or service.

Not only does this give digitally native companies face-to-face interaction with potential customers, and provide the opportunity to gain immediate feedback, but these brick and mortar stores can also act as a tool for branding.
The most publicized example of this concept is Amazon Go. By opening this store, Amazon can experiment with the early stages of an unmanned store.

They can trial the effectiveness of smartphone scanning, automation and in-store robots, while simultaneously gaining massive amounts of press coverage.

[eCommerce trend #4] Human Interaction is The Key
A few years ago, the saving argument to the decreasing interest in offline shopping was the human element. Deloitte even claims that human interactivity and engagement is one of the key drivers of overall stores experience and satisfaction.
Along with the advantages of human connection, empowering store associates with technology means they have the potential to become central players in developing the brand experience.
How you ask? With the aid of a smartphone or tablet, a clean data set and a reliable CMS, store associates are able to access a store visitor's past shopping history and the pieces of content they've read on the company site. 
Based on this, the CMS automatically recommends products and the associates are able to guide customers to what they've been looking for. Maybe the associate uses the database at hand to do a quick search to see if a particular product is in stock or to check if additional color variations are available.
[eCommerce trend #5] Offer a Unique Opportunity for Physical Exploration of the Product
For a complete shopping experience, there's a need inside of all of us to touch and see products off the screen and in real life. This is a job only a retail store can do: offer a unique opportunity for physical exploration of the product.
There are several motivations behind this. Firstly, to serve the customer. Particularly with higher priced items, customers want to gain assurance by seeing the product in the flesh before making a purchase decision.
Secondly, brick and mortar stores give online businesses the chance to showcase their brand.

Digitally native brands have seized the pop-up-shop opportunity to be physically available without a larger, permanent space.

Traditional retailers, such as Calvin Klein and Macy's, are also embracing the pop up to be able to experiment with more creative, short term concept shops.
Retailers are keen to use this channel to drive both editorial styling and to promote their focus on customer experience, which in turn boosts the reputation of their eCommerce business.
The Delivery
Falling under the umbrella of offline experience that couldn't be missed is delivery.

Perhaps not as glamorous as a brand new store concept, product delivery is an area of business where customers notice the shortcomings and appreciate when brands go above and beyond.
According to a recent World Economics Forum publication on the transformation of eCommerce logistics, Here are the tactics companies are focusing to make their delivery services a cut above the rest.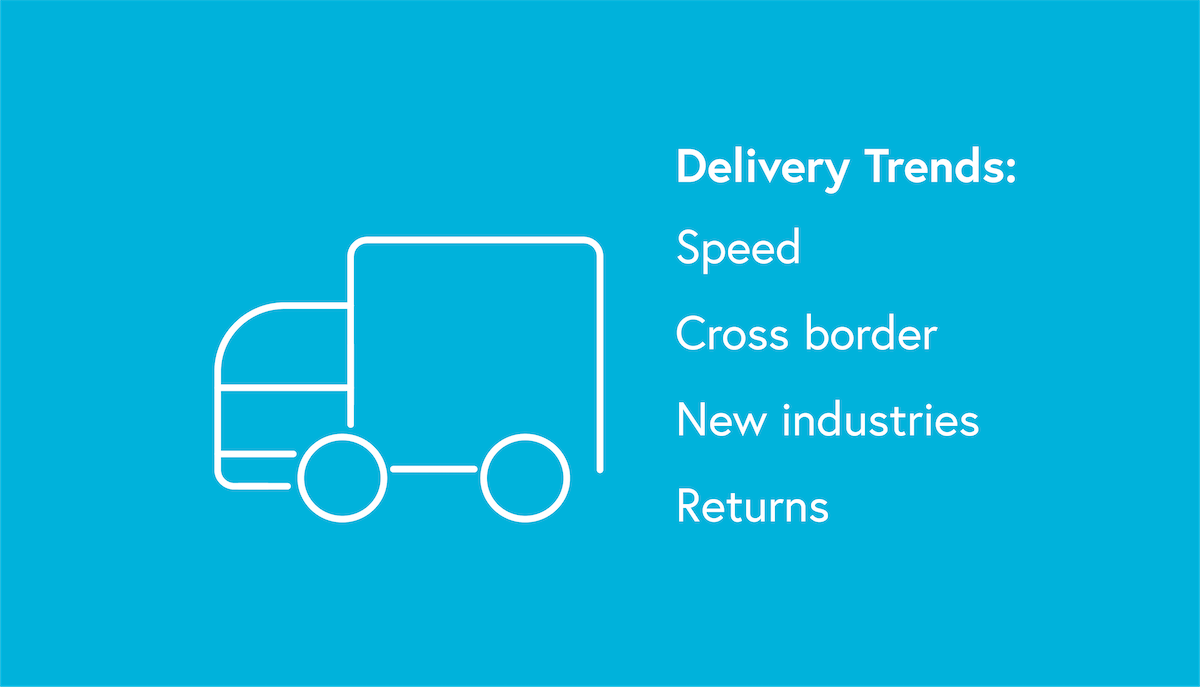 [eCommerce trend #6] Fast Delivery
As you've probably already noticed, delivery times have been getting shorter and shorter with the number of same day or 2 hour delivery services rising. This has pushed customers to demand more from product delivery.

They don't only expect near-immediacy on ordering, but also the flexibility to choose a delivery time slot.
As is the case with the whole industry, the tables have turned. Logistics and operational processes come second to customer satisfaction.
 
[eCommerce trend #7] Cross Border Delivery
Cross border eCommerce is growing due to the lack of borders where online shopping is concerned. We're seeing this development particularly in China.

The scale of Chinese eCommerce is already significant, and thanks to a growing middle-class hunger for foriegn products, it will continue to increase.
[eCommerce trend #8] Explore New Industries
The scope of delivery is growing beyond fashion and electronics. Consumers are beginning to see the advantages of ordering beauty, pet care, and perishable goods online.
 
[eCommerce trend #9] Delivery & Returns
To give customers the physicality they crave, that we mentioned earlier, many companies offer easy and smooth returns. Aside from simply offering the service, they go the extra mile by offering pre-printed labels, an automated refund process, and the choice to return in-store or by mail. Anything that will encourage customers to come back for more.
Consistent Brand Values
At the heart of all of these trends and developments is the brand. Your brand is what differentiates you and it's what your customers grow to recognize. Staying consistent with your brand in whichever channel or direction you choose to pursue should be central to your strategy.

[eCommerce trend #10] Importance of Brand Story
Noted by Deloitte, consumers are increasingly attracted to brands that tell a story. They look for brands that fit into their personal life stories.
As part of building out your brand, a brand story can help people relate to your company in a way that transcends the product. Retailers should take a step back and consider the values that will create a connection between product and customer.
The brand value should then echo in every area of the business, from product assortment to company culture.
If you stick to creating a brilliant experience for your customers, you've already got a head start in an approach to every new trend and initiative that will arise over the next few years.
Wrap Up: It All Comes Back to Customer Experience
From a strong brand story to a unified customer journey to meeting customer expectations on delivery to re-evaluating the purpose of a brick and mortar store, one trend that will determine the success of business is placing importance on customer experience.