PAIGE, Cengage Learning, UncommonGoods, and Cedar Fair Take Home brAwards!
By Katie Lawson
10/19/2018
At last week's Bloomreach Connect San Francisco, four leading companies were recognized for their pioneering success in the Experience Era. Have a look below at what makes these over-achievers stand out from the crowd - and a big congrats to all of our winners!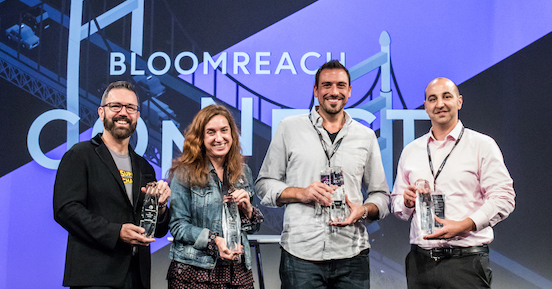 SPA Superiority Award
The SPA Superiority Award went to PAIGE, a California-based lifestyle brand for men and women obsessed with the details of fit, fabric and experience. PAIGE wasn't about to settle for a cookie-cutter shopping experience for their customers. Instead, they seized an opportunity to cater to them via a Single Page Application, or SPA. Indeed, their new brXperience-powered brand and shopping site at Paige.com is entirely a SPA. With it, they are delivering a streamlined experience for their customers, plus are positioned to surround their exceptional apparel with video and other rich content. In short, PAIGE is a trend setter in both jeans and digital experience, and a worthy winner of the SSA, the SPA Superiority Award.
Outstanding Implementation Award
The Outstanding Implementation Award went to Cengage Learning. Their rather unique business recently went through major disruption, giving them just a few weeks to overhaul the digital experience they provide, all in support of a radically new business model. Fortunately, using brXperience they were able to deliver a new and highly personalized digital experience for their new subscription-based model, in two months! The OIA is theirs.
Search-n-Merch Award
The Search-n-Merch Award went to UncommonGoods, the source of uncommon gifts and other treasured items, all embodying remarkable design from independent makers. Uncommon Goods marries up those unique items with the uniquely powerful search and merchandising capabilities of brXperience, making them a worthy winner of the SMA.
Top Experience Award
The Top Experience Award went to the Cedar Fair Entertainment Company. From California's Great America to Canada's Wonderland to Knott's Berry Farm to eight other rollicking parks, Cedar Fair delivers top experiences to kids of all ages. The key to their digital transformation was the guiding principle that Context is King, all starting with the guest, where she is, what she's interested in, how she likes to play. From there, Cedar Fair used brXperience to rapidly and extensively offer a personalized experience to their 26 million guests, on their laptops before they come to a park and especially on their phones when in the park. In short, they offer a top experience in the most thrilling of venues, at scale and highly personalized, making them a worthy winner of the TXA.
Congratulations to all of our winners, we can't wait to see what you do next!