Demand Generation - The Missing Piece of Your B2B Sales Puzzle
By Tessa Roberts
09/24/2018
Algirdas Desceras, a Demand Generation Manager here at Bloomreach, was invited to speak at DHPA's annual summer event for the hosting and internet sector. The event brought together experts in their field to share best practices related to the data center hosting provider industry.
Algirdas took this opportunity to share his knowledge on creating a good relationship between the marketing and sales teams in a B2B company, which ultimately drives more revenue. This post discusses the takeaways from Algirdas's presentation that can help to optimize the sales and marketing processes in B2B companies.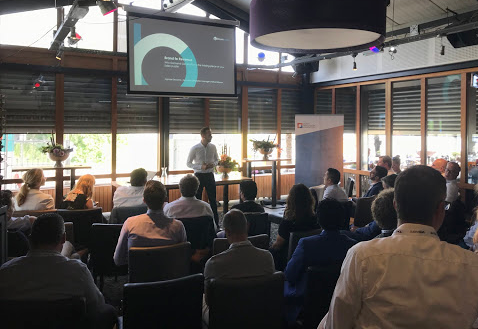 The Battle of Marketing and Sales
As the classic story goes, marketing and sales departments are known to lock horns once in a while. While the end goal is mutual, there is often a misunderstanding of the motives behind sales and marketing efforts, so much so that "roughly two thirds of salespeople believe marketers are wasting time on fancy events and branding activities when they would be better served focusing on tactics that directly impact the sales pipeline".
Sales people want to see more direct influence from marketing to create the sales pipeline and underestimate the impact of marketing effort like PR, Brand, Content Marketing on their ability to close deals.
It's All about Leads
This "direct influence" is often measured through the amount of leads marketing generates. However, this metric is not always a simple one to measure. The very definition of a 'lead' differs per company, and marketing and sales need to collaborate in order to clarify this term in a way that makes sense for their business.
This is only the cusp of the alignment journey. Expectations in sales and marketing processes can often go unrecognized, as outlined here: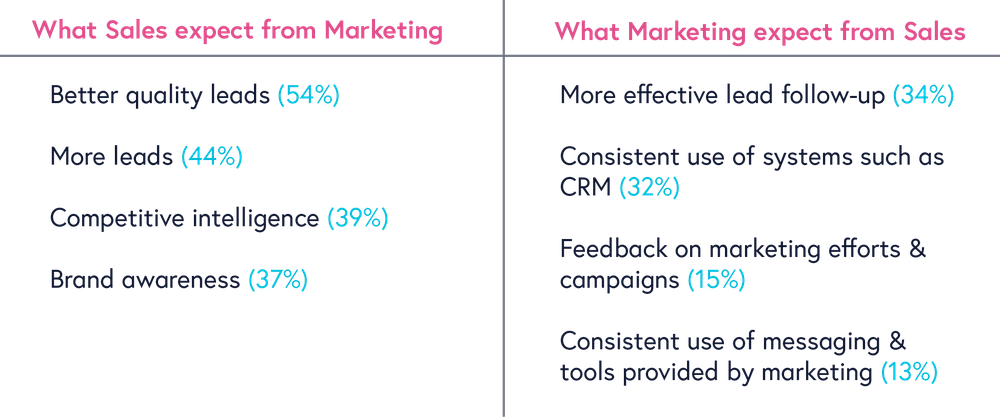 Source: Exhibitors Only
Understandably, due to these mismatched expectations, clashes between marketing and sales do occur. The question is how do we narrow this gap and create a better understanding between the two teams?
The Bridge: Demand Generation

Having a team solely dedicated to producing leads through marketing efforts (or demand) results in less confusion between sales and marketing. Demand generation focuses on the customer buying journey as a whole to gently guide the target customer into a purchase.

Bloomreach's Demand Generation Manager took the audience through the buying funnel he uses to achieve generate leads efficiently (Attract, Engage, Nurture, Convert). As part of the presentation, Algirdas shared advice on techniques companies could try out.
There seems to be plenty of hype around video in the marketing field, but it's apparently with good reason. The Bloomreach marketing team receives 10 times more impressions and 5 times more engagements with video content, compared to a static image format.
Webinars with Industry Leaders
Webinars are again a great lead generator. This invaluable content gives you the chance to reach out to people interested in a certain topic (related to your company) while spending a small portion of time demonstrating your product in action. Viewers come away satisfied and enlightened by the information they've just received, and at the same time familiar with your brand and product(s).
Algirdas took the opportunity here to highlight the importance and benefits of including a nurture stage as part of your marketing processes. Currently, 65% of B2B marketers have in fact not established lead nurturing. While, conflictingly, nurtured leads produce a 20% increase in opportunities compared to non-nurtured leads. And this advantage of nurturing leads to companies that excel at lead nurturing generate 50% more sales ready leads at a 33% lower cost.
So if lead nurturing offers so many benefits, why are so few companies making the most of this opportunity? Get cracking with lead nurturing today.
By the end of DHPA's event, the audience came away ready to implement the new strategies and tactics they had learned throughout the day. "It was great to see people open up and willing to share their tactics with this community," summarizes Algirdas, "These types of events are valuable learning opportunities which continuously help businesses grow and become more successful."