Life at Bloomreach
An Inside Look at Bloomreach's Hiring Process
By Lucie Cisarova
06/30/2023
Whether you're just curious in finding out more about the interview process at Bloomreach or you're already considering applying to one of our positions, you're in the right place! We'd love to guide you through our hiring process so that you're ready for all our rounds of interviews and you know what to expect from each one of them — there may even be some parts of the process you have'nt experienced elsewhere. Are you ready to learn more and take some notes?
Our hiring process usually takes four or five rounds, and we promise they're not boring. Each round takes place with various people throughout the company, thanks to which you really get an overview of not only the role itself, but also our company culture, your possible future teammates, and the way we work. Depending on availability and timing, the whole process can take around three weeks (that's what 70% of our last 100 employees experienced). If we realize over the course of the process that another candidate is a better fit for us, we'll let you know. It may not be the easiest job for a recruiter to reject a candidate, but our recruiters pride themselves on transparency and honesty. If you are rejected and would like to get feedback, we are more than happy to share it with you! 
But we're getting ahead of ourselves — let's first take a look at the individual interview rounds (note: these steps in the recruitment process are among the most common in Bloomreach, but it may vary for different roles and seniority levels):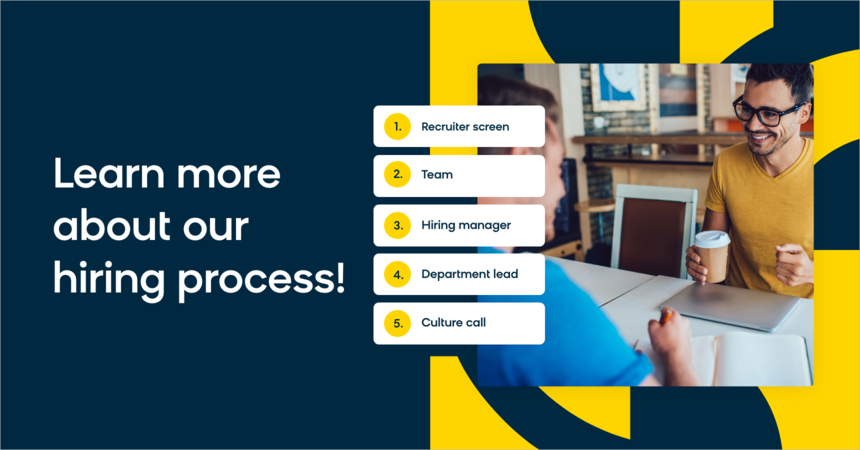 Recruiter Screening
The first contact you'll have within the process is always with our Recruitment team, and this interview will last around 30-45 minutes. This usually takes place over Zoom, but is occasionally also done by a phone screening — especially in our US region. We really want to get to know you, so be prepared for questions about your motivation, such as: "Why Bloomreach?" "Why did you decide to change jobs?" and "What would you like to achieve at your new position in Bloomreach?" You can also expect questions around your experiences and skills, salary expectations, and a possible start date. 
We will also check your English-speaking ability, because our coworkers are based all over the world and you'll be using English daily. If there's time left, we'll also ask about real-life situations and challenges from your past work experiences. If not, don't worry — we'll cover that later on. 
Knowledge checkpoint: assignment. In order to verify your expertise and see your thought process and how you approach work, a task may be required for some roles. It's not just some random assignment, but rather a small teaser to see what you'd really work on in your chosen role. Depending on the complexity of the assignment (which will vary from role to role), you'll typically have three to seven days to complete the assignment. Timing is flexible here, too, so we'll work with you to make sure it's convenient. 
Team Discussion
Let's talk about you and me — let's talk about the team!
As soon as we review the assignment and we like it, we'll arrange another round: a call with your potential future team. This round lasts an estimated 60 minutes. First, we will talk about the assignment in detail. In addition to open feedback and a discussion, you'll also have a chance to learn about your future team members, their day-to-day work, and daily tasks and challenges. Thanks to this round, you'll get a deeper understanding of your role and what to be prepared for.
Hiring Manager Meeting
Who will guide you and be there for you?
After you get to know your future team and colleagues, it's time to move higher. The next round will be with your potential future manager, and will last around 60 minutes. You can prepare by thinking about how you'd be compatible with the team and how you handle difficult or stressful situations. You'll also learn about the manager's expectations from the role and will be able to get to know each other better.
Department Leads Discussion
A meeting with the broader team.  
It's important to note that this round varies from role to role and is not mandatory for everyone. However, if you are applying for an Engineering role, this round will most likely happen, so get ready to meet even more department members. You can count on around 60 minutes of talks with other important stakeholders for your future role within the Engineering department, and you'll end the call with a better understanding of the business operations from a technical point of view.
Culture Call
Our company culture hits different.
We care deeply about choosing the right employees for Bloomreach, because for us, they are the most important part of the company. We pay attention to good relationships, fair dealing, open feedback, and having driven team players who want to achieve great things together. Therefore, unlike many other companies, we have one extra round we're super proud of and that's important to us — the culture call, which lasts approximately 30-45 minutes. Get ready for a mix of questions that'll help determine if we're a good cultural fit for each other. As for who'll be conducting this interview, there are several long-time Bloomreachers across the company dedicated to doing this round, including various department leads, our fellow People team members, heads of teams, and recruiters all the way up to our Chief People Officer. You never know which interesting and talented person from the company you'll get to know.
(Tip: Have you heard of our values? If not, you can find out more about them here.) 
What's Next?
Once you've passed all the rounds successfully, what's next?  
So you've gone through all the rounds. We've considered all the candidates. And the result is…we really want you on board! Here's what happens next: Our recruitment team will call you to celebrate the moment of joy and hope you want to work with us as much as we want to work with you. Shortly after the phone call, you can expect an offer letter with all the agreed details and conditions. We'll then mutually agree on a date for your final decision, and during that time period you can review and consider the offer in more detail. Once it's all set, agreed on, and signed, we'll impatiently wait for your first day and then your onboarding will begin! We'll onboard you both into your team and into the company itself by going through our amazing two-week onboarding program called the "Mini Summit" (but more on that another time!).
We can't wait to see you stepping towards the most impactful professional experience of your life, and hope to see you going through this process with us yourself one day. If you're interested to see what roles are currently open at Bloomreach, visit our careers page. 
The hiring process is designed to make sure both parties get a good understanding of what the other has to offer. But don't take our word for it — here's what some of our current employees had to say about the hiring process they went through at Bloomreach: