See All News
10/18/2012
Hippo, BlueMind and DocDoku win the 4th Open Innovation Awards at the open World Forum
---
Hippo is a context-aware content management system (CMS).
BlueMind is a complete messaging, calendaring and collaboration solution.
DocDoku is a high end open source PLM solution.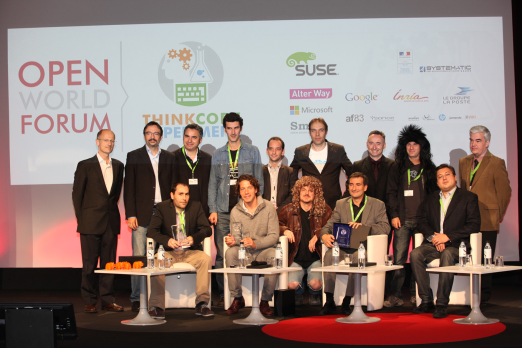 Besides the winners, four other projects competed as finalists during the demo cup : Cloudweavers, Dolibarr, Silverpeas and Xivo.
The jury was this year:
Patrice Bertrand, General Manager and co-founder, Smile
Jean-Marie Chauvet, Co-Founder and Managing Partner, LC Capital
Stefane Fermigier, Founder, Nuxeo and Abilian
Jean-Luc Raffaelli, Open Source Governor, Groupe La Poste
Alain Revah, Founder and Managing Partner, Internet Ventures
Laurent Séguin, President, French speaking Libre Software Users' Association (AFUL)
For Tjeerd Brenninkmeijer, Hippo's CMO : "This Price is really a tribute to our team and our community. We've all worked so incredibly hard on not only one of the markets' leading Open Source Web Content Management solutions – but in contributing back to the Open Source Community. The fact that we have a dozen members in our team that are full committers to the Apache Foundation, and that our Hippo community is filled with amazingly innovative technologists is a testament to our commitment to technology. To win the Demo Cup is showing that everybody's work is appreciated."
Pierre Baudracco, BlueMind's CEO said : "Winning this OWF innovation awards 2012 price at the first Open Source related event in Europe is a great reward for the whole Blue Mind team from the Open Source ecosystem. In this serious and impressive event, the choice by the heterogeneous jury with investors, entrepreneurs, managers and experts validates all our effort and our result to bring Blue Mind, a new, modern and truly innovative collaborative messaging solution to the market."
"Because of the reputation of the Open World Forum and the prestigious past winners, we're very proud to have won the OWF Innovation awards 2012. Presenting our software in a 7 minutes time boxed format to a jury composed of experts and a critical audience was a funny, challenging and exciting exercise. This prize is a recognition to all the work we've done implementing a PLM solution that has not only the advantage to be open source but also offers outstanding functionalities which are not present in classical proprietary PLM software," adds Florent Garin, DocDoku's CEO.