Life at Bloomreach
Meet the Team: Senior Front-End Engineer Emilia Chiroiu
By Lucie Cisarova
03/28/2023
Life at Bloomreach
Meet the Team: Senior Front-End Engineer Emilia Chiroiu
At Bloomreach, we're lucky to have Emilia as a valued member of our Engineering team. Having joined our company in 2022, they have gained a unique perspective on what it's like to be part of our company. We recently had the opportunity to sit down and chat with Emilia about their journey at Bloomreach, and gain insight into what it's like being part of our dynamic Engineering team. If you're considering joining our company, read on to discover more about our culture, values, and the exciting opportunities available with our Engineering team.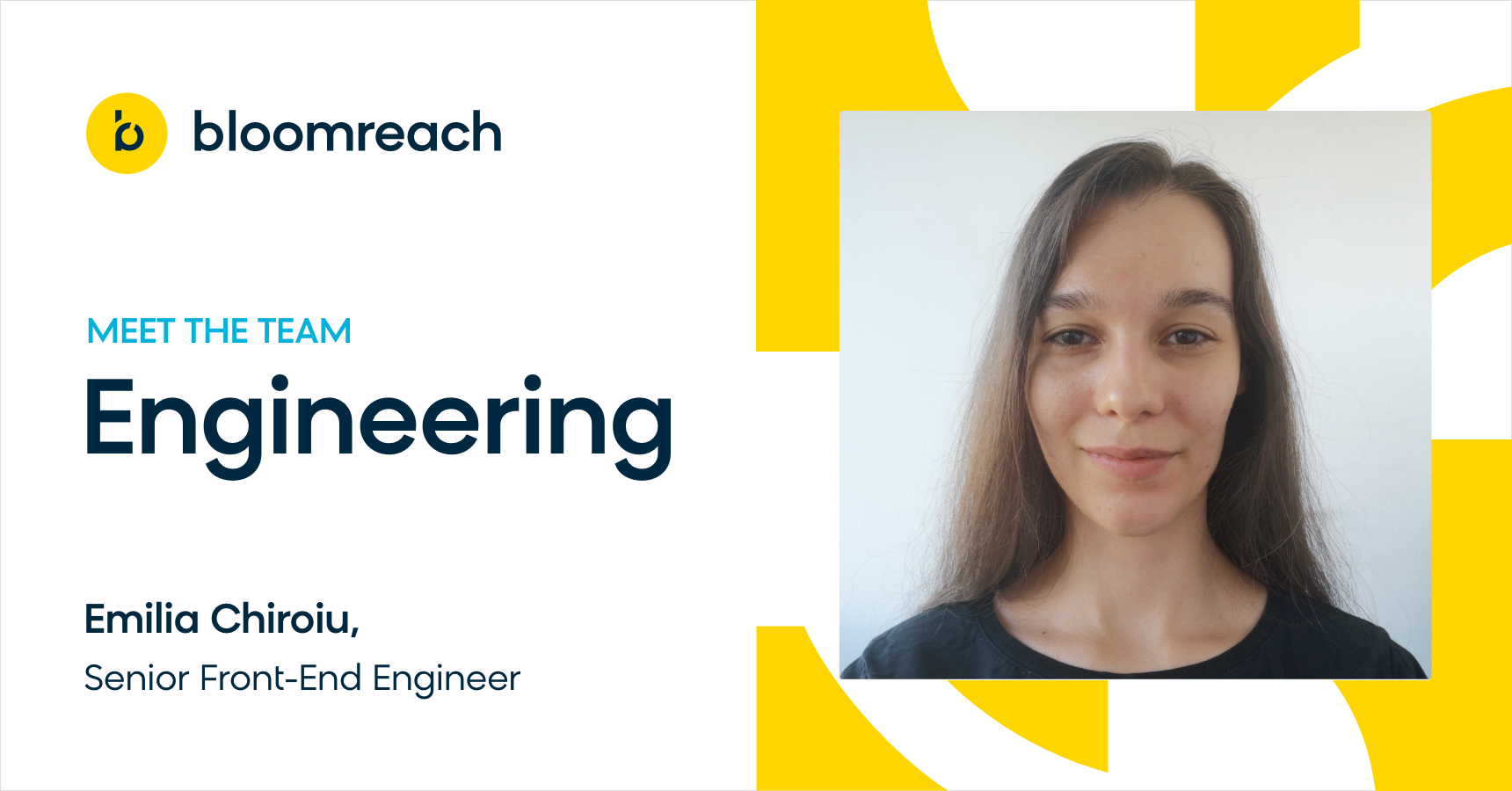 How did you find out about Bloomreach?
My first encounter was during a project in which we integrated the Bloomreach CMS. We received a lot of support from Bloomreach with integration and updates, so I got to meet some Blooomreachers too.
What's your role at Bloomreach? Tell us more about your team and give us a sneak peek of your day.
I am a front-end coder on our Engagement product, and I support teams in developing new features. Depending on the development stage we are in, I am either syncing with the projects to define what we want to achieve, coding, helping my front-end peers with code reviews, syncing with them, or resolving issues that might come up during support.
What has been the most impactful experience for you during your time at Bloomreach so far?
The support I got from my front-end peers while syncing, checking in, pair programming, or during projects has been great during this whole time, and I really appreciate that. 
What is your favorite thing about working for Bloomreach and why?
The people — it's refreshing to work with really involved and active people. 
How would you describe our company culture in 3 words?
Values: Bloomreach culture has well-defined values that work as a guide for all of us: truth, own, we, think, and no drama. They set a positive and proactive mindset that I appreciate.
Drive: I sense there is always intention paired with action for change and improvement, a drive to be better in Bloomreach.
Own: One of the core values at Bloomreach that I think defines the attitude of the great people I work with is their ownership over their work, which makes them take initiative and work well as a team.
What growth opportunities have you had at Bloomreach so far, and how does the company support your professional development?
Working with people that have experience and expertise in their field is always a good opportunity to grow. I receive development support through having an educational budget, access to courses, setting goals with my manager, and getting support from the team lead.
In your opinion, what sets our company apart from other companies in our industry, and how can we continue to build on those strengths?
People's commitment to the product. I think we would benefit a lot from having a clear visual representation of the journey our ideas take, from discovering needs to how we implement and translate those needs, as well as the testing and outcome. 
What is a critical project that you're working on right now that you believe will bring a lot of value to our customers and the company overall?
I am working on adding and improving the capabilities of the SMS channel, which brings value to US customers in their marketing strategies. 
Outside of Bloomreach, what are you passionate about?
Just enjoying life and, more recently, traveling has been sparking joy. ♥️