Customer Data Platform (CDP)
Bloomreach Earns a 2022 Tech Cares Award From TrustRadius
Bloomreach , the leader in Commerce Experience ™, has announced that TrustRadius has recognized it with a 2022 Tech Cares Award. This third annual award celebrates companies that have gone above and beyond to provide strong corporate social responsibility (CSR). 
"We are very proud to be recognized by TrustRadius with a 2022 Tech Cares Award," said Ursula Kralova, Chief People Officer, Bloomreach. "Bloomreach is a company guided by its values, and the impact we have on both our people and our communities is a top priority for us. We will continue to work hard to ensure we're driving positive change at Bloomreach and in the global communities we serve. "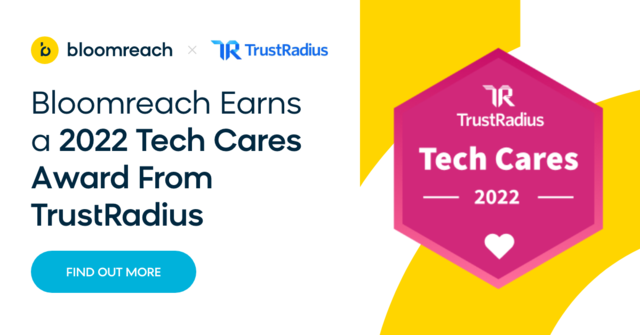 To be accepted for the Tech Cares Award, each nominated organization had to be a B2B technology company that demonstrated impactful CSR initiatives in in a range of categories: volunteerism, diversity, equity and inclusion programs, charitable donations and fundraising, support for in-office and remote employees, and environmental sustainability initiatives. All were welcome to nominate any organization for this award, including those who work for or with the company. Each nomination was thoroughly vetted by the TrustRadius research team.
"Bloomreach has earned a 2022 Tech Cares award for demonstrating a strong commitment to corporate social responsibility," said Megan Headley, VP of Research at TrustRadius. "Bloomreach frequently promotes charity fundraising events and employees are given five days off every year to pursue the volunteering activity of their choice."
In 2022, Bloomreach took part in a number of CSR activities including charitable donations, mentorship programs, and fundraising campaigns to support communities heavily impacted by COVID-19. We also worked to grow our own employee benefits, ensuring that we cared for our own people in addition to external communities. 
We also continued our quarterly 'DisConnect Days,' where offices shut down globally for one day each quarter, and provided an in-house communication coach to support work-related communication and decision-making challenges. This was in addition to resources to support personal challenges and mental health, weekly workshops to develop employees' soft skills, as well as company-wide fitness programs to promote physical wellbeing. 
We are thrilled to be honored with this Tech Cares award and excited to see how our CSR efforts will evolve as time goes on.