Omnichannel Marketing Automation
10 Quick Wins to Boost Your Revenue
By Samuel Kellett
03/06/2018
Omnichannel Marketing Automation
10 Quick Wins to Boost Your Revenue
Online fashion retailers have to optimize marketing campaigns by utilizing their deep understanding of customer behavior in order to increase sales which results, of course, in higher revenue.  While you may be tempted to offer discounts on the products you sell to increase sales volume, this approach negatively affects your profit margin.  In this article we take a look at 10 quick wins that will help you boost your revenue.
1. Tracking Your Customers' Behavior
Tracking your customers and how they behave on your site are some of the most important steps in order to increase sales.  From learning how long it takes them to reach your cart to finding out which pages are the most viewed, this can help you understand and better classify the type of customers you want to target with your marketing campaigns.
Bloomreach's analytics toolkit can help you track user behavior on a deeply granular level. With Bloomreach it's possible to track user paths within individual sessions, their interactions with various fields or any other action which you deem important. Coupled with powerful analytical reports, you can leverage these insights into actionable campaigns. You can see what's possible in our Cookbook.
2. Countdown Incentives
Do not be afraid to make a push – utilizing a countdown incentive will especially make sense if you work with seasonality on short-term, specific campaigns.
Bloomreach allows you to prepare any countdown  you want: discount, product available for last time or limited offer of product. It will be fully customizable again without the need of heavy involvement of your IT department.
3. Work with Social-Proof, Scarcity and Captivating Copywriting
If you have the ability to track your customers in real-time, you can show how many customers may be interested in the particular item. Combine this also with low-stock information and you won't miss, especially in fashion.
Bloomreach can do all that for you and the end result may be a banner saying: currently 25 people are watching this item, but there's only 10 items left in stock.
4. Less is Sometimes More
Simplifying the product-pages can direct the customers to cart much faster. When sites are too complex, people may get lost and lose interest.
Bloomreach allows you to utilize WYSIWYG (what you see is what you get) content modification using our Experiments, with this feature you can modify the website on the fly, and highlight the most relevant elements on the page, so your customers don't get lost and can go through a more simplified, streamlined, version of the site. People are usually spending 15 min on the content before reaching the cart, and Bloomreach can help improve the content of your website again without heavy IT involvement.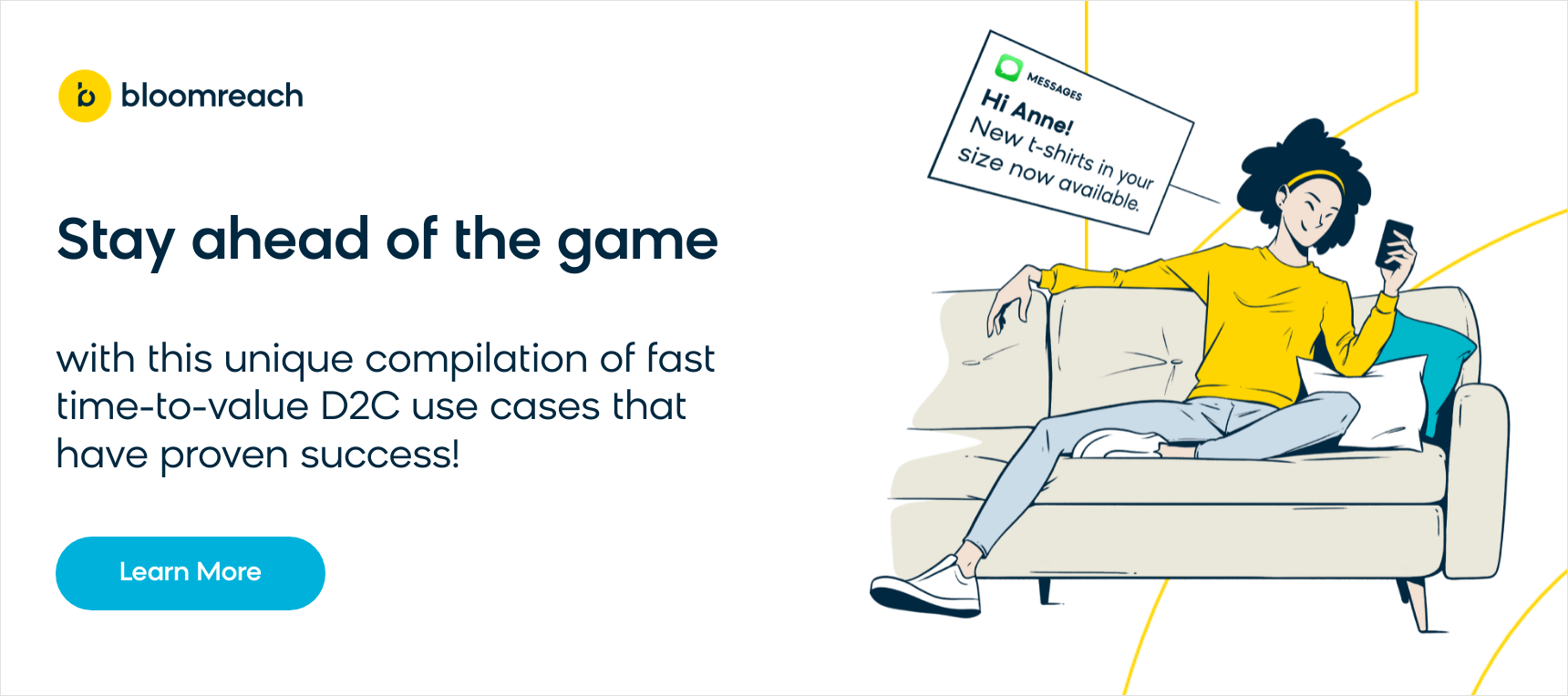 5. Use GDPR for Your Benefit
When you ask your customers for their consent on receiving communication from you, do not hesitate to get to know them better and also ask them what categories / brands / types of clothes interest them the most. Not only will you be able to target your customers much more precisely, but you will also have all of the consents necessary to be compliant with GDPR.
Since with the advent of GDPR, sites selling to European customers should ask for GDPR consent anyway, take this opportunity to ask more about them; for example, you would show more expensive products to people who enjoy high-end products, they said so in your consent email.
Bloomreach allows you to setup your own custom survey to offer the other questions mentioned above, through email, weblayer or custom consent page.
6. A/B Test Everything!
Run tests as often as possible to find the best campaign variant that generates more sales. Be it changing fonts, images or sizes of a button, call to action statements, you have to always run tests to see which change will help you generate more revenue.
With automated A/B test evaluation, Bloomreach can help you easily uncover the performing variant.
7. Be Creative about Where You Recommend Products
Homepage or product-pages are obvious placements to show recommended content. But don't forget that you can also utilize in-cart positions to up-sell or cross-sell your customers with "frequently bought together" models. Also, if we detect a non-exit intent, a pop-up banner with similar items to previously browsed can work wonders.
Thanks to Bloomreach, you can put different placeholders in different parts of the page; on site of a large fashion retailer for instance, when a customer browsed multiple products and we've identified the intent to leave the page, we created a weblayer which showed that customer similar products that they could be interested in buying.
8. Aim for Bundling to Increase Order Value
Bundling products together and offering a special price for purchasing the whole outfit is a tactic which helps you generate more revenue. A similar tactic is to inspire customers with products which "would go well together".
Using Bloomreach in combination with your detailed product catalog, it's possible to even create a dynamically generated outfit bundle out of products which would go well together.
9. Discounts may Raise Order Volume, But They Kill Your Profitability
Optimize for RPV or LTV rather than order volume. Trying to boost your revenue by utilizing discounts will cut your overall profitability and it could even lower the perceived value of your products. 
In Bloomreach, you can create a report which helps you determine whether offered discounts had an increase on the conversion rate.  Furthermore, by analyzing and optimizing for KPIs which matter, you can focus customer segments which are actually delivering value to you.
10. Go Multi-Channel
Using techniques like abandoned cart emails or banners with on-exit intent have been proven to increase product sales since you keep the product in the customer's mind.  Now a much better implementation of such techniques is to combine them so that you may reach those customers who already entered their email addresses and those who have not. E-commerce companies which communicate consistently with their customers across multiple channels tend to generate higher revenue.
Bloomreach excels in this area by offering multiple tools that allow you to communicate consistently towards customers across different channels.  For example, you could work with text messages, browser and in-app push notifications and even retarget your users in AdWords and Facebook ads in a way that a customer receives a highly personalized experience.
At Bloomreach, our team of experts can always support your company with the latest trends and ideas to improve your sales.  Don't hesitate to get in touch with us.