Life at Bloomreach
Meet the Team: Senior Digital Experience Manager Adam Hackett
By Lucie Cisarova
05/17/2023
Life at Bloomreach
Meet the Team: Senior Digital Experience Manager Adam Hackett
At Bloomreach, we're lucky to have Adam as a valued member of our Operations team. Having joined our company in 2021, he's gained a unique perspective on what it's like to be part of our company. We recently had the opportunity to sit down and chat with Adam about his journey at Bloomreach and gain insight into what it's like being part of our dynamic Operations team. If you're considering joining our company, read on to discover more about our culture, values, and the exciting opportunities available on our Operations team.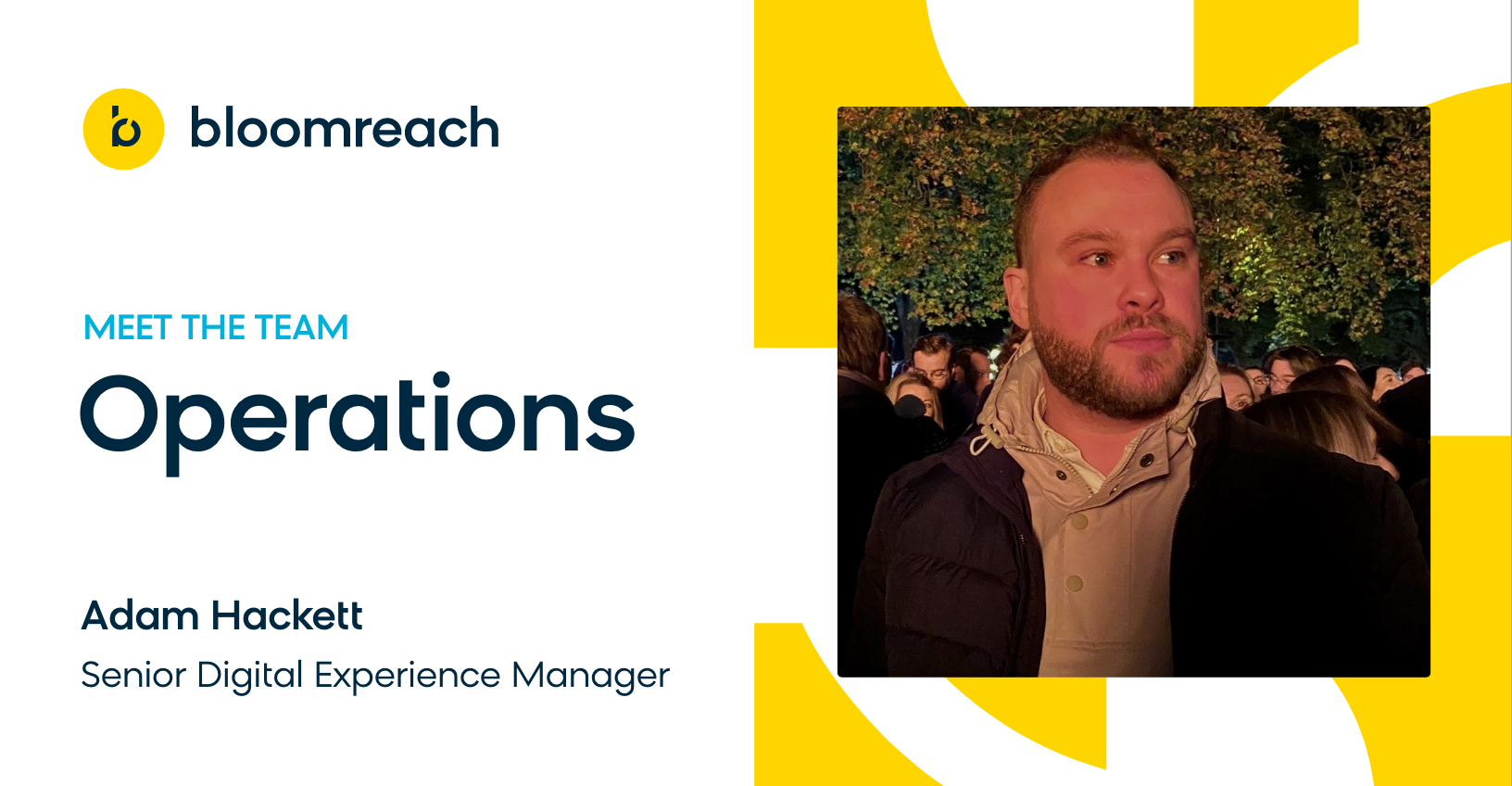 1. How did you find out about Bloomreach?
I, like so many fortunate Bloomreachers, was approached for a role by recruiter James Lambe. After some honest and meaningful conversations, we agreed that the original role we spoke about wasn't right, but the Digital Experience Manager role could be a very good fit. 
I had been aware of the Engagement organization when it was Exponea (which Bloomreach acquired in 2021), and I quickly saw the value of the acquisition to the company, as well as the differentiation it brought to Bloomreach and the e-commerce industry. That, coupled with meeting so many wonderful people during the interview process, made the decision to join a no-brainer! 
2. What's your role at Bloomreach? Tell us more about your team and give us a sneak peek of your day.
I am a Senior Digital Experience Manager in the EMEA team. Our team is responsible for owning the "day to day" customer relationships and helping to educate our customers on the value of our Discovery products — both the revenue we drive, and the practical value we provide for their merchandising teams. 
With that foundation, we work in combination with our Account Management colleagues to explore new avenues for growth in the account, whether that's new features or use cases within Discovery or branching into other product areas. 
3. What has been the most impactful experience for you during your time at Bloomreach?
I always like to think there are bigger and better moments to come, but looking back, I think the first on-site visit I did for a customer back in the summer of 2022 had more meaning than I expected at the time. 
Pre-Covid (in my old job), I was in front of customers a lot and speaking at events, and the pandemic obviously stopped all of that. Getting back out and in front of the customer was a real marker for me that things were getting back to some normality. We have a very compelling offering as a business, but it always comes across better in person, and these sorts of visits show huge commitment from us to our customers, and can create enormous commercial momentum.
4. What is your favorite thing about working for Bloomreach and why?
The challenge. I think there's a real difference between something being "challenging" and "difficult," even though people use them interchangeably. The speed at which the company moves, the complexity of our customers, the demands of the industry, and the intricacies of the problems we're trying to solve with our products all combine to create a company where every day is challenging, and as a result, rewarding.  
5. How would you describe our company culture in 3 words?
Passionate — Caring is a good thing, and we have a lot of people here who really care about their colleagues, their customers, and our overall success as a company. 
Stoic — Not everything that happens is within our control, whether individually or as a company. Recognizing this, and continuing to take ownership to move each other forward is the definition of stoicism. 
Driven — The right answer or solution doesn't always make itself immediately obvious, and I see daily examples of teams and people who stick at a problem until they get that answer. 
6. What growth opportunities have you had at Bloomreach, and how does the company support your professional development?
At Bloomreach my professional development so far has come from having the opportunity and freedom to test myself in challenging situations, both internally and in front of our customers. 
I knew very little about e-commerce or merchandising solutions prior to joining, and so the learning curve was steep from day one. Combine that with some huge and demanding brand names and a small team, we're constantly having to adapt and quickly learn the professional and personal skills required to serve our customers. 
7. In your opinion, what sets our company apart from other companies in our industry, and how can we continue to build on those strengths?
The potential of the products, separately and in unison, is a clear strength. Our products are in the unique position where, independently, they are very strong, but also where the whole will be much, much greater. 
As always though, companies are reliant on their people, and we have some of the smartest and most dedicated people I've worked with in my years in tech. 
8. What is a critical project that you're working on right now that you believe will bring a lot of value to our customers and the company overall?
My main project right now is looking at how we deal with the ever-changing expectations of our customers. More and more, it seems we are being pushed for thought leadership and expertise, not just in e-commerce, but across the customer experience as a whole. Solving this challenge will unlock huge commercial value for both us and our customers, especially as we work with them to build a customer experience on top of a solid foundation of customer and product data. 
9. Outside of Bloomreach, what are you passionate about?
I grew up with Italian grandparents, and so food is really a catalyst for most of my life — cooking, sharing, and eating are all just as important to me. I love small and independent restaurants, and I am fortunate to live in South London, with some of the best curry in the city moments from my flat, and I also have a bit of a growing obsession with Chinatown. 
However, I'm also your pretty normal 28-year-old bloke living in London…(translation) I love the pub. 
With all this, I have to make sure I keep fit and active. Running is huge for me both physically and mentally, and I love chasing a small white ball round a golf course (into the trees mostly). 
My newest passion is maybe a little bit different. A year ago, after having a few bowling socials, a group of friends and I decided to create a semi-serious 10-pin bowling league from scratch. We're in our third season right now with three teams competing. 
We have game days every month in North London, and we're always on the lookout for new bowlers, and would love to expand the league with even more teams. 
It's all very sociable, and check out our website if you fancy learning more: Premier League Bowling!