Real-Time Personalization
Why Product Recommendations Are Key To Winning With E-Commerce Personalization
By Megan Warhurst
Nov 10, 2022
Real-Time Personalization
Why Product Recommendations Are Key To Winning With E-Commerce Personalization
Welcome to part four of our "The Way to Data" series, where we discuss the combination of data and e-commerce personalization. Follow along for best practices, insights, and tips to create winning business strategies and better customer experiences. 
There are countless ways businesses can utilize personalization for success. But, one of the most effective and compelling ways to use personalization throughout your customer experience is through 1:1 product recommendations — just look at the data.
56% of customers are more likely to return to an e-commerce site that offers product recommendations and 74% of customers feel frustrated when website content is not personalized.
To fully grasp the importance of personalized product recommendations, let's first look at the principles that they borrow from real-life interactions between sales representatives and customers.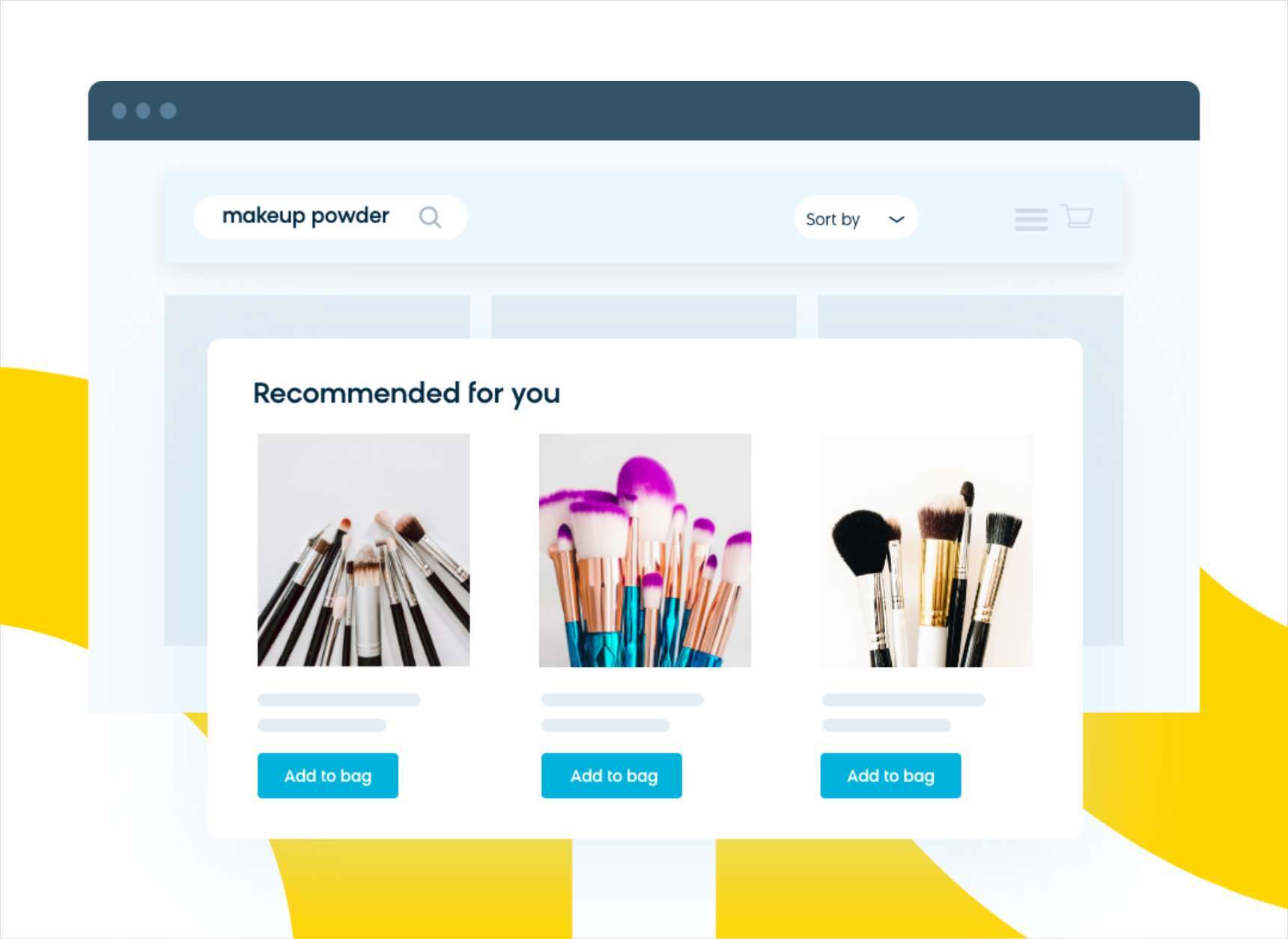 What Are Product Recommendations in E-Commerce?
Brick-and-mortar stores have a clear advantage when it comes to establishing a bond between the customer and the brand. A salesperson can learn about the customer's interests, intents, and needs through live conversation. They can make a real connection with a consumer and then make recommendations from that interaction.
Product recommendation engines provide your business with the opportunity to have these types of interactions with your customers throughout their online shopping journey.
Using the digital touchpoints your audience has with your brand — like your e-commerce store, your site homepage, or an e-mail campaign — you can provide relevant suggestions for products and inspire customers to make additional purchases.
So, let's dive into exactly how recommendation engines work.
We'll cover the main benefits of recommendations, where product recommendations can be leveraged across the customer journey, and why they are the key to winning with e-commerce personalization.
What Are E-Commerce Product Recommendation Engines?
A product recommendation engine filters and sorts your online store's product offers on the basis of a set of rules. This process uses data about your products, such as the number of views, sales, or even reviews, to present the most popular products.
The presentation of these results can be as simple as the order the products appear on category pages. But you can also use them to influence buyers at every stage of the customer journey.
User-specific data, such as the customer's most-viewed categories, products, and purchase history, allows recommendation engines to find the most relevant recommendations for your customers. The resulting recommendations are capable of fueling countless aspects of your customer experience, including:
Your homepage, product pages, or cart pages
Category pages
Personalized social or display advertisements
Special offers within search results
The Benefits of Product Recommendations
Offering relevant products is a win-win scenario for both customers and e-commerce retailers. Here's the main benefits you'll see when your business utilizes an e-commerce product recommendation engine:
A better user experience. Helping customers find the products they are looking for should be a top priority for your business, and product recommendations help personalize the buying experience to make navigating your products easier.
More customer engagement. Customer relationships are built on trust. Your audience wants to feel like your business understands them, and recommending the right products will help cultivate brand loyalty, inspire more site visits, and encourage more interactions with your brand.
Increased revenue. The more worthwhile opportunities you offer your customers to browse and purchase products, the better your sales numbers will be. Product recommendations can help strengthen your customer lifetime value 
How To Use E-Commerce Product Recommendations To Gain New Customers
When it comes to recommending products to new customers, it's all about your best-performing items.
You're trying to lay the groundwork for a long-lasting relationship with new customers, and don't have the benefit of past interactions or previous data. You need to suggest products that appeal to the widest audience and have the strongest social proof to build trust with online shoppers.
Top Seller Recommendations
Customers crave shopping experiences that let them encounter relevant products without needing to search high and low to find them. Personalized, AI-powered recommendations achieve this by continuously identifying best selling items and curating them for shoppers new to your brand.
With the right AI and automation, you can offer your audience the best your brand has to offer and bring them closer to conversion.
The theory that fuels this commerce strategy is Pareto's 80/20 rule of marketing. This rule alleges that 20% of your products are most likely driving 80% of your sales, and so these top 20% of your products will most likely speak to (and drive brand affinity for) new customers.
Read this next: Doubling Down on "The 20%" [Blog]

A/B testing various recommendation models, each using a different combination and weight of input parameters — such as the number of views, purchases, time spent on a page, clicks, add-to-cart events, and so on — will help you identify which model will drive sales most effectively.
Then, you can leverage these recommendation blocks across landing pages with a powerful headless CMS (content marketing system) like Bloomreach Content.
Rating-based Recommendations 
Nothing your marketing team could write will ever be as convincing as a 5-star review from your customers.
Humans are social creatures, and when customers share their experience with previous purchases, they can play a huge role in the buying journey.  
That's why peer-generated recommendations are some of the best ways to convince your new customers of your positive brand reputation, solid customer experience, and product quality.
Using your highest customer reviews as a basis for product recommendations will make the product come alive in the mind of your customer and also answer key questions or concerns they might have about the product. 

Researchers at Boston University conducted a study that examined how reviews impact purchase decisions, and found that reviews that give a detailed account of the product's quality and usage contribute significantly to higher sales and lower returns.
The best part? These reviews can be used across the commerce experience to help nudge customers towards conversion. Just a few examples include:
Adding positive reviews in abandoned cart email campaigns
Attaching star ratings and review highlights in "You Might Also Love" sections of product pages
Giving precedence to highly rated items (that also fit the customers' needs) in search results
Cross-sell Recommendations
Cross-selling is the practice of selling additional items that are complementary to a customer's purchase objectives.
This practice is a crucial as it is simple. It mimics the common offline experience one would get from a salesperson through recommendation engines.
For example, retailers might cross-sell by grouping particular product categories together, such as socks and shoes.
Cross-sell banners leverage this sales opportunity by presenting relevant items during a customer's shopping journey that are based on the contents of their cart page, brand interest, or last-seen items.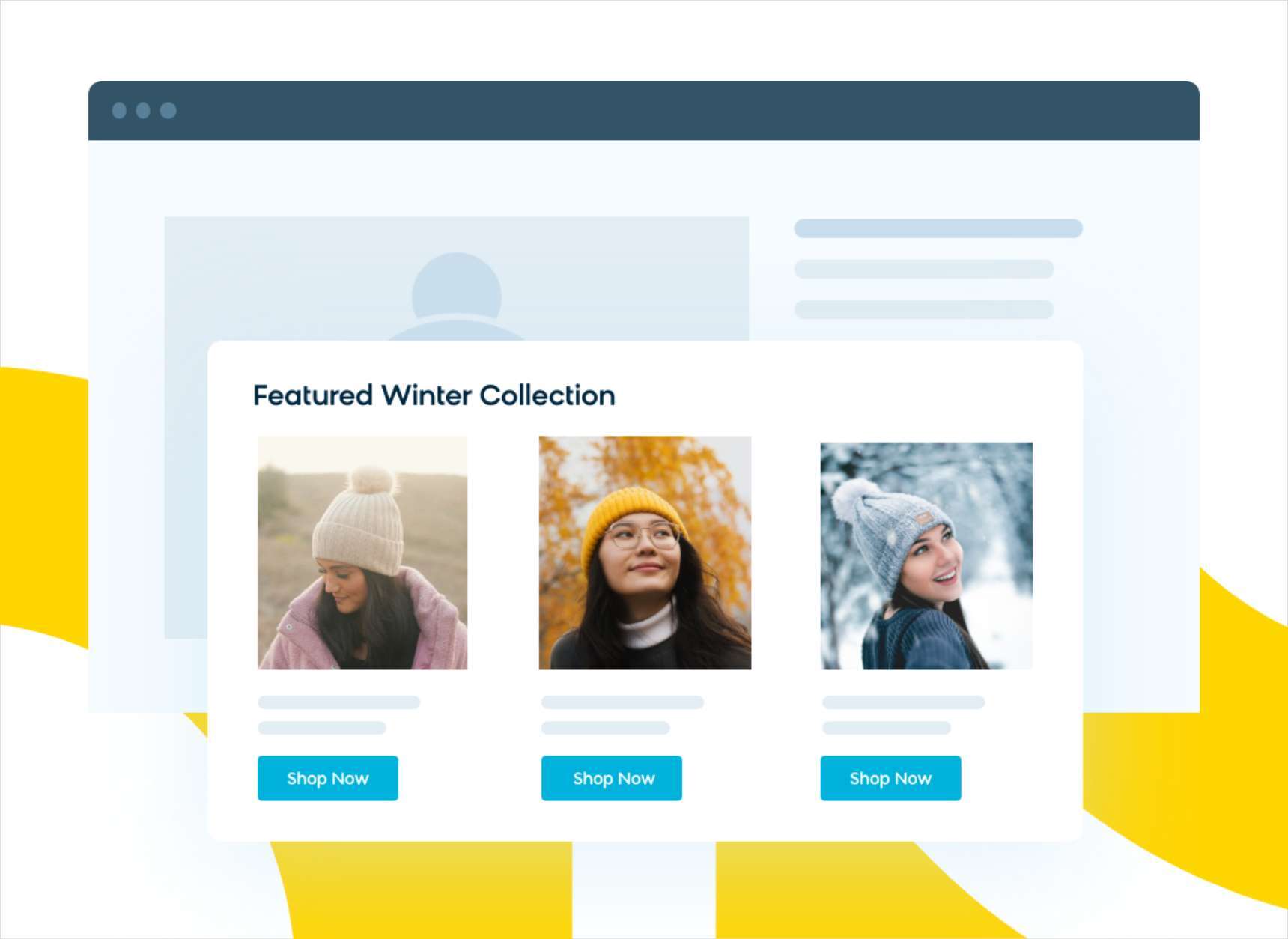 The most successful cross-sell recommendation models make use of collaborative filtering. This method makes predictions about the interests of a customer by analyzing the preferences of the customer base and finding the preference patterns that are most similar to those of the targeted customer.
How To Use E-Commerce Recommendations To Keep Customers Coming Back for More
To entice shoppers to become repeat customers, you need to prove to them that your brand doesn't just see them as a one-time sale. You neeed to prove that you understand why they gave you their business and what they might enjoy next.
Utilizing the behavioral data gained from their previous visits to your business and offering product suggestions that cater to their needs is the next step in their customer experience.
Remarketing Recommendations and Relevant Search Results
Today's budget-conscious and shopping-savvy customers know to look at multiple sites. They consider plenty of options before making a purchase decision.
Remarketing is a way to meet those customers where it counts. It's a technique for presenting advertisements that display your offers and recommendations throughout the customer's shopping journey.
This method motivates shoppers to change their habits and consider your online store offers.
The type of recommendation you employ in remarketing depends entirely on the product category. High-value products, such as electronics, benefit from display advertisements that motivate customers to spend more of their consideration process on your website. These advertisements may present products that reflect an awareness of their search intent and makes it possible to make comparisons within a product range.
Other categories, such as food and groceries, would benefit from a different recommendation approach. Shoppers are more likely to use their shopping cart as a collection basket and check out once they're finished with their collection process. Suitable display advertisements present a combination of cart items, product recommendations, and complementary products.
Leading grocery chains, like Albertsons, also recognize that their shoppers interact with their brand's site mostly as a jumping-off point: They might place an order online or choose to buy in-store at one of their locations.
In this case, relevant and helpful search results are key in ensuring customers ultimately purchase. In fact, Albertsons saw a 25% increase in customer basket-building speed after implementing Bloomreach Discovery's AI-powered, personalized search results on its site.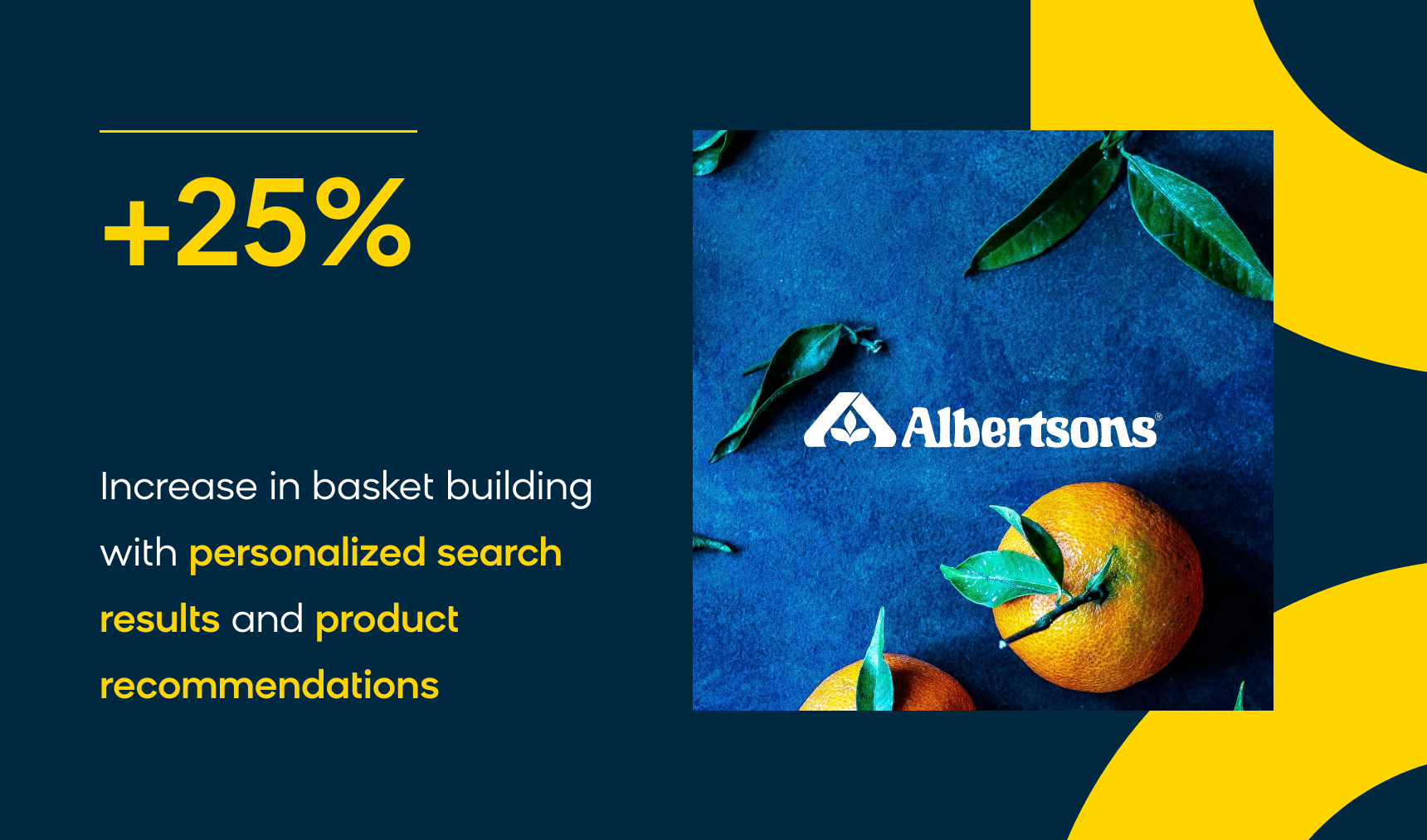 Personalized Recommendations in Email Marketing Campaigns
Personalized emails convey to your customers that they're understood and valued, and result in significant increases in click-through rates.
Emails with personalized subject lines are 26% more likely to be opened. Moreover, emails with personalized recommendations improve click-through rates by 25-35%.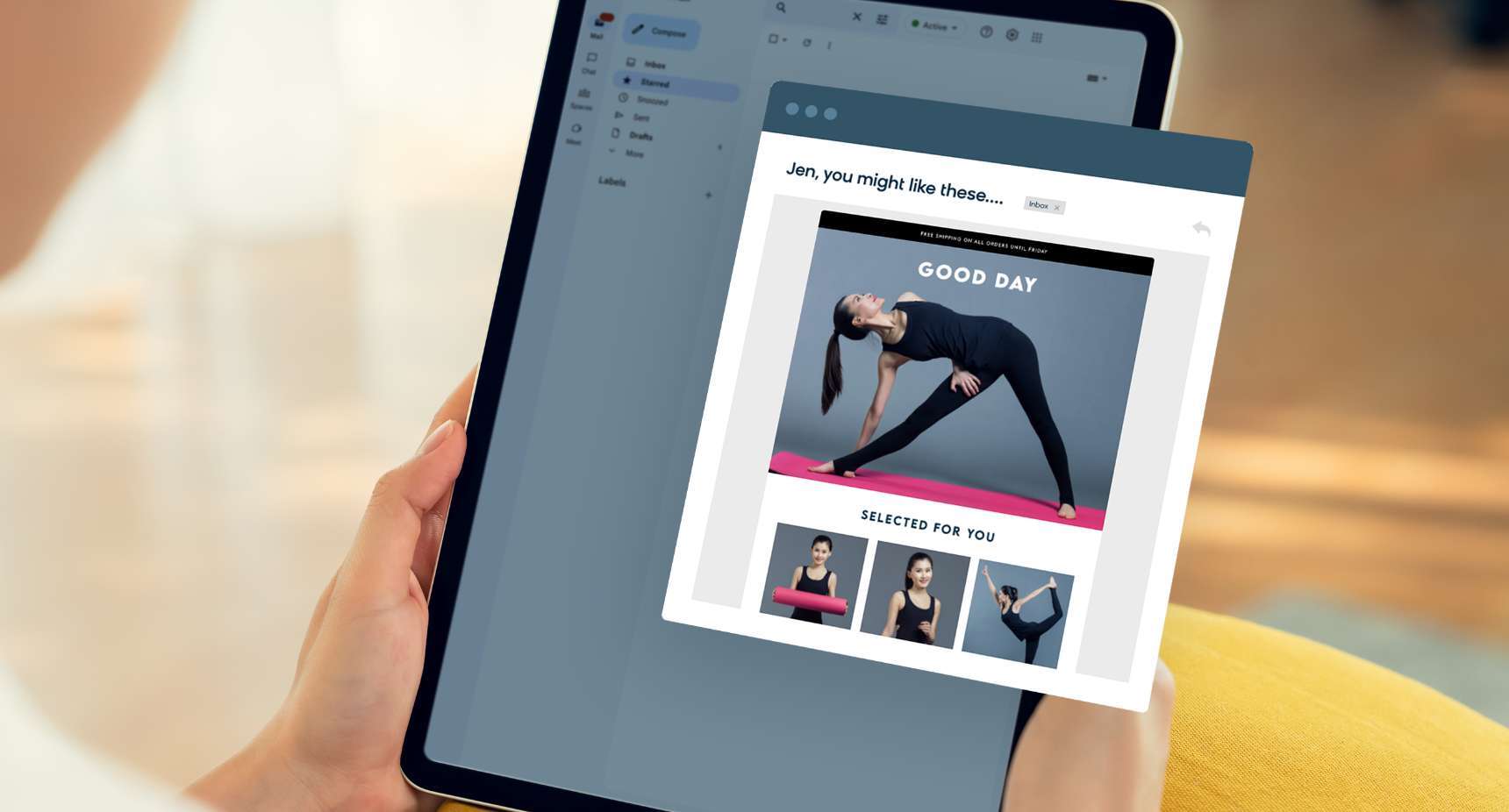 There are several great recommendation models that can be leveraged within emails.
Whether you want to use customer data (such as most frequented categories, purchase history, or interests) or product data (such as popularity and reviews) depends on the type of email marketing campaign.
Is your email campaign news-centered, such as the introduction of a new fashion season, the latest product releases from a brand, or a Black Friday sale? In that case, your recommendation strategy may well benefit from reviews, user stories, and the popularity of your offers. These recommendations are eye-catching and informative — and will keep your customers engaged.
On the other hand, weekly deals and seasonal offers are ideally suited for personalized recommendations. Customer behavior, such as purchase history and interests, are good sources for weekly deal recommendations, while their previous season's activities will help you align your offers with their seasonal interests.
How To Use Cart and Checkout Recommendations
Cart pages are crucial touchpoints for your site visitors — arguably the most important.
A customer navigating to your cart is proving their purchase intent and is ready to buy your products. Adding recommendations at this stage of the process can go a long way in upselling and increasing average order values.
Recommending Accessories
Customers often zero in on a specific purchase, like a dress or suit they may need for an event. Recommending accessories during the checkout process, such as shoes or an evening bag, will help your customers round out their purchase while also increasing your average order value.
These recommendation models require careful annotations of your product data, which means you have to answer the question: "What products are compatible?"
And let's be real — your team might not have the time to go into that much detail. Having reviews and links to commonly bought accessories on product pages, within abandoned cart emails, and more can serve as a valuable alternative to maintaining detailed records about your products.
"Frequently Bought Together" Product Recommendations
Package deals help customers purchase faster and inform them about the items they might need to complement their main purchase. It's a successful form of cross-selling that takes place seamlessly within the checkout process.
Successful recommendation models show alternatives to what's currently in the customer's shopping cart. These alternatives can be varied colors, styles, and product combinations.
Presenting reviews and user stories about the package deals will make these offers a compelling and confident option for your customer.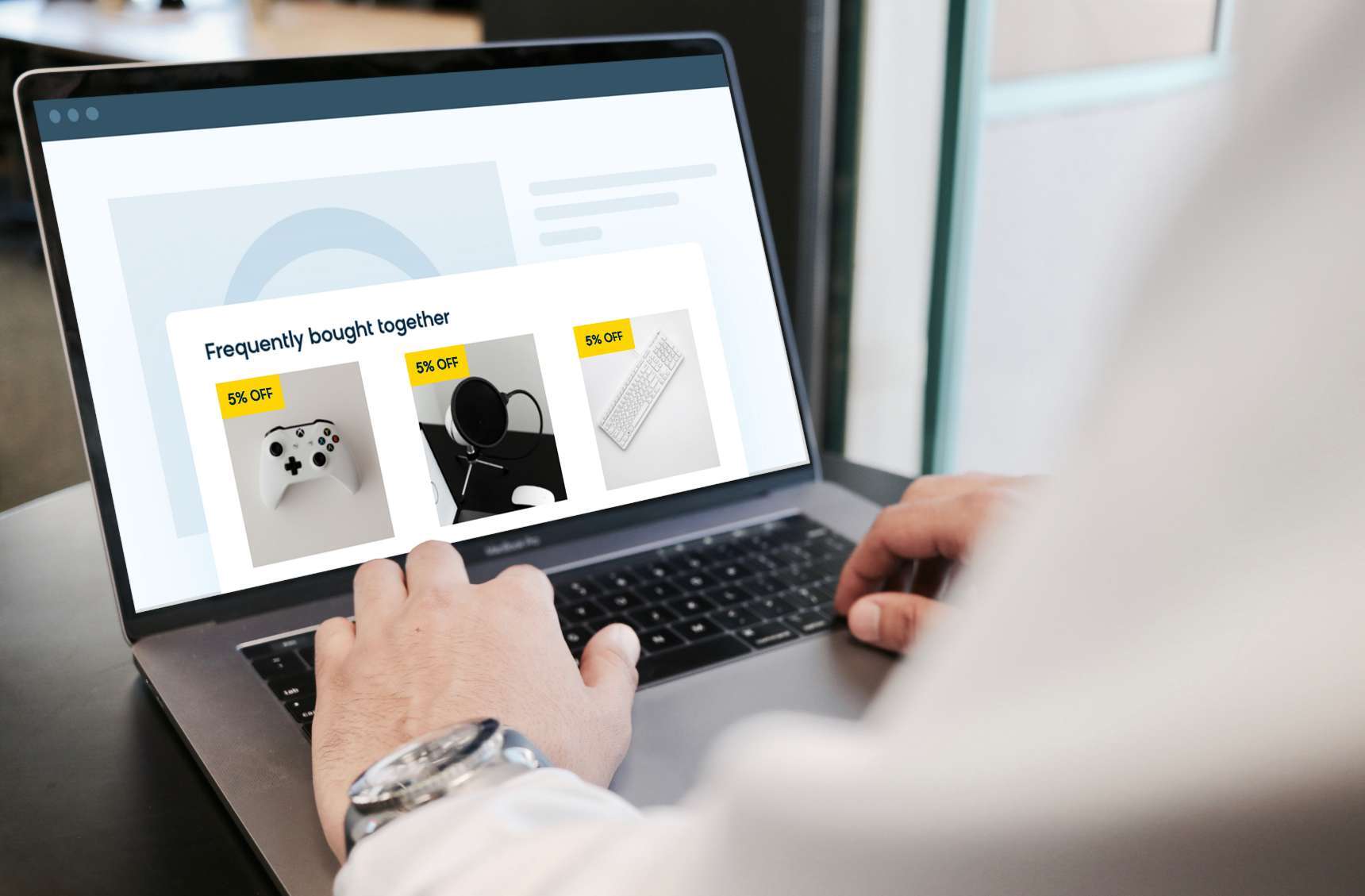 These recommendations boost your business's bottom line by offering alternatives that increase your AOV and motivate your customers to choose package deals that offer you a higher gross margin.
Why Product Recommendations Are Essential to Success
To put it simply, product recommendations not only improve the overall customer experience, but they're also the catalyst you need to boost revenue for your business.
But today's businesses have to tread a careful line between thoughtful personalization and creepy customization. To do this, it's essential that marketing, site, and search teams partner with ethical technology providers that understand which recommendations strategies will instill confidence in consumers instead of fear.
The Bloomreach Commerce Experience Cloud enables a sophisticated, yet ethically minded level of personalization by combining the power of unified customer and product data with the speed and scale of AI optimization, helping your brand deliver customer journeys so personalized, they feel like magic. We achieve this through the prioritization of consent within your data-gathering practices that put the customer in the driver's seat of their experience.
If you'd like to learn more about how recommendations across your site, search, and marketing experiences can make a difference for your business, reach out to one of our commerce experts today. 
Be sure to read more from our "The Way to Data" series: