Commerce Experience
Bloomreach Commerce Pulse: Inflation Hurts Digital Commerce Sales in March
By Brian Walker
04/08/2022
Commerce Experience
Bloomreach Commerce Pulse: Inflation Hurts Digital Commerce Sales in March
Our Bloomreach Commerce Pulse monthly articles explore the most interesting Bloomreach Commerce Pulse results and provide key insights for e-commerce professionals and industry observers looking to benchmark and understand what is happening in the market. They reveal current trends and help businesses fully understand the digital commerce marketplace.
Key Data Points
Sales in North America fell 4.86% year-over-year (March 2022 to March 2021) while  sales were down 26.44% in the United Kingdom and Europe in that same timeframe. 

Apparel sales in all regions were up 10.77% year-to-date in 2022 compared to the same time period in 2021. Average order size was up 23.06% as well. 

Luxury stood out as the top performing sector in March and Q1. Sales were up 100.2% YoY in March and +59.45% YTD in Q1 for the luxury sector. 

B2B sales were up 18.09% year-over-year, buoyed by a 31.42% increase in traffic in that timeframe. 
Our Bloomreach Commerce Pulse data for the month of March shows the impact of widespread inflation.
Nearly 8% inflation in the United States and inflationary rates approaching 9-10% in the United Kingdom and Europe have been a jolt for online shoppers. With shipping costs rapidly rising during Q1, home delivery of digital commerce goods has been impacted. Add in increased fuel costs and a general lack of enthusiasm about the world economy, and we're seeing the lowest consumer confidence rankings we have seen in decades. 
The Bloomreach Commerce Pulse data for the month of March speaks to many of these challenges for consumers and businesses alike. In North America, sales were down 4.86% year-over-year (YoY) when comparing March 2022 to March 2021, and traffic was down 17.17% in that same period. 
In Europe and the United Kingdom, sales were down 26.44% YoY in March while traffic fell 23.61%. Average order size (AOS) was up 20.74% in that same timeframe. Certainly, the Russian invasion of Ukraine also impacted both consumers' attention and increased uncertainty in the economic and social impacts of the crisis. 
Let's dive deeper into our data by first looking at what was on the minds of consumers as they searched for their items in March. 
Apparel and Groceries Dominate Search Terms
Our Bloomreach Commerce Pulse top search terms show a three-year comparison to accurately model what was on the minds of consumers in the month of March over the past three years.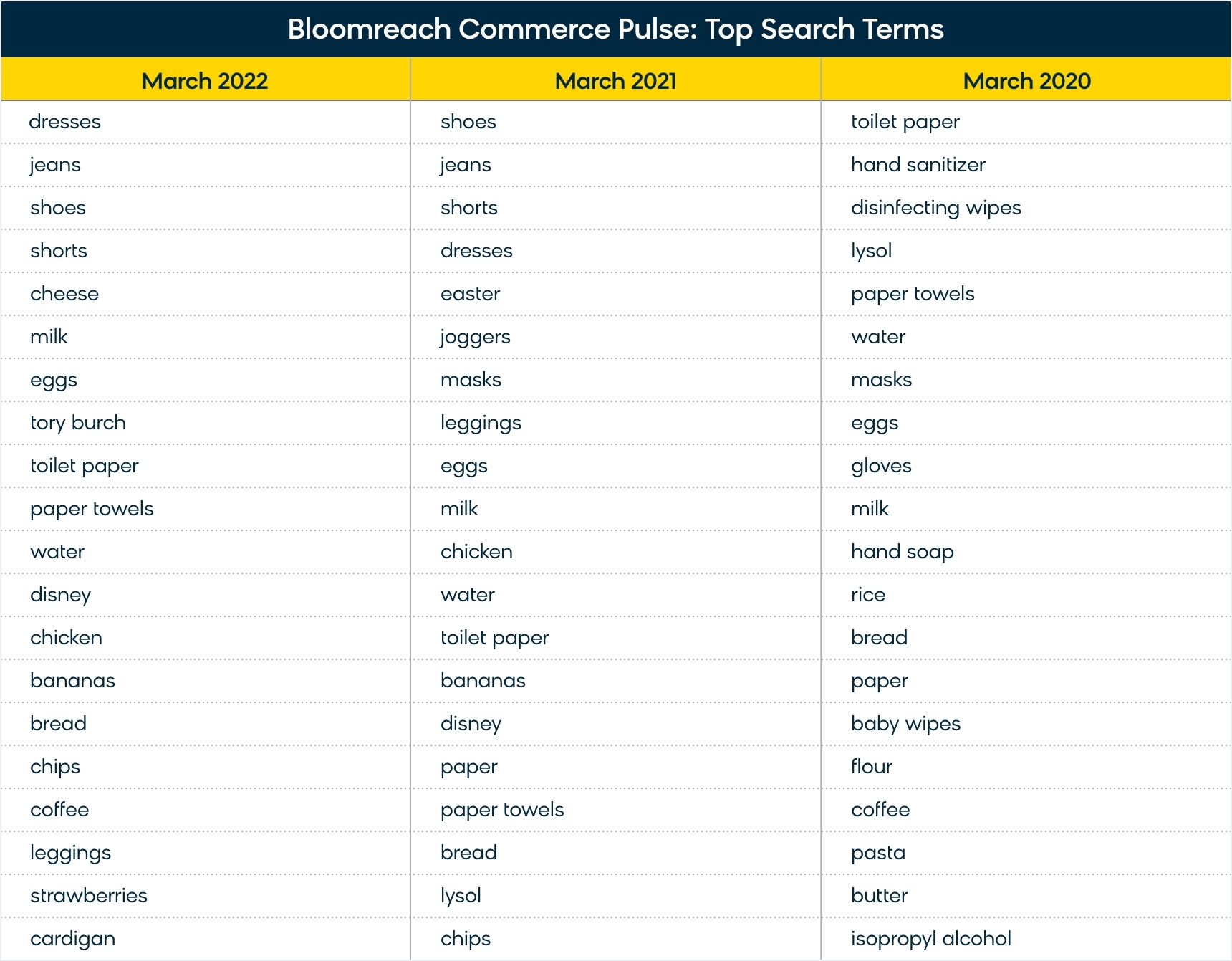 The top search terms reflect just how much daily life has changed in roughly two years. There are no search terms related to COVID-19 remaining in March 2022 while health-related terms like lysol and masks appeared in both March 2021 and March 2020. 
It appears that consumers are back to searching for items in two massively popular categories consistently again — apparel and groceries. Apparel such as dresses, jeans, shoes, and shorts ranked highly in March 2022, as did grocery-related terms like cheese, milk, eggs, and water. 
Home Improvement Metrics Dip While Home Furnishing Sales Increase
As the price of homes in the United States continues to skyrocket, we have seen some pullback on our home improvement sector data. A lack of inventory with available housing seems to have impacted these numbers. 
While month-over-month (MoM) numbers are positive (16.19% increase in sales comparing March to February), YoY numbers are down across the board in home improvement. This includes a 40.10% decrease in sales, a 36.09% decrease in traffic, and a 33.63% decrease in conversion rate. 
The YoY designation does take into consideration massive increases in this sector during 2021, when many homeowners were stuck at home doing DIY projects to pass the time during COVID-19 lockdowns. But the data does point to fewer of those projects taking place in 2022 as the housing market changes. 
There is a slightly different story in regards to home furnishings. Sales were up for home furnishings 2.9% YoY and 16.07% MoM. Conversion rate is up 77.9% YoY as well. 
Like home improvement, this category also saw massive growth during 2021. But unlike home improvement, we are still seeing the home furnishings category grow and mature as we enter Q2 of 2022. 
The Luxury Rebound Is in Full Swing
The astounding growth of the luxury sector coming out of the pandemic continued in March. 
Sales were up 100.20% YoY when comparing March 2022 to March 2021, and sales are up 59.45% year to date (YTD) for businesses in the luxury sector when comparing Q1 of 2022 to Q1 of 2021. Those are incredible numbers for a sector that just keeps booming. 
The pandemic broke the myth that luxury shopping must be done in person. Luxury retailers have bought into offering an outstanding digital experience and the sales data is showing that investment is paying off for many businesses. 
As many across the world are easing out of lockdowns and post-pandemic behavior is on the rise, many shoppers have a reason to wear luxury items once again. This explains the 46.51% conversion rate increase YoY and seems to indicate that, at least so far, sales in the luxury sector won't buckle under inflationary pressures. 
Grocery Sector Begins to Even Out
After seeing remarkable, explosive growth during the height pandemic, metrics in the grocery sector have begun to even out and stabilize. 
Online grocery shopping has perhaps reached a plateau, but it does not appear to be heading back to the levels it was at pre-pandemic in 2019. 
Sales were down 2.22% YoY in March in the grocery sector, while average order size was up 3.32%. Traffic stayed roughly the same with just a slight 0.83% decrease. 
Year to date, sales in the grocery sector are down just 0.25% when comparing 2022 to 2021. Traffic is up 9.09% in that time period and AOS is up 5.16% as well, likely showing the inflationary impact on prices. 
Many consumers who found online grocery shopping to be easy and convenient during the pandemic won't be sacrificing their time to head to grocery stores. Consumers are busier than ever in 2022, and online grocery shopping is a service that generally provides shoppers with more time in their day to spend with family, friends, or work. 
B2B Sector Shows Significant Growth
B2B business is another category that saw a massive surge early in the pandemic as customers used online channels to order personal protective equipment and other important health-related supplies. 
After a soft spot in the middle of the pandemic, it appears that the B2B sector is back in full force. 
In March, B2B sales were up 18.09% YoY while traffic was up 31.42%. Year to date, sales are up 25.09% while traffic is 34.69% — impressive numbers for a sector that seems to be transitioning to a more digital and futuristic way of doing business.
Apparel Sales on the Rise
Speaking of apparel, sales were on the rise in March as we exit the winter months in many climates across the world and consumers are looking for their spring and summer outfits.  
Apparel sales were up 16.83% YoY when comparing March 2022 to March 2021, and 35.56% MoM when comparing March 2022 to February 2022. AOS is also up 18.81% YoY while conversion rate is up 10.36%. 
Year to date, apparel sales are up 10.77% when comparing 2022 to 2021, and AOS is up 23.06% YTD as well. 
While inflation and inventory issues hurt apparel companies in 2021, it appears that consumers are back purchasing their favorite clothing items online once again. 
What to Expect as We Move Towards Summer 
Unfortunately, we are looking at an increasingly turbulent time in the economies of Europe and North America. Energy costs, overall inflation, rising interest rates, and the ongoing war in Ukraine will conspire to weigh on consumers' confidence and willingness to spend. Those factors are balanced by historically low unemployment and higher-income consumers buoyed by healthy investment portfolios and home values, and a willingness to spend on travel and experiences that have been off-limits during the pandemic years. Spring and summer 2022 will present a mixed bag of results for e-commerce.
Interested in More Insights and Trends?
Bloomreach's Commerce Pulse Quarterly: Spring 2022 webinar covered deep insights on our Commerce Pulse data and featured a lively discussion amongst panelists about predictions for the rest of the year in digital commerce. 
You can watch the on-demand webinar to learn more about industry trends, consumer behavior, and purchase patterns in e-commerce. 
About Bloomreach 
Bloomreach is the world's #1 Commerce Experience Cloud, empowering brands to deliver customer journeys so personalized, they feel like magic. It offers a suite of products that drive true personalization and digital commerce growth, including: Discovery, offering AI-driven search and merchandising; Content, offering a headless CMS, and Engagement, offering a leading CDP and marketing automation solutions. Together, these solutions combine the power of unified customer and product data with the speed and scale of AI-optimization, enabling revenue-generating digital commerce experiences that convert on any channel and every journey. Bloomreach serves over 850 global brands including Albertsons, Bosch, Puma, FC Bayern Munchen, and Marks & Spencer.