Commerce Experience
Bloomreach Commerce Pulse: April's Data Shows a Tale of Two Economies Where Shoppers Have Clear Intent
By Brian Walker
05/17/2022
Commerce Experience
Bloomreach Commerce Pulse: April's Data Shows a Tale of Two Economies Where Shoppers Have Clear Intent
Our Bloomreach Commerce Pulse monthly articles explore the most interesting Bloomreach Commerce Pulse results and provide key insights for e-commerce professionals and industry observers looking to benchmark and understand what is happening in the market. They reveal current trends and help businesses fully understand the digital commerce marketplace.
Key Data Points
Sales in North America are up year-over-year (YoY) by nearly 6%, yet it's a different tale in the UK and EU, with a decrease of 13.9% YoY

Online grocery sales continue to stabilize post-pandemic with an increase of 1.5% while traffic was essentially flat YoY with a decline of .35%

Conversion rates increased 14.5% YoY in North America and across the following categories: Apparel (23.6%), Home Furnishing (75.3%), and Luxury (31.4%)

B2B continues to reach new heights online with an increase of 34.9% in traffic and 19% in sales, despite conversions being down by 21.7%
A Tale of Two Economies 
The North American economy remained fairly healthy in April overall, despite inflation, higher gas costs, supply chain issues, worker shortages, and rising interest rates. Although North America is impacted by the Ukrainian/Russian conflict in its own ways, it's obvious that it's hitting closer to home in Europe (EU) and the United Kingdom (UK) as indicated by our data. So, while the entire world is experiencing impacts to all of the variables above, the numbers ultimately tell a tale of two economies, where the UK and EU are more affected by the war through increased energy and commodity costs, on top of the post-pandemic supply chain and inflationary pressure. Traditionally, EU and UK consumers are more sensitive to fears of inflation and raising interest rates, and that is likely impacting consumer confidence and spending in meaningful ways.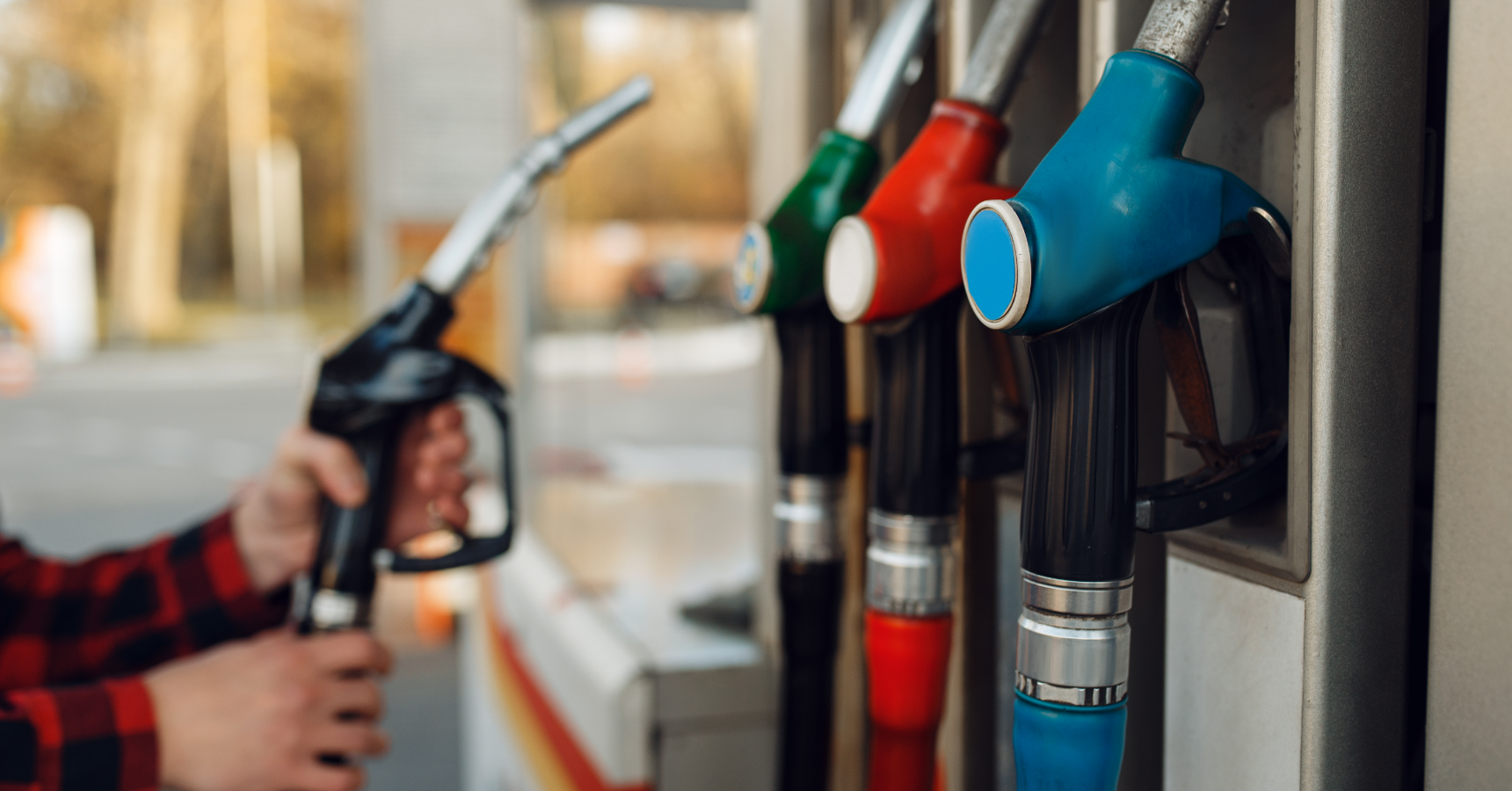 B2C e-commerce sales in North America increased by 5.9% YoY, while they're down by nearly 14% YoY in the UK and EU. Numbers are also up in terms of conversion rates and average order size (AOS) in North America, by 14.5% and 16.9% YoY, respectively. However, it cannot go unrecognized that shoppers are out and about more, looking to travel, seek in-person entertainment, and meet friends and family again. This affects the channels consumers are spending in, with a clear focus on omnichannel shopping experiences.
Traffic's Down, But Business Is Still Stable
Even though many of us would prefer to see the same unprecedented increases we did in 2020, it's a bit far-fetched to think that we are going to observe constant growth while transitioning into yet another phase of the pandemic. Despite the decrease in traffic across all categories, there is a bright side to the data that we see trending: sales are up across many of them. That is a byproduct of higher conversion rates and higher basket sizes. Those higher basket sizes are no doubt also impacted by higher prices being passed onto consumers as businesses face supply chain, labor, and operational cost increases themselves. 
Take grocery, for example. This industry grew massively during the pandemic and has now reached an equilibrium that, according to our numbers, indicates a steady hold on sales, AOS, and conversation rates of approximately 1%. The large tranche of customers that moved to online grocery clearly haven't left, but there are still a lot of shoppers who haven't taken their grocery shopping online. This only speaks to the huge untapped potential still out there, as brands continue to commit to implementing personalized online shopping experiences.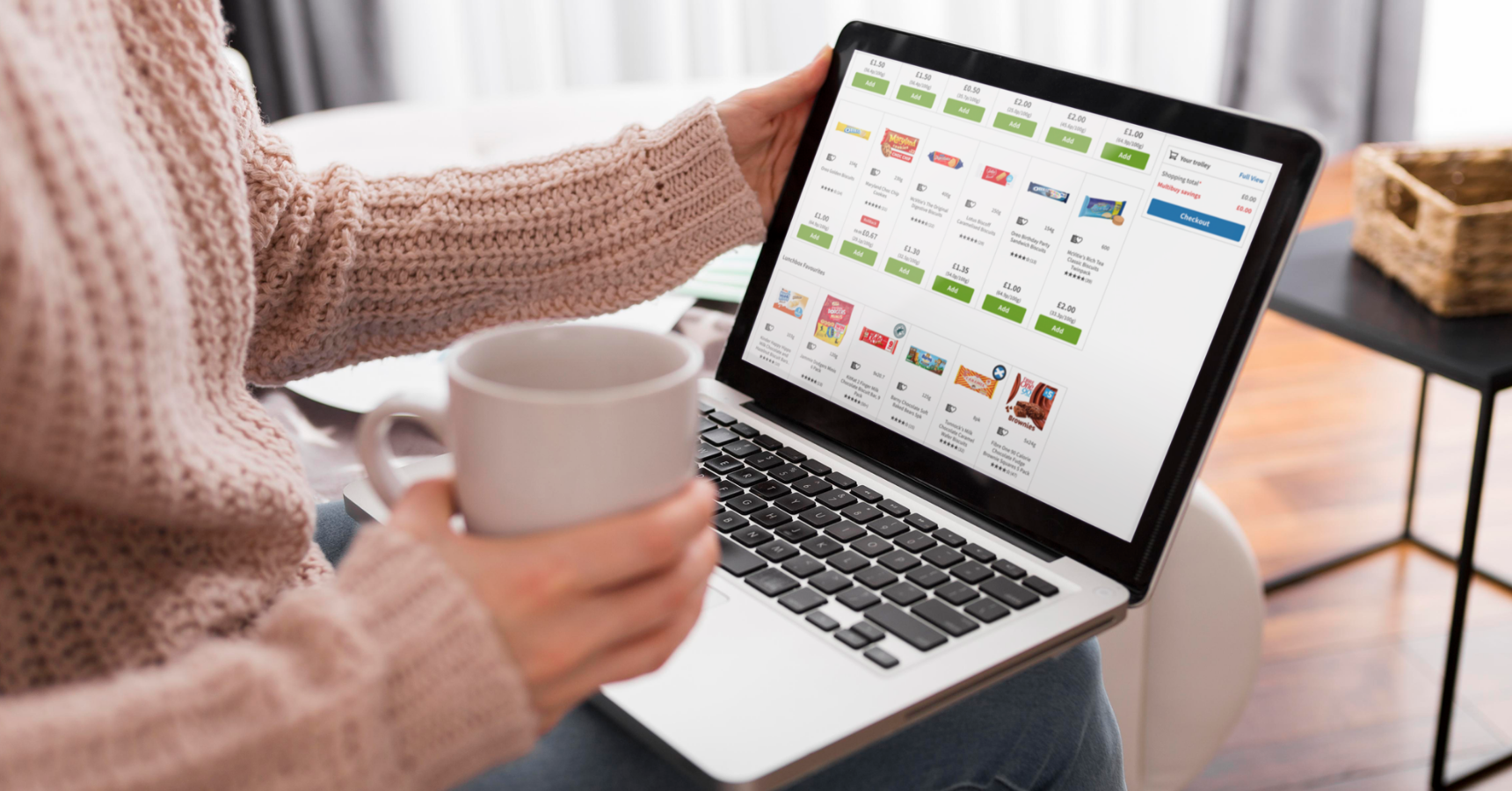 Customers Are Shopping With Clear Intent 
As we mentioned earlier, there is a clear 14.5% YoY increase in conversion rate in North America. We're also seeing a YoY conversion lift across the Apparel (+23.6%), Home Furnishing (+75.3%), and Luxury (+31.4%) categories. In fact, B2C as a whole is seeing an increase of 6% in conversions YoY. These numbers prove that shoppers are visiting your website with a clear objective in mind and purchasing products with intention.
This also explains how sales can remain stable across numerous shopping categories while traffic is dropping across North America YoY by 21.5%. People are actually buying products and services when they visit e-commerce websites. Additionally, it's fascinating to look at how customer intent has shifted in the past two years through top search terms. Per our list below, the pandemic is in the rearview mirror. Even after the past two Aprils of seeing pandemic-related search terms rank from medium-high to very high, these words and phrases are nowhere to be found in 2022, with searches highly favoring apparel, grocery items, and popular brands.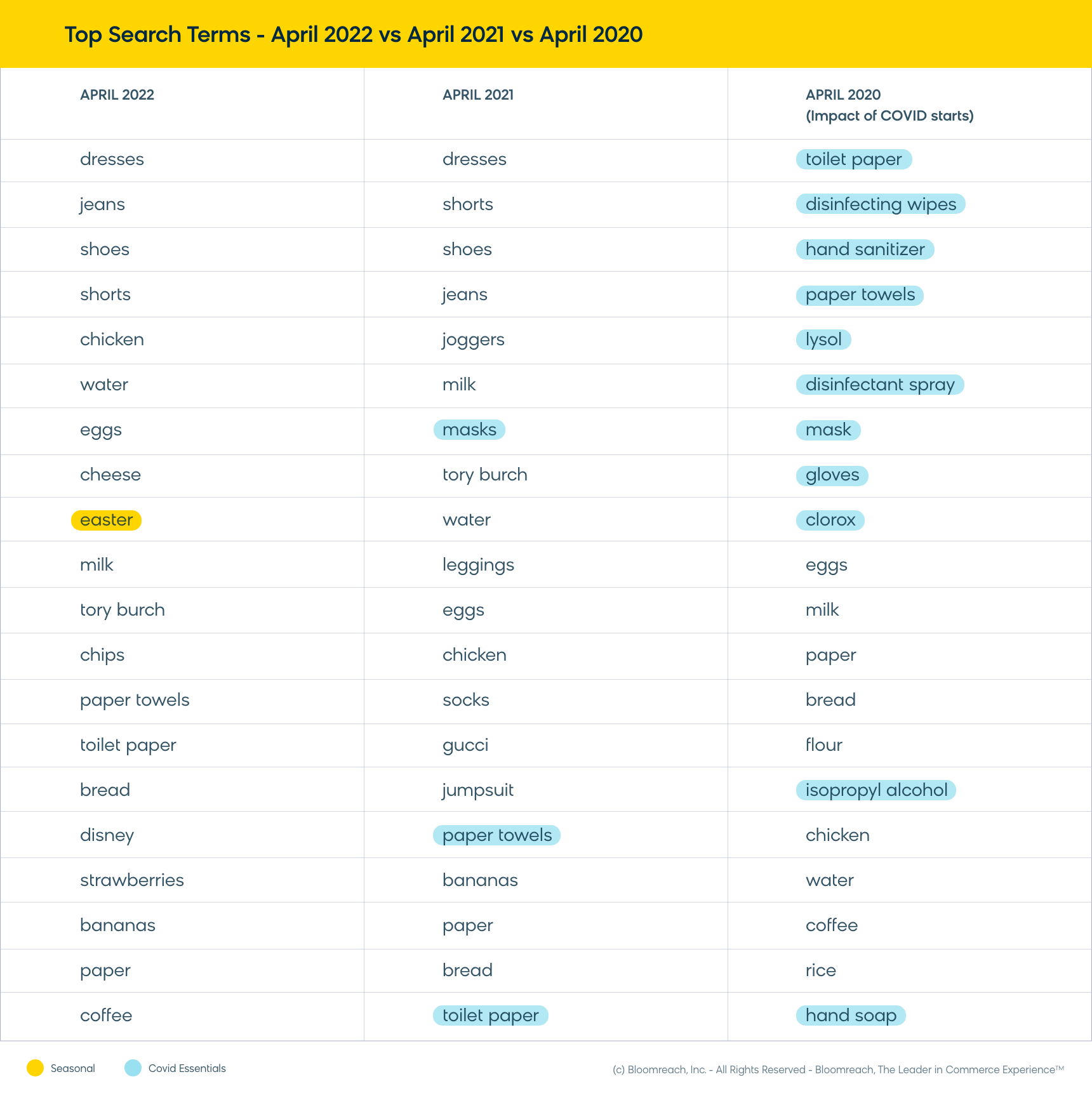 Don't Forget About Channel Cha-Cha-Changes
The impact of omnichannel cannot go unobserved, either. Honestly, it may be even greater than what we're able to measure in terms of direct sales. What we're trying to say is: It's not all about e-commerce. The new sales model has expanded to include face-to-face, remote, and e-commerce interactions, and we see each type of shopping influence one another in significant ways. 
For instance, the move toward omnichannel seems clear when looking at the B2B data. While conversion rates are down by 21.7% YoY, traffic and sales are up by nearly 35% and 19% YoY, respectively, which demonstrates that B2B buyers are at least exploring the possibilities that e-commerce can provide. It also shows the B2B market is more willing to embrace omnichannel, using an average of 10 channels in their decision journeys. 
Over the past few months, the data we've analyzed has stabilized in many ways. Like any substantial growth period, there will continue to be ebbs, flows, ups, and downs for e-commerce. As brands and customers move toward omnichannel and embrace various forms of shopping, we believe that e-commerce adoption will only continue to improve over time, even if it's non-linear.
Interested in More Insights and Trends?
Join us for our next Commerce Pulse Quarterly roundtable to discover the shifts in consumer behavior and purchase patterns in digital commerce. Register for the virtual event here.
About Bloomreach
Bloomreach is the world's #1 Commerce Experience Cloud, empowering brands to deliver customer journeys so personalized, they feel like magic. It offers a suite of products that drive true personalization and digital commerce growth, including: Discovery, offering AI-driven search and merchandising; Content, offering a headless CMS; and Engagement, offering a leading CDP and marketing automation solutions. Together, these solutions combine the power of unified customer and product data with the speed and scale of AI-optimization, enabling revenue-driving digital commerce experiences that convert on any channel and every journey. Bloomreach serves over 850 global brands including Albertsons, Bosch, Puma, FC Bayern München, and Marks & Spencer.