Customer Success Stories
Kiwi.com Launched More Campaigns, Increased Conversions 11-Fold
With the internet becoming more privacy-centric seemingly by the day, Bloomreach customer Kiwi.com invested in future-proofing its data quality and back-end tracking to better support the communication preferences of its own customers. 
Kiwi.com is a global travel-tech company providing unique itineraries for travelers. Through innovative technology, Kiwi.com sources the best routes and cheapest flight options available from over 800 carriers, including trains and buses, that cannot be found elsewhere.  
Like many in the travel industry, Kiwi.com found itself with a much lower volume of booking traffic because of government-mandated lockdowns in many parts of the world throughout 2020 due to COVID-19 restrictions. 
But this isn't just another COVID-19 success story. It's a story of how Kiwi.com prioritized data hygiene and back-end tracking to build better relationships with its customers thanks in large part to having a little extra time on its hands and its intuitive Bloomreach platform. 
The Importance of Data Hygiene for Kiwi.com
While using Bloomreach Engagement, Kiwi.com has put an emphasis on building a strong brand, retaining more customers, and having clean data, all things easily facilitated with the CDXP. 
To help with retention, Kiwi.com worked very hard to build strong brand awareness to avoid being remembered as simply a transactional tool. If a customer needed a ticket to Amsterdam, Kiwi.com desired to be top of mind for that customer because of the quality of its brand and the offering of unique itineraries that can't be found elsewhere.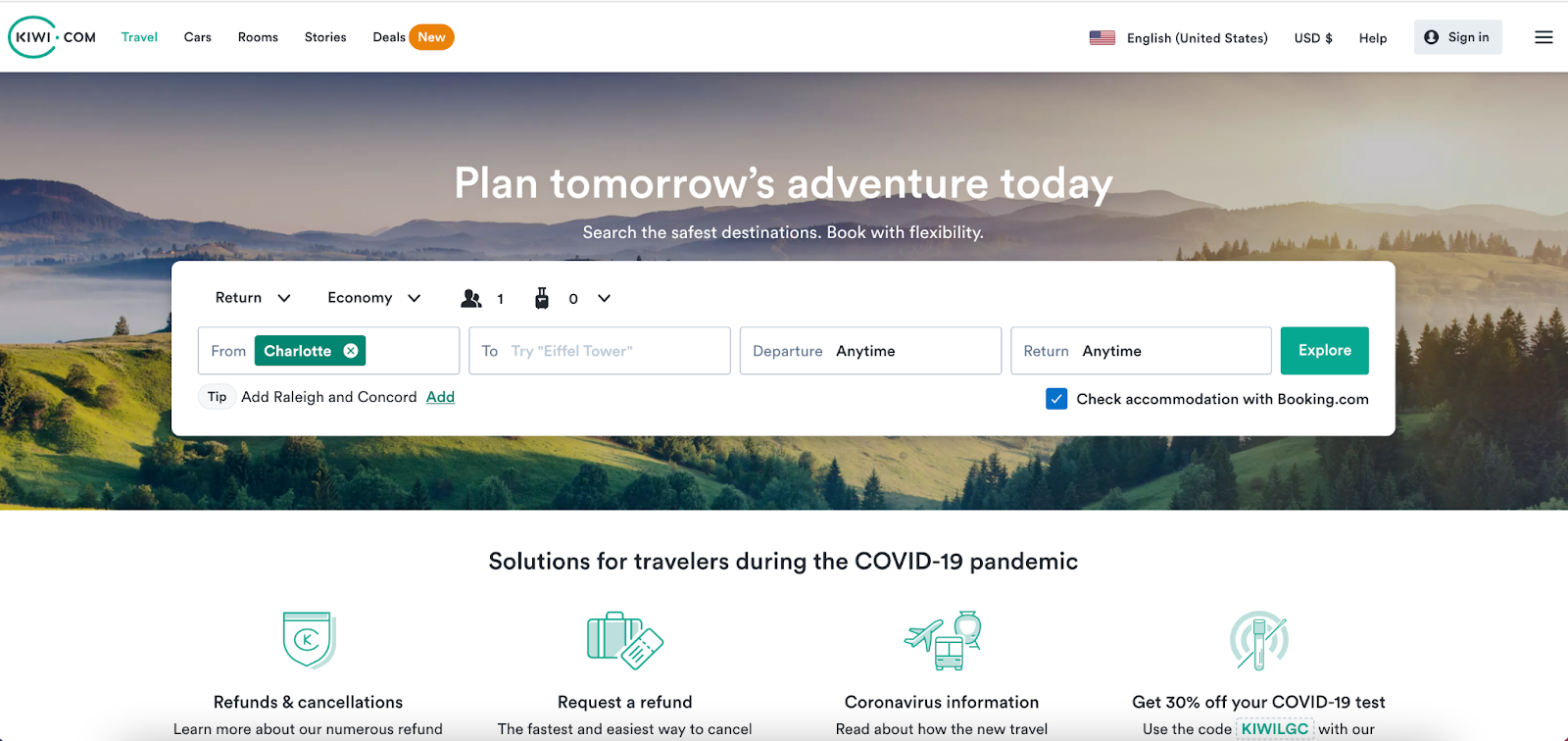 But what does this have to do with data? Everything really. Data is arguably the world's most valuable resource these days and is the key to building the amazing experience you want to offer your customers on your website. 
"Having higher quality data allows you to communicate in a better way with your customers," said Michal Rosa, CRM Technologist for Kiwi.com. "The ultimate goal is to use the data we have collected to offer our customers the best possible experience."
To completely understand how much customer data Kiwi.com compiles, consider these points: 
On average, Kiwi.com gets 100,000,000 search queries per day on Kiwi.com
Kiwi.com sold an average of 40,000 seats per day in early 2020 (pre-pandemic)
Kiwi.com customers travelled 14,057,075,465 miles in 2019 alone
The original implementation of Bloomreach Engagement happened more than four years ago. Since then, the company has changed significantly, with its strong new focus on brand building and B2C customers who demand an amazing experience. 
The expanded Kiwi.com CRM team desired to do more with Bloomreach Engagement to better support customers. After careful consideration, the radical decision was made to reimplement Bloomreach Engagement almost from scratch.
This led to a six-month project involving complex scoping, a completely new method of front-end tracking on the website, and the merging of historical data from multiple different projects into a single new one. All of this without much room for error, as the Kiwi.com team didn't want to lose any data during the re-implementation or deployment.
In the end, it was more than worth it.
A Custom Back-End Tracking Victory
One thing the Kiwi.com data and analytics team was adamant about was data consistency across systems. The team has multiple tracking tools on the website and wanted to measure consistently across all of them. 
To achieve this, the Kiwi.com team built a custom front-end tracker that handled all tracking and fed event data into its custom back-end. From this back-end, Kiwi.com would re-distribute all tracking data into internal and external systems that use it via APIs.
This solution helped the team maintain a level of data quality and consistency that otherwise would not have been possible. 
One receiving system was Bloomreach Engagement. This means that the development team at Kiwi.com leveraged our Tracking API to send data about customer behavior from the website. This ensured the data tracked in Bloomreach Engagement would be consistent with data used by other systems and other teams within the company.
A side benefit of this is that the CRM team can now see even complex data much faster than before and without the help of the data analytics team.
Putting the "Tech" in Martech
Rosa's job title of CRM Technologist is not a position that you see at every similarly-sized company. 
As customers begin to demand a better experience from your brand online, it's important that everyone involved with your customer experience team understands the value of marketing technology. This includes the marketers running campaigns, who must aim to be better at technology, and tech employees who can hold their counterparts in marketing to a higher standard rather than just dismissing them as "non-technical people". 
Martin Visvader, Regional Head of Client Services for Central and Eastern Europe at Bloomreach, commented:  "You need to have a person on the marketing team who is responsible for technical knowledge and can be a partner for your back-end people. As a tech organization, Kiwi.com understands these needs and we can see how beneficial it has been."
The Uplift
Enough about the process. Let's see the results. 
After consolidating all of its data into one Bloomreach Engagement project, Kiwi.com increased monthly bookings made via push notifications 1,131% when comparing monthly averages in 2019 and 2021. 
The over 11 times increase in bookings from push notifications is thanks in large part to the ability to reach more customers with the notifications. Better communication with their customers has equated to more bookings for Kiwi.com. 
Turn Your Customer Data Into Marketing Magic 
Kiwi.com's refactoring of how Bloomreach Engagement was integrated was beneficial for a myriad of reasons. It allowed the company to clean up its data and consolidate that data into one Bloomreach Engagement project. 
The newly compiled data has also paved the way for marketing campaigns to be more successful due to providing a better experience for the customer. Increases in bookings made via push notifications don't come without having good data hygiene. It just isn't possible in today's market. 
With a platform as powerful and versatile as Bloomreach Engagement, positive results are commonplace. Bloomreach is the partner you need to help navigate the changes to third-party tracking and what they specifically mean to your business. Schedule a personalized demo today to learn more about how Bloomreach Engagement can help your company turn siloed customer data into marketing magic.