Real-Time Personalization
Experience Spotlight: Zalando, Europe's Top Fashion Retailer
By Samuel Kellett
Aug 05, 2020
15 min read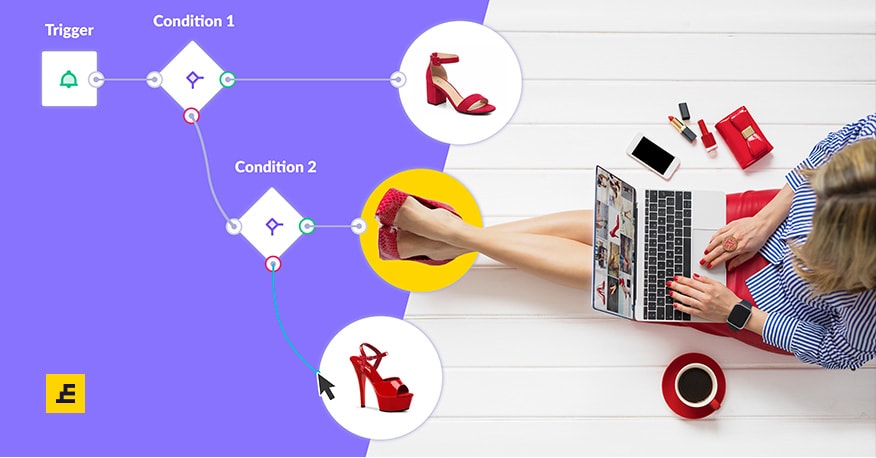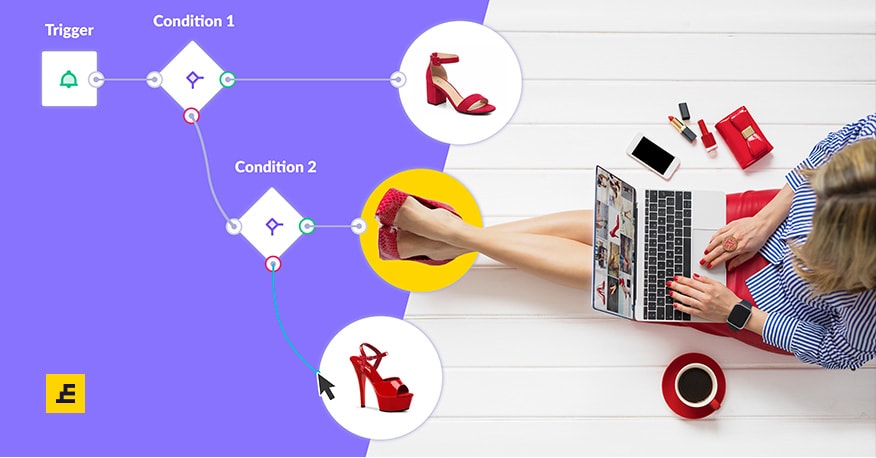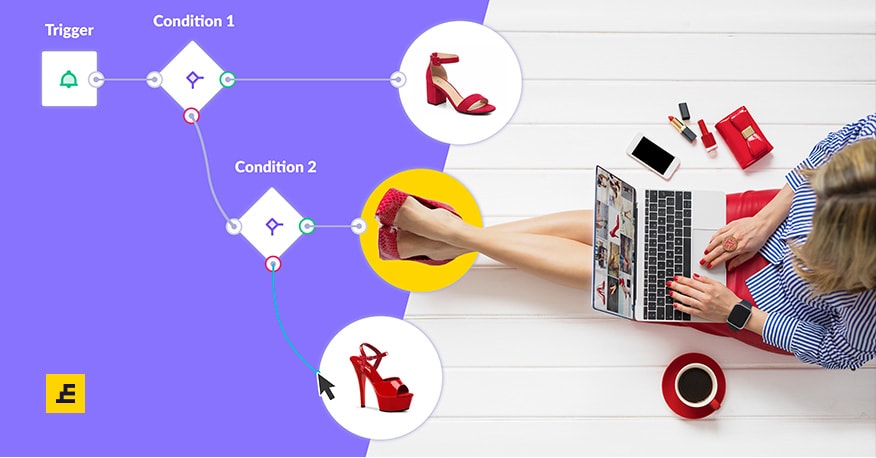 Subscribe
Real-Time Personalization
Experience Spotlight: Zalando, Europe's Top Fashion Retailer
Experience Spotlight is a new series where we rate leading online retailers on their customer experience. In this article, we're going to review how Zalando is tackling personalization in order to enhance their customer journey.
Jump to the major sections:
What or Who is Zalando?
Zalando is Europe's leading online fashion retailer, carrying over 1 500 high street to high-end brands in their selection, and with service rated as "Great" based on 2 835 reviews on Trustpilot. This led us to choose Zalando as the first online retailer to analyze.
What makes their customers rate them so highly? Apparently, it's their impeccable customer service and a huge selection of products. Zalando adds over 1 900 new products each day to their selection, with 95% of their selection changing each season.
How do we rate Zalando's take on positive customer experience?
Our Customer Experience Rating
We'll be splitting the customer experience rating into these 4 categories:
The Awesome: An experience we absolutely loved
The Good: An experience that made us happy
The Bad: An experience that made us grouchy
The Ugly: An experience that made us want to cry
What's Awesome About Zalando's Personalization?
What we found awesome while browsing Zalando's site was how they've managed to make the shopping experience feel seamless with non-intrusive personalization schemes.
Zalando has mastered the basics of personalization – simple, top-level tactics which, in the end, shave down the number of steps needed to find 'that perfect dress'.
A prime example is how Zalando remembers your homepage based on your selected top-level category.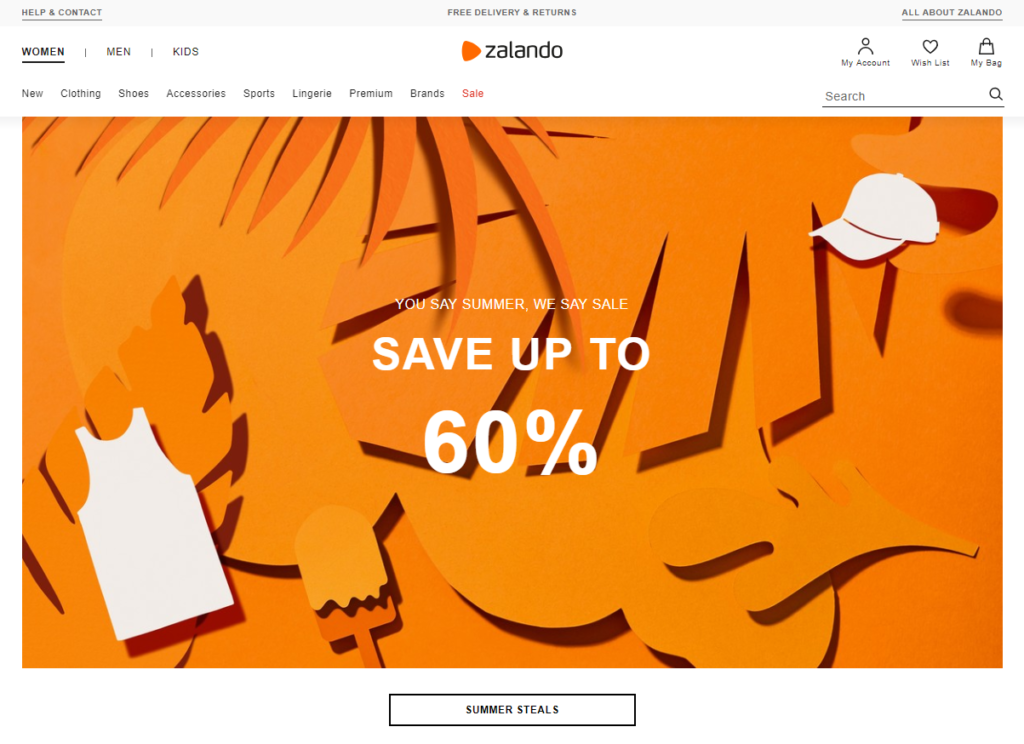 After I had previously visited their site and selected the first level category (Women, Men, or Kids) to browse, I was immediately presented with it again during my following visit.
It may sound like a simple tactic, but it shaved an unnecessary step from my journey towards the purchase, and each additional step ultimately lowers the conversion rate.
How About What's Good About Zalando's Personalization?
With Zalando's vast product selection, it could be considered a full-time job to browse through their entire collection. However, Zalando's Netflix-style recommendation system shows product recommendation strips based on various flavor categories on the homepage. This makes it easy to discover their selection based on my current needs.

What I particularly love on these recommender strips is the "reduced for you" claim.
Even though these didn't appear to be dynamically reduced prices just for me, it still made it feel personal.
Is There Anything Bad About Zalando's Personalization?
While Zalando has mastered the basics, it doesn't go far enough with more detailed personalization, at least in my opinion.
Though I had pre-selected my size several times already, there was no product ordering designed to show me garments in my preferred size. While I was on the product detail page, there was no call-to-action alerting me that Zalando had that product in my size, nor was the size already pre-selected. I was simply greeted with a "choose your size" selection.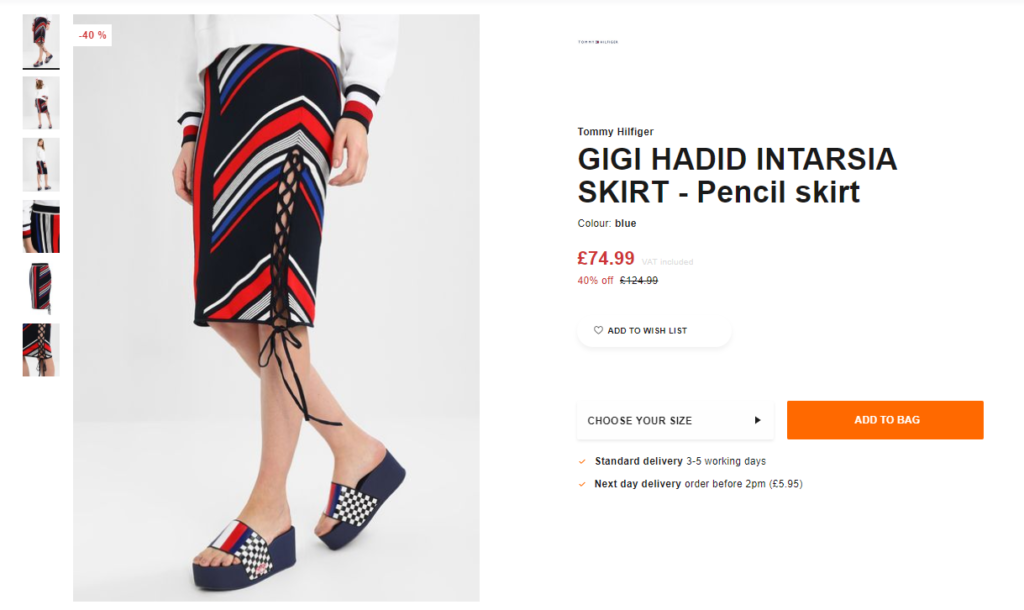 What also caught my eye was Zalando's cart cross-sell recommendation model. This model apparently doesn't take the product's category into consideration and is likely a collaborative model (showing products similar users like me bought).
In this particular case, it recommended me to purchase a swimsuit to go with my swimsuit. Zalando's AI team may need to look into more sophisticated logic for this recommender.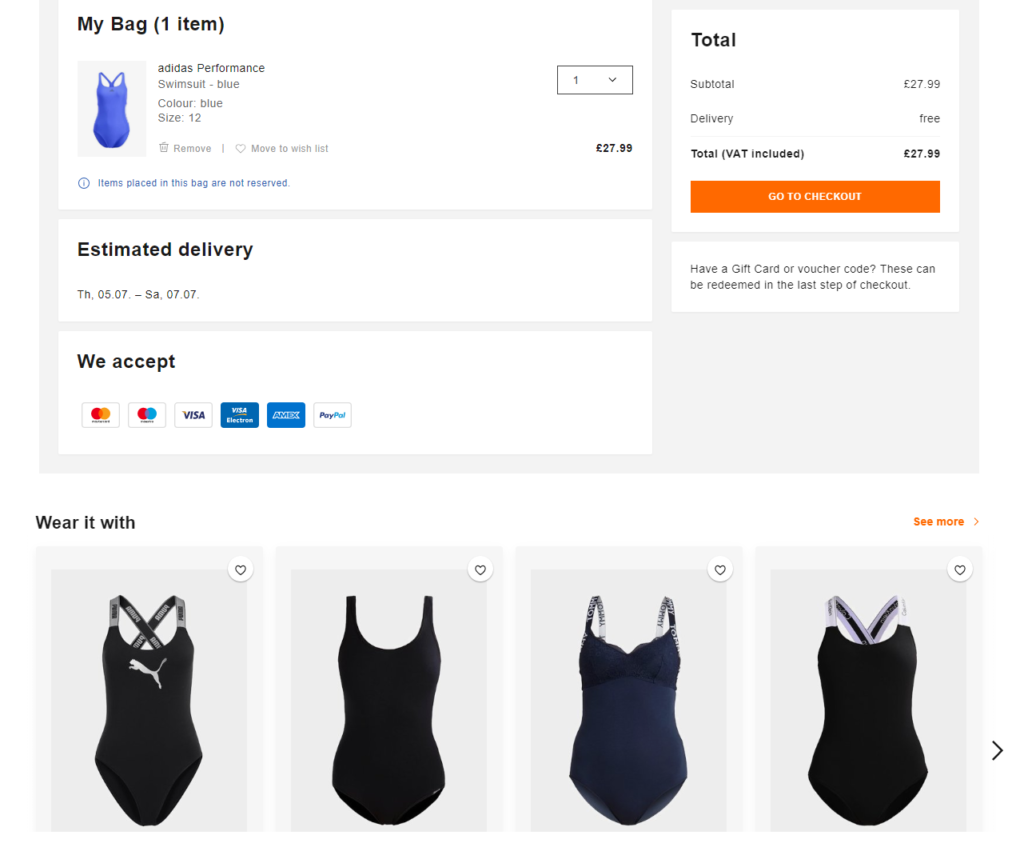 Did We Find Any Ugly Side Of Zalando's Personalization?
It was difficult to find anything I would consider "ugly," but after a while, I noticed some slight "spam" from Zalando. It was a "sale" newsletter alerting me about a swimsuit left in my cart.
Zalando's algorithm likely didn't take into consideration that I'm really not interested in buying it. I would have expected them to stop sending me these alerts very quickly. Or an alternative could have been to let me know about alternatives within the same category which may be more to my liking.
Huge kudos to Zalando, as this was the only case of a somewhat negative personalized customer experience, which I believe could be solved really quickly.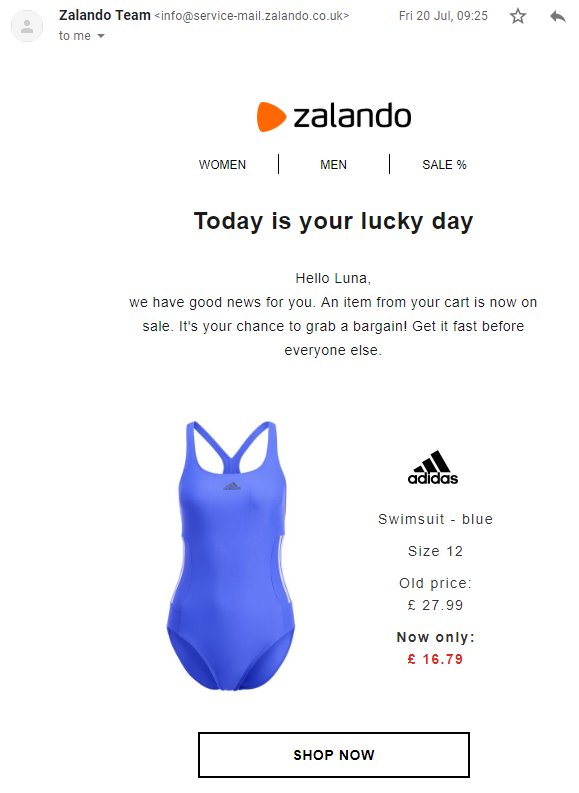 Experience Judgement
Overall, I tried to experience Zalando as their customers would, paying close attention to features which may have been personalized in order to help me make a seamless purchase.
Zalando is doing a really good job keeping the optimization ambient. I didn't notice anything obstructing my customer experience, but on the other hand, I didn't feel that my shopping experience was significantly enhanced in any way.
I rank my experience with Zalando a 7.5/10. Very solid, but it didn't blow me away.
What Would We Recommend To Zalando?

Luna Shirley: Though Zalando is trying to keep their personalization ambient, I would still go a step further, adding a deeper level of personalization in order to increase their conversion rate by polishing their customer experience.
It's easy to get lost with the sheer number of categories on Zalando. Highlighting a few of them according to customer interests may help reduce the effect of being paralyzed by the sheer amount of choice.
Furthermore, Zalando could add specific call-to-action notes to products (ie: "in your size" or "picked for you"), and power them with AI recommendation models. This could give a welcome push to customers as to why they should view those particular garments and, ultimately, purchase them.
Finally, Zalando could increase their conversion rate by experimenting with different primary product pictures.
The easy way to do this would be to use the outcome of a recommendation model to swap a photo of the product worn by a model with a photo of just the product.
Going a step further, Zalando could utilize the insights from purchased (or filtered) sizes, and show their products being worn by different models more similar to to the size of the customer viewing them. Outside of increasing the conversion rate, I believe that Zalando could also observe a lower return rate.

 Bruno Gorgulho: While Zalando engages in bringing to you the right product and guide you through their website so you reach what you are looking for, it does very little in terms of engaging in communication with the customer. From our experience, we have seen two ways to "find out" what is the right content for each customer. The first being looking at the browsing and purchase behavior per se – this is what Zalando is doing quite well. The second is to actually ask, opening a communication channel.
The approach would be to assume what are the client's preferences and validate with him/her. In case the client responds negatively you can open a conversation by asking the client to provide more info so you can bring the right offer. This strategy will allow you to tell what is the client type (wants to be engaged vs does not want) and also get more clarity for those that actually want to be helped. It emulates better the in-store experience while interacting with a person.
This can be done using website banners or modifications and would increment the quality of the recommendations. For customers who don't want to communicate you can also ask if you should stop trying to recommend something. This approach reflects the positive look that GDPR brings to the table – just engage with those that want to be engaged. 

 Peter Jakus: Browsing Zalando's site is definitely a pleasant customer experience; you can see strong examples of personalization, as was mentioned in the article. What else could be improved? Try removing any barriers that still exist, and connecting all those strong bits and pieces into one seamless, personalized shopping experience.
For example, Zalando's Wishlist. Do you really need to force me to register as soon as I hit the Wishlist button? First, let me first use it to save my picks during the visit, and I'll start to like it. Then, show me the recommended products based on my wishes, and I will like it even more. Finally, nudge me to give you my email, and I'll be more than happy to do it because I want to save my Wishlist for future visits.  
Let's look at a hypothetical journey: I'm shopping for jumpers with images of owls on them. I didn't know I wanted this but when I found the first one, I loved it and wanted to see them all!
I gave the system strong signals about what I was looking for (interacting with product details, adding the product to my cart; I would even have used the Wishlist if it was easier), but I still had to put the effort in to find similar items. I'd appreciate a widget on product detail that's more reactive to my browsing behavior, or personalized suggestions when using search. The "Recommended for You" section on Zalando's homepage helped, but it took me a while to notice it. I'd check the data to find out if people actually do see it in their sessions.