Commerce Experience
Bloomreach Commerce Pulse: The Definitive Shift to Digital First
By Brian Walker
08/09/2021
Note: Our Bloomreach Commerce Pulse monthly articles explore the most interesting Bloomreach customer data points and provide key insights for e-commerce. They reveal current trends and help businesses to fully understand the digital commerce marketplace.
As we near the end of the first summer with near-normal in-store shopping options since 2019, this much has become clear: the future of commerce is digital-first. 
Even as brick-and-mortar businesses across the world continue to reopen, digital commerce continues to grow at an astonishing pace. The continued rise of digital commerce can no longer be attributed to our global health crisis. Make no mistake, the e-commerce boom is no longer related to COVID-19: consumers now have the ability to shop in-store and are consciously choosing to shop online.
Our compiled data for Bloomreach North American customers for the month of July indicates 10.19% year-over-year (YoY) sales growth. While this might not seem like a number to write home about, bear in mind that this is on top of the 25.17% growth a year ago during the height of the COVID-19 pandemic. Year-to-date, e-commerce sales in North America are up 44.85% year-over-year. 
The biggest driver of the North American e-commerce sales growth is an increase in average order size (AOS). In total, AOS was up 26.37% YoY — likely due to reduced promotional activity, but increased prices making an impact as well. Conversion rate fell 8.27% in July YoY and is down 11.62% year-to-date.  
In the United Kingdom and European Union, July sales were up a more modest 2.89% year-over-year, though year-to-date e-commerce sales numbers are very strong. These numbers are up 26.39% YTD, led by sales from online commerce search, which is up 43.62% YTD. Overall, the differences in the economic situation and in consumer confidence continue to be reflected in the difference between North American and European results. 
Grocery Segment Sales Soar Even Higher
The remarkable rise of online grocery shopping continued during the month of July. 
Sales in the online grocery sector were up 68.88% year-over-year in comparison to July 2020 and is up 59.80% year-to-date in comparing the first seven months of 2021 to the first seven months of 2020. Those are exceptional numbers that point to a complete shift in shopper behavior as the adaptation of online grocery shopping is clearly here to stay. People are gravitating towards online grocery because of the speed and convenience of curbside pickup and delivery options in addition to enhanced safety for those at risk due to the ongoing pandemic. 
What is interesting here in grocery is that this increase in sales is not due to an increase in site traffic, which only grew 4.45%. Meanwhile, conversion rate numbers increased an astonishing 42.09% YoY in July. A reduction in out-of-stock items with supply chains recovering may be a key part of that story, but the familiarity with using digital channels to shop for groceries is likely also a big factor. 
Online grocery shopping has become a habit built on convenience. 
"Back to School" Dominates Search Terms
The "back to school" theme resonates strongly in our compilation of most searched terms in July.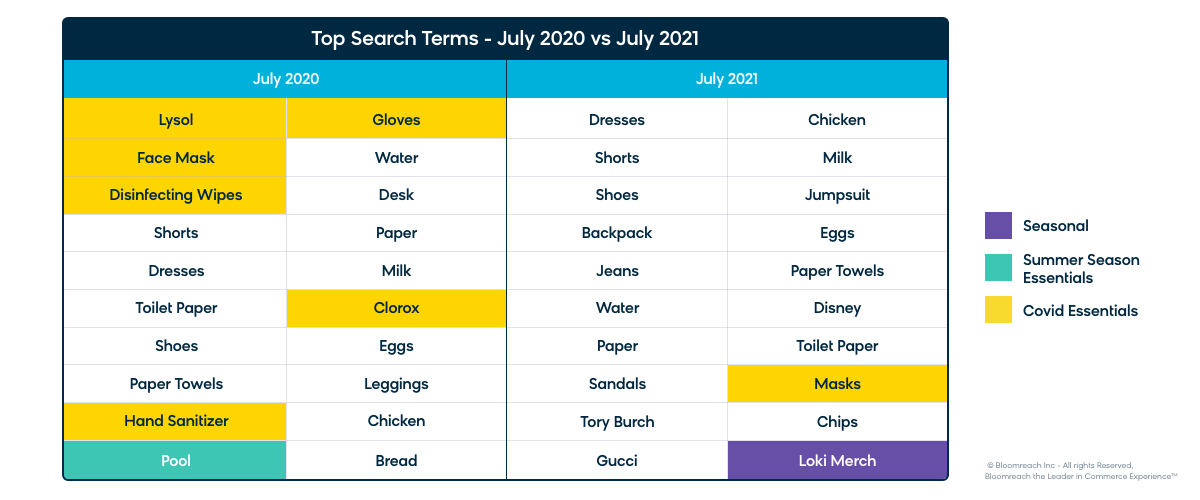 "Backpack" comes in at No.4 amongst our top 20 search terms of July as students prepare to trudge back to class in August and their parents need to find arguably the most important of the school supplies to send with them. 
In addition to backpacks, many children will need entirely new wardrobes as they head back to school this year. Many have outgrown their old "dresses", "shorts", "shoes", and other clothing items that appear on our top search item lists because it's simply been so long since they have needed new clothing for in-person schooling. 
After falling out of our top search terms for the month of June, "masks" makes another appearance in our top 20 at No.18. It is possible that "back to school" shoppers pushed it back into the top 20 as many schools are, at minimum, recommending masks this school year, if not requiring them.
It's also possible that we are seeing our first Delta variant impact on our search term data. The highly contagious COVID-19 variant may be causing consumers  to take a more cautious approach to in-person shopping, as we saw for much of 2020. We will be keeping a close eye on this upcoming month's data to see if concerns related to the Delta variant cause any significant changes in any specific sectors. 
Some Other Interesting Findings
Our data highlighted several other interesting storylines from the month of July:
The Luxury segment has continued to come back from its COVID low. Sales are up 24.18% YoY for our luxury customers while traffic is up 35.56% in the same timeframe. This is a segment that really struggled in 2020, and the July numbers reflect consumers' increased desire to treat themselves with a luxury item (either by buying now or browsing to eventually buy) as we have moved away from government-mandated restrictions in many corners of the world. 
The Home Improvement segment is continuing to win in 2021 thanks to buyers' renewed interest in investing in their houses and property and how many employees have been permitted/required to work from home. While month-over-month numbers have dipped (-9.72% traffic, -49.28% sales), sales numbers are still up big year-over-year (36.90%) and year-to-date (120.53%). 
The B2B segment saw two key metrics increase in July year-over-year. Sales were up 5.99% in comparing July 2021 to July 2020 in the B2B sector while average order size was up 20.93% and Conversion rate improved 28.24% in the same period. However, B2B has struggled year-to-date, with sales down 15.43% despite traffic being up 11.60%. 
What the July Data Tells Us
The key takeaways from our July 2021 data are pretty clear. 
E-commerce continues to grow, even over the hyper growth of 2020. And with concerns over the Delta variant increasing by the end of July, we may see e-commerce accelerate in August even further. 
There remains a significant difference in the economic situation in the UK/Europe and North America. The North American consumers' confidence and spending power is pushing the growth rates of online commerce even higher, and while growth is sustained in the UK and Europe, it is somewhat dampened by the economic situation.
Grocery and home-related categories are continuing their historic online growth rates driven by convenience — with curbside pickup at stores core to that growth.
Back-to-School shopping kicked into gear in a big way in July as parents lean in to replenish their children's wardrobes in homes of those heading back to in-person classes this fall. 
We are not yet through the pandemic, as we see masks creep back into our top 20 search terms in July. 
If you're interested in learning more about these data points or others like them with industry experts, register for Commerce Pulse Quarterly: Summer 2021 on September 28. Our experts will explore unique insights in digital commerce and discuss changes in consumer behavior and purchase patterns across the landscape. Don't miss it!
If you're looking for even more on the overarching state of digital commerce, download The State of Commerce Experience on-demand. Experts from all corners of e-commerce gathered to discuss their best tips and tricks for capitalizing on this unique time in digital commerce history and the learnings from this two-day event are essential for any e-commerce business.  
About Bloomreach
Bloomreach is the leader in Commerce Experience™ — empowering brands to deliver customer journeys so personalized, they feel like magic. Bloomreach Experience, the digital experience platform built for commerce, includes three pillars: Discovery, offering AI-driven search and merchandising; Content, offering a headless CMS; and Engagement, offering a leading CDP and marketing automation solutions. Together, these pillars form the only platform that combines the power of unified customer and product data with the speed and scale of AI-optimization, enabling measurable digital commerce experiences that drive real results. Bloomreach serves over 700 global brands including Albertsons, Bosch, Puma, FC Bayern München, and Marks & Spencer, and powers over $250 billion in commerce annually. For more information, visit Bloomreach.com.